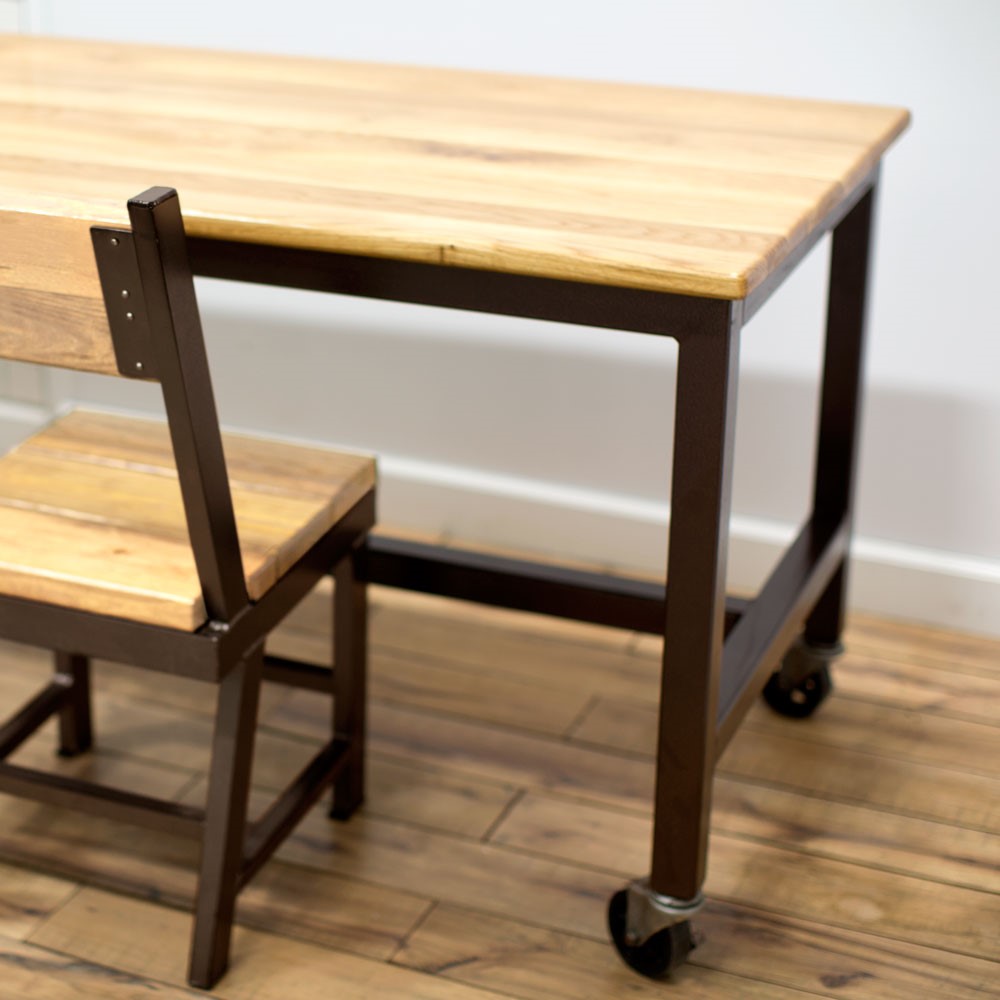 Major Expansion to Rustic Furniture Collection
Last fall was an exciting time here at Barn Light Electric. We not only launched a brand new website and unveiled a new logo, but we also added a unique collection of handcrafted Rustic Furniture to our offerings. We've received great feedback from customers on the new site design, and today, we're thrilled to announce the first major expansion of the furniture collection.
Just like our vintage-inspired lighting, our furniture is crafted entirely by hand. Each piece is made from solid wood lending a one-of-a-kind look. You can customize our furniture with different wood options plus a variety of finishes. The new collection includes tables and chairs suitable for restaurants and bars as well as tables, desks, and other pieces perfect for the home or office.
Commercial spaces will love the new rugged, communal tables that demonstrate the casual vibe sought in many contemporary bars and restaurants. The Calvin Community Table seats 10 around its beautifully crafted wooden top which is attached to a welded steel frame. This frame can be customized in a number of powder coat finish colors to complement most any brand.
The slightly smaller Warner Bar Table seats eight and is built with the durability required for high-traffic commercial settings. Both tables have optional locking wheels for ease of movement.
Sturdy seating is must-have in commercial settings and both the Mitchell Bar Stool and the Mitchell Chair offer comfortable seating with a heightened industrial aesthetic. The chair features a classic ladder back and seat made from wood planks while the stool stands taller for bars and high-top tables.
For the home, farmhouse style is evident in many of our new offerings including the Maxwell Dining Room Table. With a design centered on heavy-duty "X-shaped" legs and exposed hardware, the Maxwell's rugged flair anchors the dining space.
For a lighter, more mid-century look, consider the Bridget Dining Room Set which features a handcrafted table top with 2- or 3-rod hairpin legs. The simplicity of the Bridget's design imparts a casual feel to make contemporary homes feel welcoming and comfortable.
The Chevron Console Table features three shelves crafted from multiple pieces of wood fused together to create a timeless chevron pattern. This handcrafted beauty is offered in a vast selection of woods, stains, and powder coat finishes to help you create the exact look you envision for your home.
For a home office, consider the Arthur Writing Desk, a sturdy piece with an open shelf that helps keep your electronics and paperwork organized. With a solid wood top in your choice of wood and a welded steel frame customized in one of 30 finish colors, the Arthur turns your dedicated work area into a space where you'll actually want to spend time.
And for those times who just want to be comfy while working, we offer the Carmen Lap Desk. Trendy hairpin legs are joined to a solid piece of wood with rounded edges and hand-carved cutouts for your pencils and chargers. For extra convenience, a metal cellphone stand is included in this design. Work has never been so stylish and fun!
Our expanded Furniture Collection also includes shelves, additional tables, and even items for the kitchen. Check it all out here and if you have any questions, please contact our sales team at 800-407-8784 or via email at sales@barnlight.com.