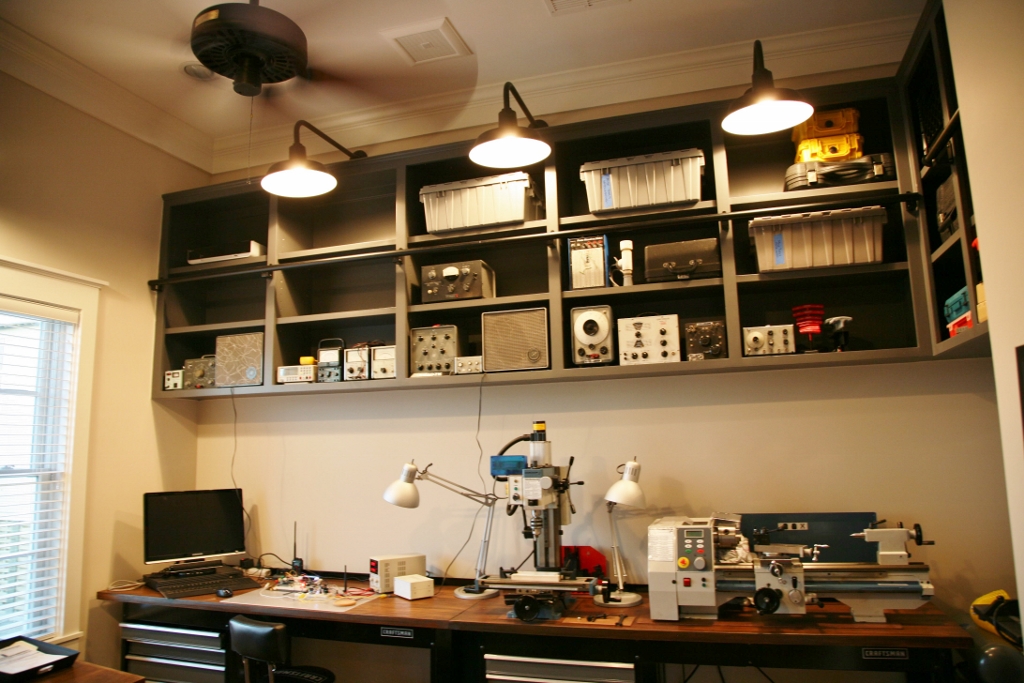 Barn Light Original™ Lends Vintage Touch to Workshop
A carriage house attached to a new home in Galveston, Texas, has turned into a sanctuary for today's Featured Customer. The carriage house has a living room, kitchenette, and bathroom plus a 15 x 15-foot space upstairs that has been transformed into a workshop. Recently retired, this gentleman is delving into his past interest in vintage radios, ham radio operation, electronics, and natural history. He turned to the vintage experts at Barn Light Electric when it came to lighting his new space.
"My primary requirement was for good lighting for the work benches and the drafting table," he says. "A vintage look was equally important to me given the tie to vintage radios and electronics."
He chose five Original™ Warehouse Gooseneck Lights to cast light down onto the work spaces. These American-made gooseneck wall lights were hand crafted by our metal spinners into 14″ shades then customized with a Black powder coat finish. The straight G8 gooseneck arms, also finished in Black, provide a 20″ projection away from the wall to position the lights directly over the tables.
"The gooseneck lights worked with the need for overhead storage," he notes. "The goosenecks put the lights outboard of the cabinets to light up the work benches. The Black finish complements the drafting table base, library ladder hardware, and grey cabinets."
This customer also chose an Original™ Stem Mount Pendant, in a matching Black finish, to highlight the drafting table.
"The stem mount works well above the vintage drafting table which was sourced from Crash Industries," he notes. "The fixtures provide great light to the work benches and drafting table and add to the overall look that I wanted."
The original inspiration for his space came from a Houzz photo but he adds that "your website was great in providing information and details and made me confident of the quality."
Photos courtesy of the homeowner