Farmhouse Wall Sconces: A Charming Choice for Bathroom Lighting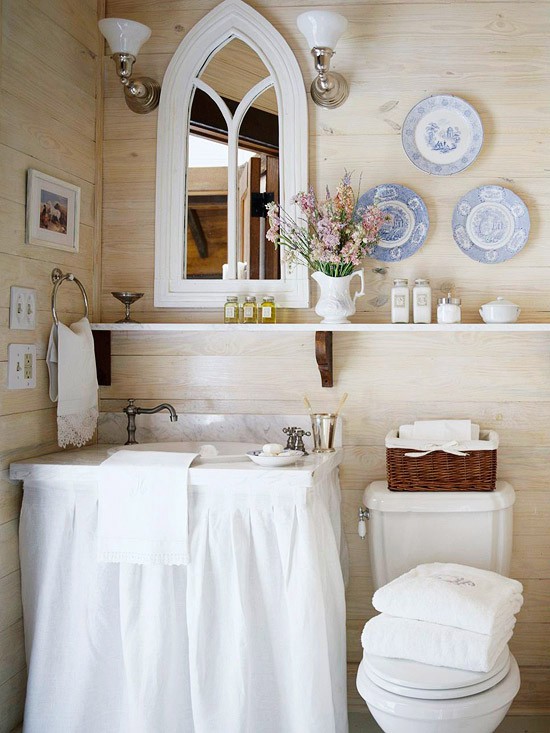 Although a big undertaking, designing an industrial farmhouse kitchen should be a relatively simple task considering the inspiration available via online photo sites like Houzz.com and Pinterest. However, when it comes to bathrooms it can be a bit more difficult as most found photos often lean towards the contemporary and modern design tastes. No need to worry though, we've got it covered.
Take a few cues from the bathroom featured today. If you are renovating an authentic farmhouse, chances are your bathrooms are a bit on the small side – making it difficult to move about, decorate and find storage space. Hidden storage is key and underneath your sink is the perfect area. If you already have a sink with built-in cabinetry, you can easily store towels and other spare toiletries here, but if this simple luxury isn't available in your bathroom, a quick and simple fix is to add a sink skirt. Just like the one today, sink skirts hide ugly pipes and also aid in hidden storage for clutter and not-so-pretty things. Did we mention they're quite charming too?
When constructing your sink skirt, make sure to choose a fabric that is easily removable and washable. There is no doubt it will collect some dirt and grime along the way, especially if you have young children! The shelf above the vanity area also acts as an extra area to place little items that won't fit around your sink – hand soaps, toothpaste and a farmhouse favorite, fresh flowers. Charming and functional – who could ask for anything more?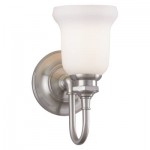 Lighting up this space are two vintage wall sconces flanking the vanity mirror. By choosing to mount the sconces in an upward direction, light is projected upward and gently falls downward. This style of farmhouse lighting casts a far more welcome glow than traditional blinding bare socket fixtures. For a similar look, we suggest our Norwood Bath Light. The Norwood has a classic look about it that allows for smooth transition between design styles. It also bears minimal price tag ($144 each). It is available as a single sconce or up to a four-light bath bar. Don't pass this by if you're searching for the perfect farmhouse wall sconces!