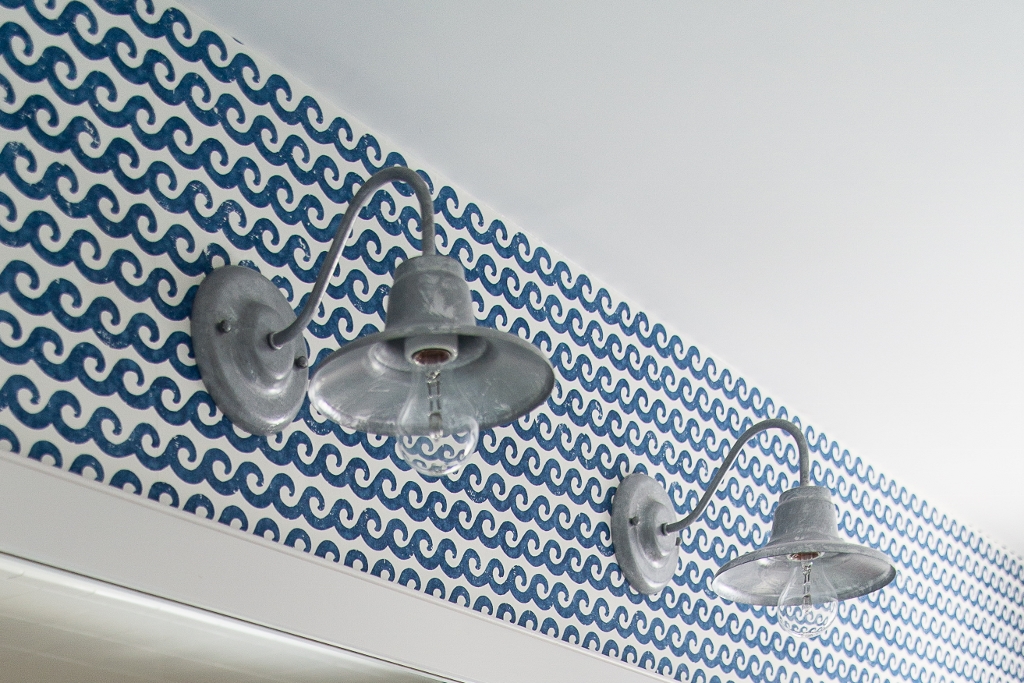 Mini Wall Sconces Enhance Coastal Design in Bathroom Makeover
Sometimes small changes make a big difference in a room. A coat of paint, upgraded lighting, even a new clock on the wall inject color and life into a space without breaking the budget.
This bathroom project, for example, was a simple refresh that yielded stunning results with just a few changes. 
"This home is in the seaside town of Duxbury, Massachusetts," says Anne Nelson of Anne Nelson Design. "It was a quick makeover of new lights, wallpaper, artwork, and towels." Anne loves coastal design and used a mix of classic coastal elements with plenty of blue and coral tones.
As Anne searched for new vanity lights for this bathroom, customizing was important to fit the small space and the finish. A long-time customer of Barn Light Electric, Anne knew she could find exactly what she needed to fulfill her vision for the space.
"I love the look of all of your barn lights," she notes. "They coordinate with all of my designs — very coastal in this case." She chose the Barn Light Mini Eclipse Wall Sconce to highlight the playful wallpaper and vanity. She customized these 7″ wall sconces with a Galvanized finish and G38 gooseneck arms.
"The gooseneck adds some fun to the room and I like to use a galvanized finish to mix with the other finishes in the room. It blends seamlessly," Anne explains. "The size is perfect. They are not only great down lighting, but they look adorable!"
Barn Light has become a go-to source for American-made lighting that is easy to customize to suit Anne's many residential and commercial projects. She has lived near the ocean in both Florida and Massachusetts as she pursued her love of interior design for the last 14 years.
"I have saltwater running through my veins," Anne says. "I just love coastal design!"
Photos courtesy of Shipyard Photography and Anne Nelson Design