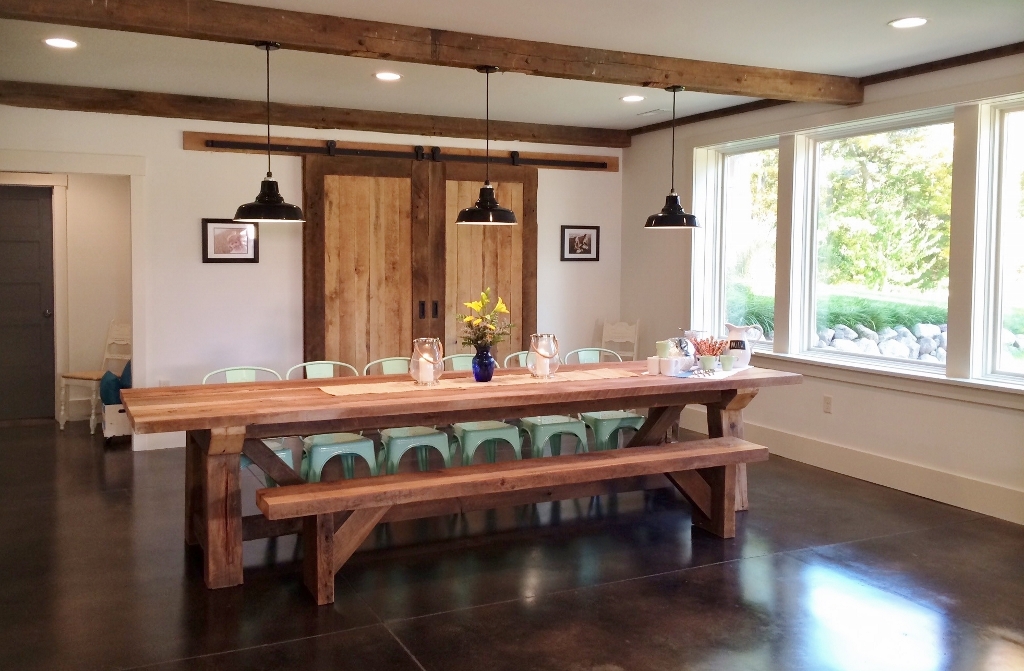 Farmhouse Lighting Cozies Up Your Home for Fall
This time of year, folks here in Florida have to enjoy fall by cruising our favorite home design blogs and Pinterest boards that tout the latest apple recipes. The view outside our windows is still pretty much green and full of sunshine, but we too enjoy getting cozy for the season. No matter where you live, you can infuse your home with the colors and textures of fall with a few simple touches borrowed from the popular farmhouse style.
Take this half bath for instance. You could simply drive a nail in the wall to hang the mirror over the farmhouse sink or you can add beautiful texture and interest to this small space by using rope mounting to hang the mirror. Pair that with the splash of Jadite color in the Esso Pendant Light to add some softness to the room and, all of sudden, your little half bath is pretty darned special.
Do you have a wood stove or fireplace to take the chill off this fall? Pop a couple of Vintage Utilitarian Wire Baskets onto the hearth to keep your kindling in place. Or use one to store extra throws by the couch. We're jealous of the ambiance, but not so much the wood chopping.
Nothing says fall like a gathering of family and friends around a big farmhouse table like this one. Even stuffy old Aunt Helen will appreciate this setting with the rugged beams in the ceiling, the cute, framed chalkboard for the grandkids, and the sliding barn doors along the back wall. The high-gloss finish of three Union Pendant Lights add a touch of polish to this otherwise rustic spread.
The most popular farmhouse light of all is, no doubt, the classic gooseneck light. Take a cue from Michelle, one of our Featured Customers, who used our signature Original™ Warehouse Gooseneck Lights to add some playful style to her renovated basement. American-made and customized for each individual order, these wall lights are perfect for any season!