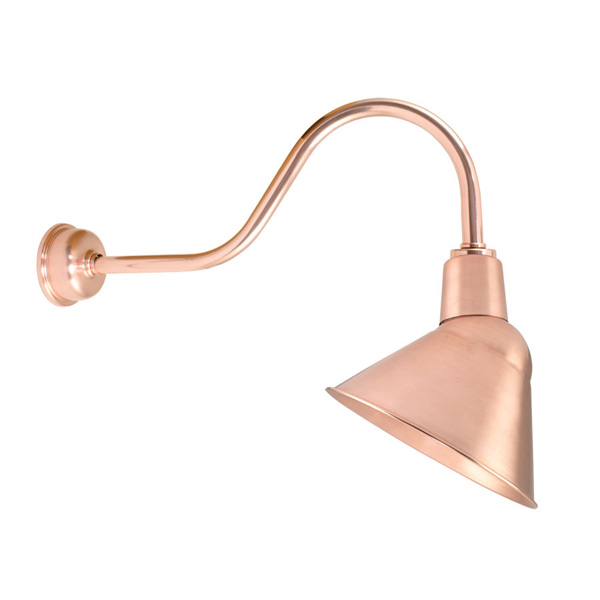 Copper Sign Lighting Finds a Home in Residential Use
Businesses have long used angle shade lighting to bring attention to their signage, entryways, and landscaping features. But sign lights are fast becoming a go-to fixture for homeowners as well.
And it's no wonder when you consider all the ways you can customize these directional lights to suit almost any home style from traditional ranch homes to industrial urban lofts.
Two of our most popular sign lights — the Emblem and the Fire Chief — are now available in brilliant copper. Hand spun from raw copper, these humble sign lights have emerged as much more than a utilitarian fixture.
With an unparalleled sophistication, copper sign lights ground more contemporary interiors while taking traditional décors to new heights. Available in several finishes including Raw, Weathered, and Oil-Rubbed Copper, these sign lights can take on a variety of looks. Choose a matching copper gooseneck arm for your angle shade light or go with a complementary Black or Brushed Aluminum option.
The Fire Chief Sign Light plays up its vintage heritage with its cone-shaped shade. American made and available in four shade sizes, the Fire Chief offers elegant directional light on mantles, to artwork, and in hallways.
The Emblem Sign Light has a more rounded shade lending it a more contemporary look. Available in four shade sizes, three finishes, and a variety of gooseneck arm styles and finishes, this wet-rated wall light looks elegant indoors and out.
And if you're looking to save money on your electric bill and help the environment too, both the Emblem and the Fire Chief are available in LED. With the latest components from Cree, the nation's leading innovator in LED lighting, these sign lights will reduce your energy consumption while delivering 50,000 hours of service. The timeless beauty of copper combined with the most efficient LEDs on the market — truly where vintage and modern collide!