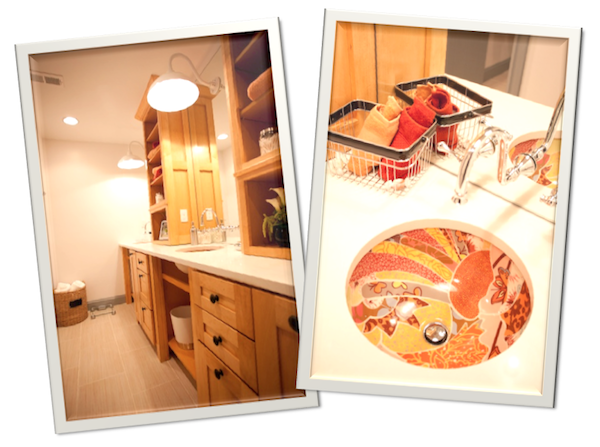 Extreme Makeover Home Edition | Hall Family Bathroom Lighting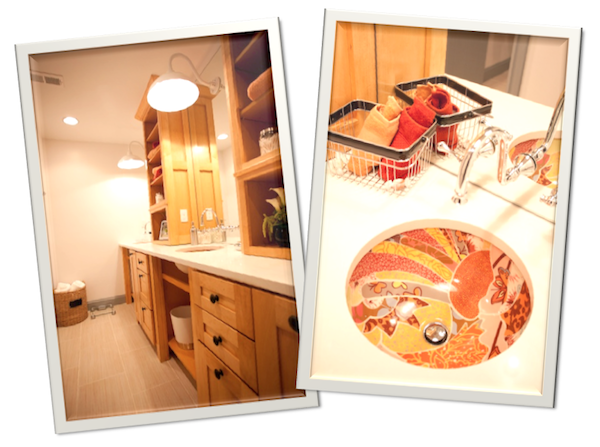 When it comes to ABC's Sunday night heartwarming series, even the smallest of rooms are decked out to the max. Would you ever expect anything simple to come from the Extreme Makeover Home Edition team? If you've ever watched the show or heard anything about it, you know "simple" isn't in their vocabulary.

Once you take a closer look, you'll see the attention to detail that's been put into their bathroom. Primarily used by the Hall family daughters (each of whom are in their teenage years), the designers wanted an area that kept with the home's farmhouse design, but gave the teens a spot to still be girly. Take a look at the built in sinks – they have a patchwork-like pattern with flowers and butterflies. Coordinating with the colors in the sink bowls are orange and red hand towels placed within wire baskets and vanity shelving. Another well thought out characteristic is the triple vanity area, one for each of the lucky girls. That means no more battling for a mirror while getting ready for school!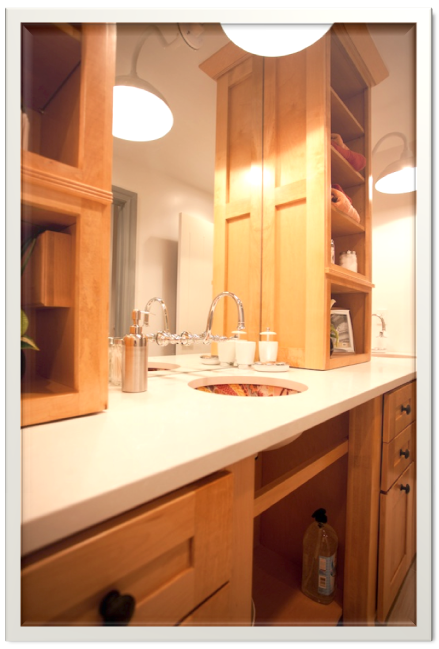 Mounted above the mirrors are three gooseneck lamps, the newest alternative to bathroom vanity light fixtures. Of course gooseneck lighting isn't new to the lighting world, but their use in bathrooms is an innovative concept that is likely to stick around. You may even notice that the faucets match the arch on the gooseneck – those designers didn't miss a thing, did they?
So now you're probably rethinking your own vanity lights, hmm? Well, the EMHE designers got their gooseneck barn lights from us, and you can too! Have a look at our 14″ All Weather Gooseneck Warehouse Shade, an American made light fixture with a small price tag attached to it – yes, they do exist! After all, classic American made lighting is only fitting for the all American family, right? As shown, a white, 14″ shade with a B-1 gooseneck arm, the All Weather Warehouse Shade totals up at a mere $129 with a short 5 day (or sometimes less) manufacturing time.
Photos Courtesy of Extreme Makeover Home Edition