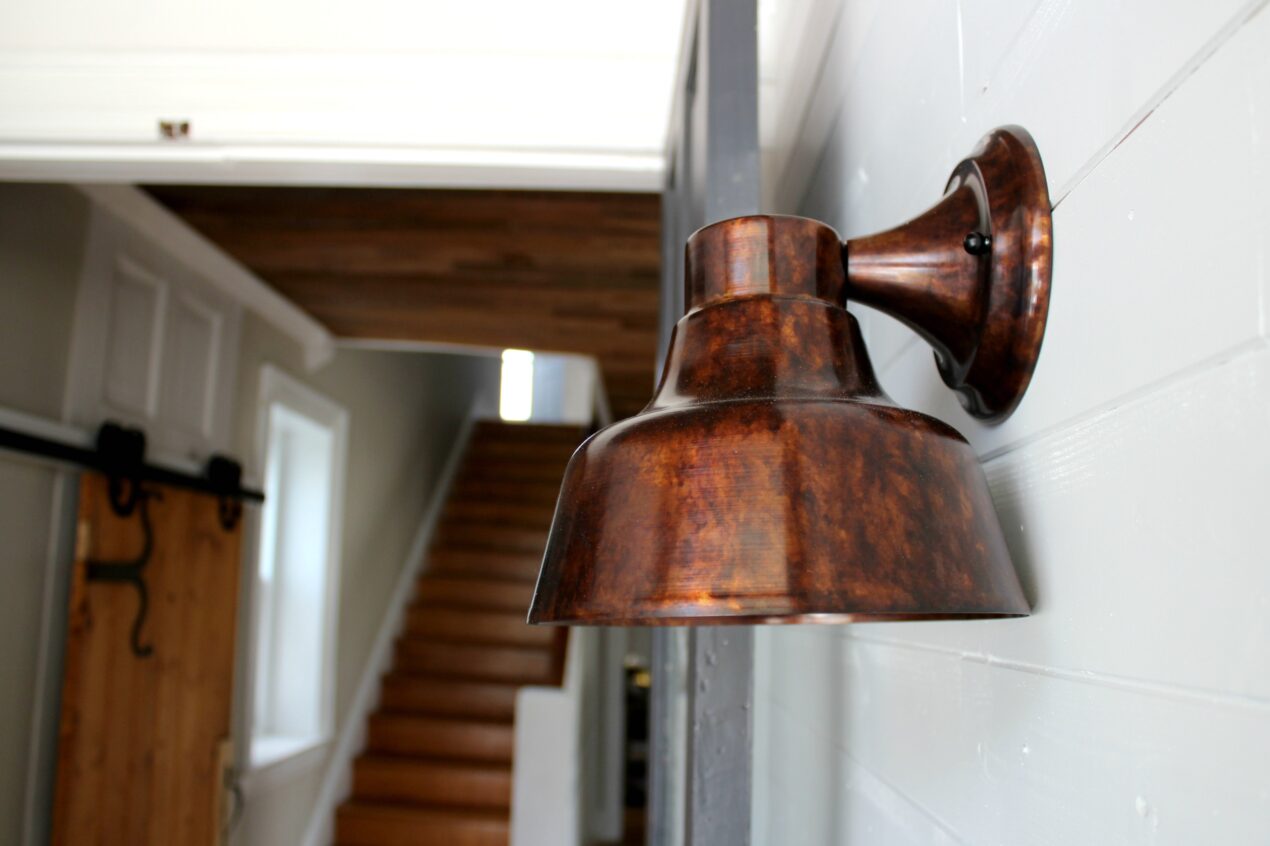 Entryway Envy! How to Make a Great First Impression
Even with summer in full swing, one of my kids reminded me yesterday that Christmas is only six months away. Seriously?! I suddenly feel the need to get outside and enjoy the weather with family and friends. Informal gatherings on the back porch are perfect for the summer, and while these times are meant to be low stress, you still want your home to look its best.
So what kind of statement does your entryway make? Even if everyone is headed to the kitchen, first impressions are made at the front door. Take a look at some of our favorite customer entryways we've shared in the past and the lighting they chose to say welcome!
This home was built in 1929, and Kate wanted a light in the foyer that would make sense with the home's era. She wanted clean, white, soft light to welcome visitors but needed a flush mount light because of the ceiling height. But she also wanted a pop of color. Was that too much to ask for?
"I think a decent flush mount fixture is about the hardest thing to find," Kate says. "When I found these Schoolhouse Lights from Barn Light Electric, I fell in love. I want them everywhere!" Kate chose the Primary Schoolhouse Flush Mount Light and customized this American-made ceiling pendant with a large hand-spun globe. This vintage-inspired light also features three opaque painted bands of Buttery Yellow to give Kate the pop of color her entryway needed.
This bright entryway features a corrugated metal wall that starts outside then extends into the interior as a feature wall. Designer Debrae Lopes chose a 14″ Marathon Pendant Light with a Black finish, standard black cord, and black canopy for the entryway lighting. She notes that while being representative of traditional barn lights, Barn Light Electric also has options with more modern, European styling which is great for the combined vernaculars of this project.
Christina, who writes the blog Christina's Adventures, has legions of fans following the progress on her 1902 Victorian home. When she started work on her foyer, she found beautiful hardwood floors underneath decades-old carpet. And underneath layers of paint, she discovered copper hardware. Christina chose to run with the copper accents and chose a Bowie Wall Sconce for the entryway. This hand-spun wall light is customized with an eight-inch shade and an Oil-Rubbed Copper finish.
"We love things with a little bit of character and an older feel," Christina notes. "This copper wall sconce really pops off the bright white shiplap with its aged finish."
For more entryway inspiration, don't miss our Entryway Pinterest board!