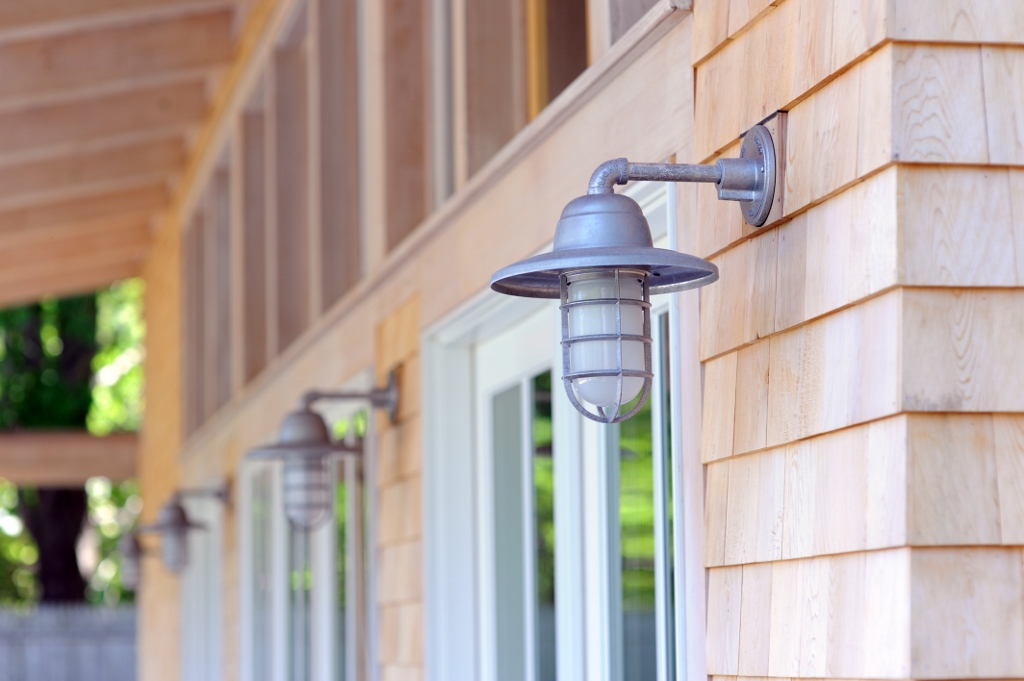 Nautical Lighting for Coastal Tennis Clubhouse
Although Chris and Alissa Harris have concentrated on residential projects since forming Salt Architecture in 2014, their first commercial project is a smashing success. The Harbor Head Tennis Club, located in West Falmouth, Massachusetts, now sports a gorgeous clubhouse used for informal gatherings, courtside cocktail parties, or for watching tournament finals out on the courts.
The new construction was designed by the architect couple who envisioned a rustic, yet modern space to blend with the surrounding seaside village.
"We were going for simple, clean lines and an open floor plan that encourages casual gathering that can easily flow from inside to outside," Alissa says. Drawing inspiration from the picturesque West Falmouth Harbor across the street, Alissa honed in on nautical lighting to highlight the building.
One of our most popular nautical wall sconces, the Industrial Guard Sconce welcomes visitors to the clubhouse with a style that Alissa describes as a natural fit for the space. She chose the Galvanized finish on these American-made wall sconces to complement the rustic nature of the timber frame structure. Frosted glass creates a lovely glow while concealing the bulb.
Alissa also chose matching Flush Mount Guard Sconce pendants to position on the underside of the flat portion of the porch roof. These space-saving fixtures feature the same Galvanized finish and frosted glass as the nearby wall sconces.
Inside the new clubhouse, 18 Cherokee Uplight Pendants dot the ceiling to draw the eye upward and offer plenty of illumination for evening events. These handcrafted pendant lights are customized with 12″ shades, Galvanized finish, frosted glass, and white cords.
"The design of the Cherokee Uplight Pendant pairs nicely with the nautical sconces and sticks with the straightforward design intent," Alissa notes. "It gets the job done while looking sharp. We also like how the Cherokee provides some uplight to the ceiling."
Since the clubhouse is an open-air facility, all of the lighting needed to be wet or damp rated. All of the fixtures satisfied that requirement and gave Alissa the clean lines and no-fuss look she desired for the overall aesthetic.
"The Barn Light Electric fixtures suit the design and the space perfectly," she says. "They provide a nice balance between utilitarian style and decorative charm."
Photos courtesy of Salt Architecture