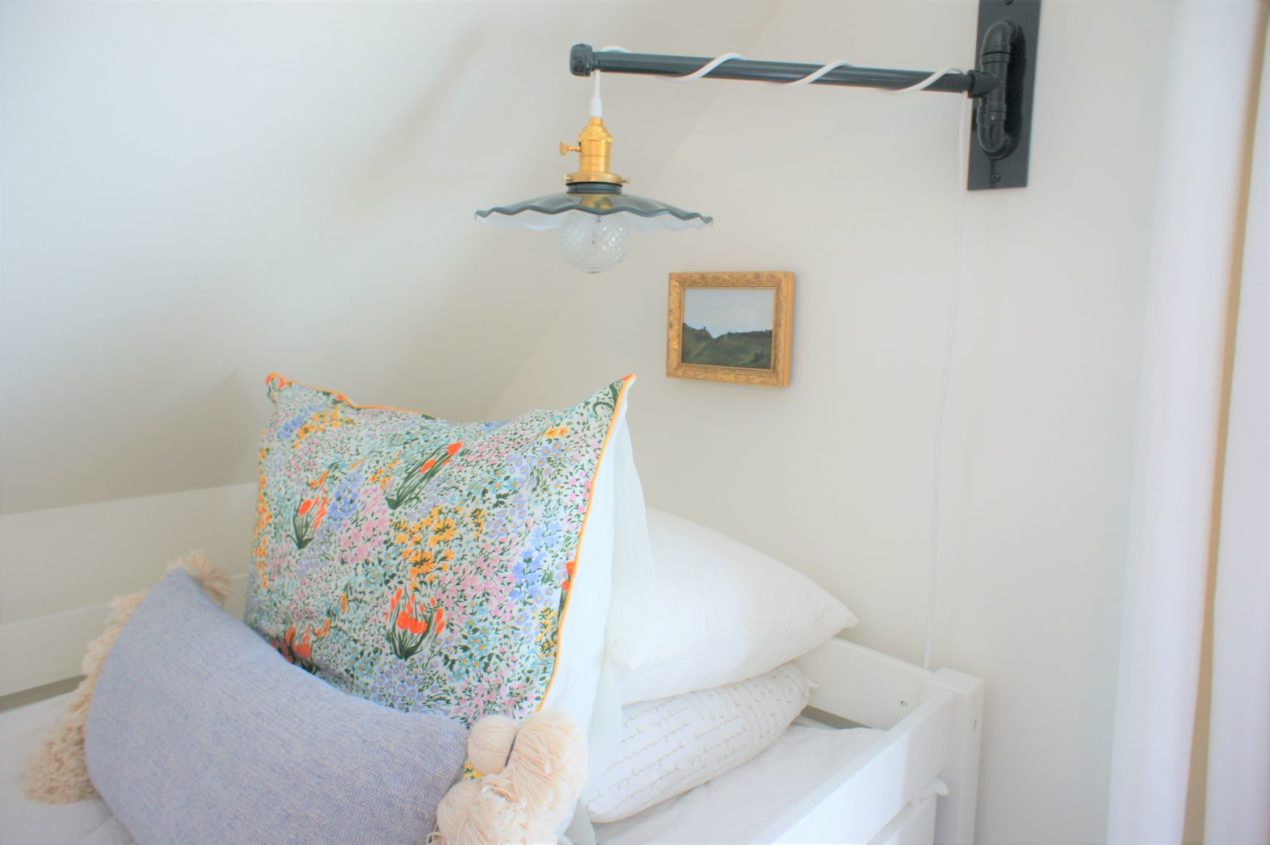 Easy-to-Customize Swing Arm Wall Sconces Bring Functional, Durable Lighting to Playroom
There are many advantages to buying a spec home from a builder. After all, it's brand new and there's no long wait to move in! And while some people love avoiding the countless decisions that come when building a custom home, that factor also lands on the downside of spec homes.
In Youngsville, North Carolina, a spec home made perfect sense to Julia and her family as they were focused completely on growing her husband Jody's new landscaping business and preparing for the arrival of their third child.
"When we moved in, we had the typical builder fixtures and finishes, and I was doing a little dreaming on making some changes," Julia says. "I was thankful for our new house, but I started following Barn Light Electric on Instagram and knew that one day, when I had a blank space, I would buy from Barn Light."
That day came after the couple's fourth child was born and they decided to expand the kids' playroom to include loft beds. The space serves as a fifth bedroom and a fun, creative place for the kids to hang out, read, and play.
"I heard that when designing a space, you should start with the item you most want," Julia explains. "For me, that was the Fluted Shade Swing Arm Sconce from Barn Light." Although her daughter wanted bunk beds, the sloped ceiling prevented that configuration so Julia opted for loft beds. She chose the swing arm sconce because it accommodated a variety of needs in the space.
"Sometimes my daughter lies on her pillow to read, and sometimes she sits up and colors," Julia notes. "She can pull it directly over her when she's reading at night or adjust the light when we need to move it over for her tall father." Julia customized her matching swing arm sconces with a Dark Green finish, white cord, and a brass socket and knob switch.
"Barn Light was the only company that gave me the customizing options to create fixtures that would work for a space we didn't want to hardwire and that has beds that can't accommodate a normal bedside table," Julia adds. They also wanted something rugged enough to stand up to the kids' daily activities while still being beautiful and affordable.
"We are a one-income, small-business-owning, homeschool family so we make conscious decisions and choices that are best for our budget," Julia says. "We got the beds and toy storage on a resale site, I painted the pictures above the beds, and we purchased other items from Ikea. The Barn Light fixtures really elevate all of the other budget friendly choices we made."
Julia first saw the Fluted Shade Swing Arm Sconces on Instagram and thought it would be perfect for the combination playroom/bedroom. Handcrafted from commercial-grade materials, the lights are very durable and the wavy detail of the shade adds the playful aspect Julia envisioned.
"My favorite thing, even over their eye-catching beauty, is how functional they are. They can be easily positioned where you need them and turn on so easily," Julia says. "The playroom was truly a blank space and the perfect opportunity to make my Barn Light dream come true!"
Photos courtesy of the homeowner