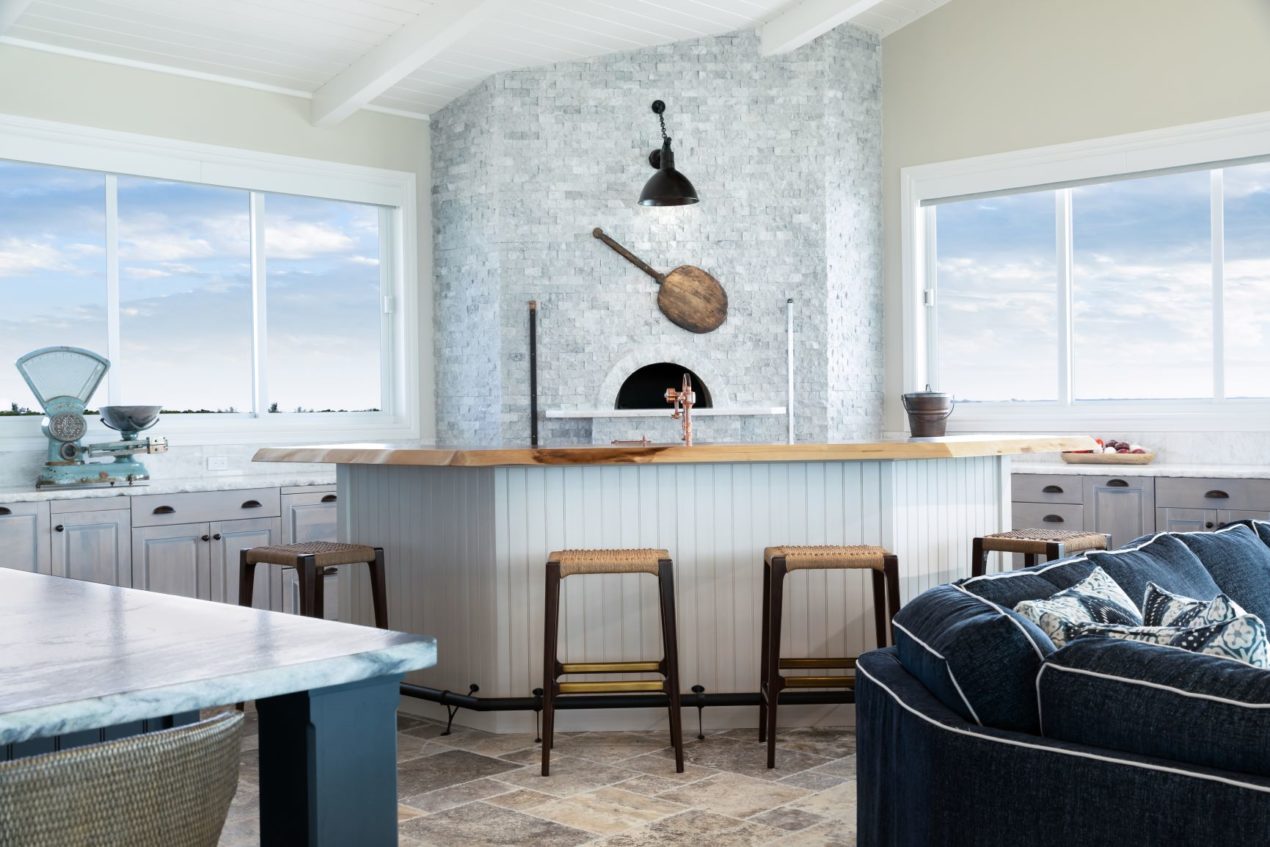 Copper Gooseneck Lighting Offers Elegance, Functionality to Island Home
Location, location, location. The mantra of every realtor takes on new meaning when you see this gorgeous setting in the Florida Keys. Faced with a home in dire need of renovation, the owners turned to D'Asign Source, a full-service architectural and design firm located in nearby Marathon, for help in creating their dream home.
"This home is located on Bella Mare Key, a private island off of Marathon," says Destin Barkley, interior designer with D'Asign Source. "It was an extensive remodel that took the 1,613-square-foot home down to columns and beams and expanded it to a 6,000-square-foot estate."
Entertaining friends and family is important to their client, so Destin and her team created an open-concept kitchen, living, and dining space upstairs to take advantage of the expansive views.
An 18-foot-long island provides space for plenty of casual seating while a Mugnaini pizza oven from Italy offers an alternative cooking spot in the corner.
"We wanted the kitchen to be livable and not delicate," Destin explains. "The color palette reflects the blues represented in the Florida Keys with traditional elements and textures." For the oven, the team searched for lighting that could be easily customized to suit the design theme. They turned to Barn Light Electric as a source for high-quality lighting with dozens of options to choose from.
They selected the Wilcox Deep Bowl Gooseneck Light to highlight the marble facade of the oven. They customized this handspun wall light with a 14″ shade and an oil-rubbed copper finish. The G64 gooseneck arm features a sturdy pipe mounting coupled with an industrial chain support.
"The functionality of the barn-style light was ideal for the pizza oven because of the task lighting the gooseneck light provides," Destin notes. "The 14″ shade was appropriate for scale in the space, and the oil-rubbed copper matches other copper elements in the kitchen such as the island wheel faucet and details on the hood."
The Wilcox, like all of Barn Light's American-made fixtures, is handcrafted and can be customized with one of more than 40 finishes. Multiple sizes are available for this deep-bowl shade along with a variety of arm styles and other accessories including LED.
"We selected the Wilcox Gooseneck Light because of its classic style," Destin says. "Now that the light is up, the client loves the overall appearance and ambiance of the light."
Photos courtesy of D'Asign Source