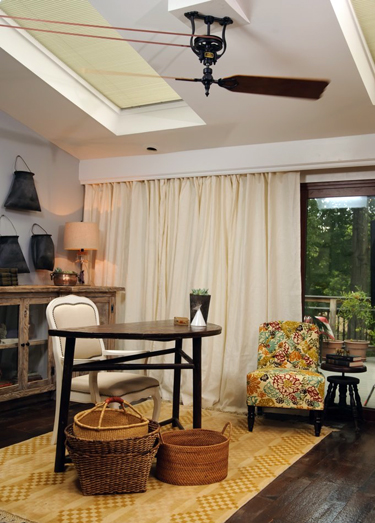 DIY Decor for Your Home: Key Design Rules of Thumb
When you browse through the portfolios of interior designers, everything almost always looks extremely well put together. Isn't it amazing how some people can scout around their clients homes and find the perfect little knick knacks to create the best mantel or console table display? You can do this too! Here, we're outlining a few key design rules of thumb that make decorating simple. This means that you can trick your guests into thinking that you brought in a professional designer to do the dirty work! For example, check out the photo from an episode of Dear Genevieve, featuring our Brewmaster Belt Driven Ceiling Fan.

Rugs — Rugs are one of the trickiest things to consider when it comes to placement, size and style. In order to make a room look uniform and gathered, make sure all furniture pieces have at least one leg on the rug. In hallways, it is best to leave a one-foot frame of the flooring around the rug. With that being said, some use rugs as an inexpensive solution to hide their already existing ugly floors, so a six-inch frame will work just as well here!
Layering — Layering is one of the best ways to add dimension to a space. Whether it's on a picture wall, inside a bookcase, or even with rugs, this adds texture and visual interest to even the blandest of spaces. However, when it comes to layering and adding depth, remember that things always look best when they are grouped in sets of three!
Curtains — Hang curtains about an inch or two from the ceiling, not even with the window! This can make even the lowest ceilings appear higher. Let the curtains hang onto the floor to give a continuous streamlined look. The pros have picked up on this trick by noticing how short curtains can make a room look squat and compact.
While these are all simple DIY tricks, please speak with a professional before you plan on making any major changes. By following these design rules, sometimes the littlest changes can make the biggest difference in adding character and personality to a room!