Featured Customer | Wall Sconces Help Update 1950s Ranch Home
Today's Featured Customer is a source of inspiration for many DIYers through her popular House Tweaking blog in which she documents her family's move from a builder basic McMansion to a 1950s brick ranch fixer upper they affectionately dubbed The Underdog.

"The house needed a ton of work. Everything was original and in poor shape," Dana, who lives in Ohio, explains. "We gave up more than 1,000 square feet coming from the McMansion, but we chose to downsize to achieve financial and personal goals and to shorten my husband's commute to work." Their work has included new floors, new paint, new appliances, and yes, new lighting!
"Lighting has been a very important aspect of the renovation," Dana says. "The house is naturally dark with a deep overhang blocking direct sunlight to the windows, so maximizing light — both
natural and artificial — is essential." Luckily, Dana has an electrician in the family who has been a great resource for working on the overall lighting plan and figuring out how much lighting is needed for each space and where best to install it.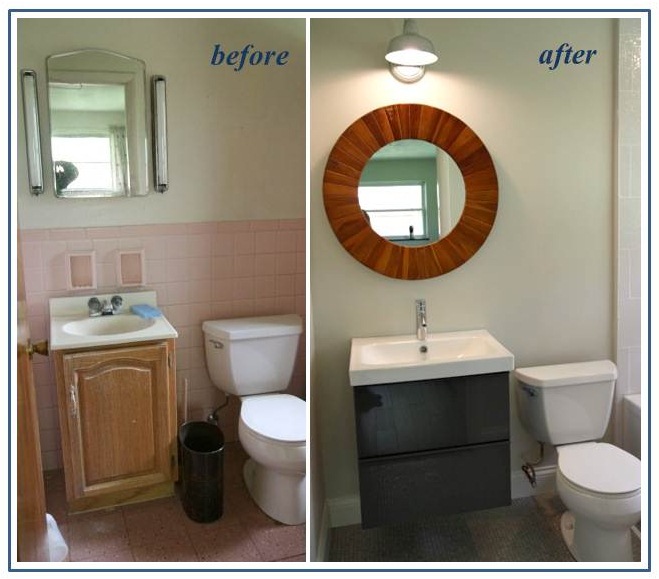 Today, we take a peek inside the master bathroom where Dana chose the Austin Wall Sconce to hang over the vanity. As you can see in these before-and-after pics, Dana didn't save much from the former bathroom — she ditched the pink tile, the sterile mirror, and, egads, the fluorescent lights!
The Austin is an American made, classic barn wall sconce with an RLM-inspired warehouse shade. Smaller than its gooseneck cousins, the Austin's compact size is perfectly suited for bathrooms, hallways, and other tight spaces. Dana chose the 8″ shade in a Galvanized finish to highlight her round, teak mirror that adds both warmth and curves to the space.
"After we installed this sconce in the master bathroom, we loved it so much we hung another one in the kid/guest bathroom," Dana says. Check back tomorrow as we discover what else Dana has done to update The Underdog!
Photos courtesy of the homeowner