Vintage Porcelain Lighting Sets Mood in Victorian Wine Cellar
Sad as it may be, most homes don't come with a wine cellar. Much less a wine cellar that oozes with warmth, style, and a moody vibe that lets you know as soon as you cross the threshold that this is a place to slow down, relax, and breathe —  just like a good wine. This gorgeous setting is part of a 126-year-old home located in Connecticut's Pine Meadow Historic District. Known as the Philip Chapin House after its first owner, it is named in the National Register of Historic Places as "an excellent example of Victorian domestic architecture." The owners have spent decades preserving the historic details of this home and, as you can see here, chose classic porcelain lighting to set the mood.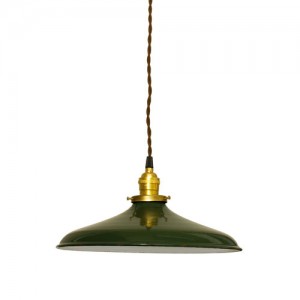 This beautiful vintage cord hung pendant is very much like our 12″ Vintage Porcelain Enamel Shallow Bowl Pendant with a cotton twist cord. This porcelain fixture features a 12″ shade with a classic green exterior and a bright white interior that reflects the light effectively. The vintage cotton twist cord comes in four colors and a variety of lengths so you can choose what best fits your space. Like all of the antique lights found in our Vintage Barn Lighting Collection site, this fixture has been cleaned and rewired and is ready to install.
If your home doesn't have the space for a dedicated wine cellar like this one, you can still get the look in your own home. Put a couple of comfy pub chairs in the corner of the kitchen or living room, place a small table between them, and hang a vintage porcelain fixture overhead. A quiet spot in the den or even in the attic would work just as well. Comfortable furnishings, warm colors, and vintage touches will create a space where you can relax with that Moulin a Vent 1985 Le Vieux Domaine you've been saving!
Photo courtesy of Rayon Richards for The Wall Street Journal