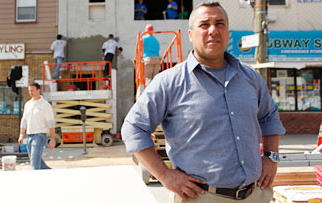 Discovery Channel's Construction Intervention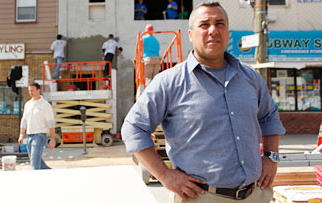 Discovery Channel is launching a new 1-hour series titled Construction Intervention where Charlie "The Bulldog" Frattini and his crew tackle real life property improvement dilemmas. This particular episode features Dominick Anfuse, owner and chef of Al' Di La Restaurant in East Rutherford, New Jersey. Dominick started renovations in his downtown Italian restaurant nearly two years ago. From what started as a dream quickly turned into a renovation nightmare. Dominick experienced several bad contractors who left him with an unfinished restaurant and financially broke. Without a clear and concise plan, Dominick took on the role of sub-contractor, restaurateur, and chef. Unfortunately now, Dominick's dream of running a traditional Italian restaurant is taking a toll on his family, his health, and his bank account.

Discovery Channel contacted us to participate in this up and coming series airing in April and May 2010. By keeping in mind Dominick's dream of creating a true and authentic Italian restaurant, Barn Light Electric was able to provide Al' Di La with several themed Chandeliers, Pendants, Ceiling Fans and Wall Sconces.
Combining old world charm with the modern advancement in lighting, the Utah Sconce exhibits many of the same characteristics shared by its cousin, The Boxwood Chandelier. When paired with an optional cast guard and frosted glass unit, the Utah Sconce uses its combined Rosewood and Copper finish to create a soft, old-world inspired glow.
The Denyawood 5-Light Chandelier is the perfect mid-size chandelier that has the right balance of compact design and simple elegance. The Denyawood is comprised of 5-bell shaped shades topped with a domed hub that connects to the thinly pressed, and curled decorative arms. Available in 5 finish options, this custom hand crafted, American-made chandelier remains as the perfect example of a versatile fixture that bridges the gap between style and size.
You too can bring a piece of nostalgia to your home, restaurant, or brewery with this line of early vintage fans. The Bourbon Street belt driven ceiling fan provides a touch of timeless style with modern components. Belt driven fans are a unique and energy efficient option when needing to cool large spaces. One motor powers all three fans – it is the connecting belts that rotate the other fans! All belt driven fans are available with multiple blade and finish choices to match any surrounding.
To see how Barn Light Electric's lights were used and to view even more of our products shown on this episode, tune into the Discovery Channel's Construction Intervention airing weeknights in April and May.