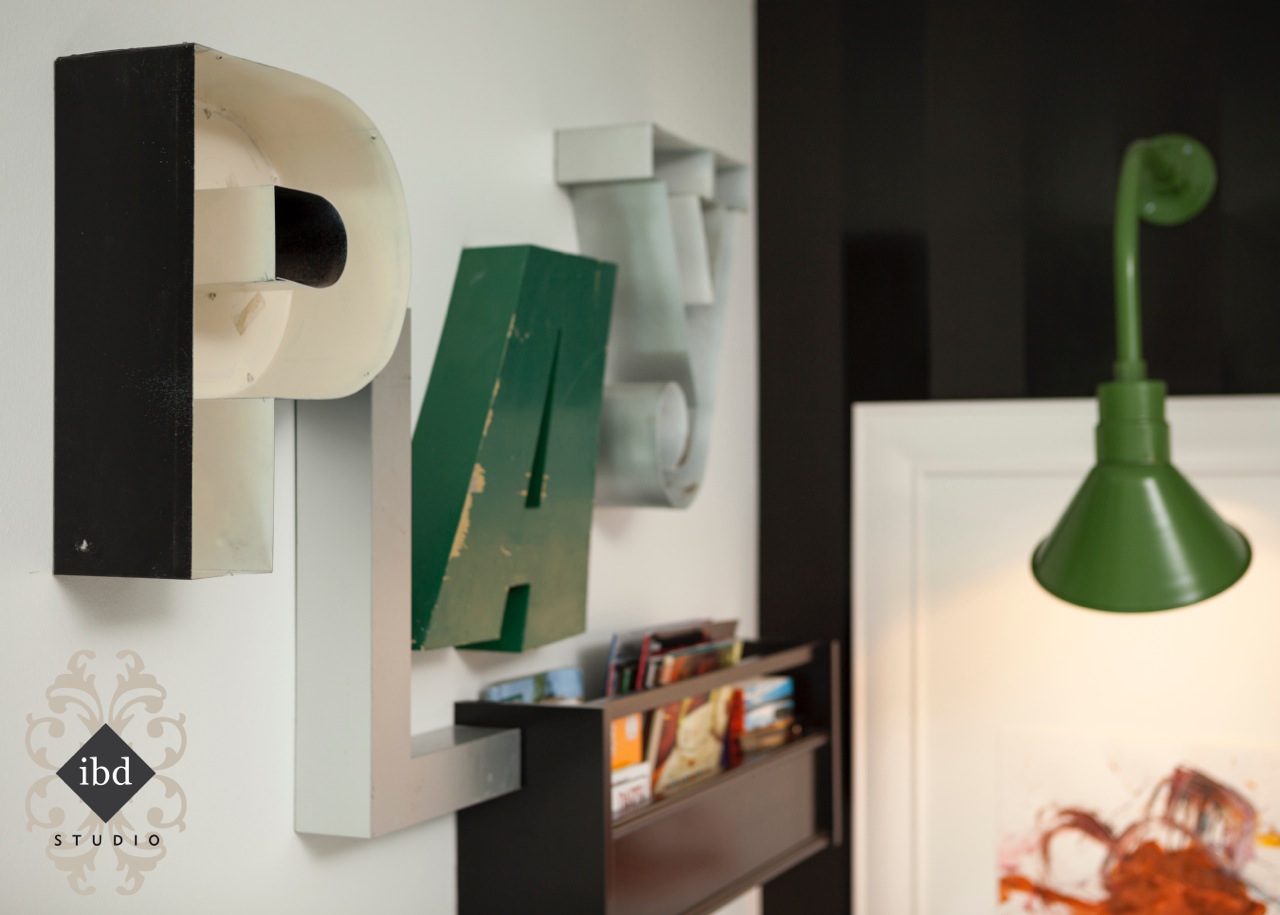 Creative Playroom Lighting That Adds Color, Fun, Inspiration
We've been celebrating the start of summer break this week with a look at some creative play spaces for kids. If you missed Monday's post or Wednesday's post, be sure to take a peek. We're winding up the week with a look back at some other fun spaces our customers have created not only for kids, but for those adults who will always be kids at heart.
When Michelle renovated her basement into an awesome playroom for her family, she highlighted her new 14′ shuffleboard table with three Original™ Warehouse Gooseneck Lights. These handcrafted, RLM-inspired shades complement the urban bar vibe she created with brick and industrial accents. You can read more about Michelle's project here.
In this parent-friendly playroom, a comfy sectional sofa, window seat, and built-in bookshelves entice the adults while two whiteboards and a magnetic board provide space for kids to create. The boards are highlighted by Fire Chief Sign Lights from our Sign Lighting Collection.
In this art room remodel, even the lighting is inspiring! What kid wouldn't love to sit beneath these colorful porcelain enamel Pollock Pendant Lights? Each pendant is hand spun from steel then layers of color are hand applied for a truly unique finish. The pops of drippy color are the perfect highlight to any kids' play space!
Designer Rachel Shingleton of Pencil Shavings Studio turned her keen eye to her own bonus room which is used as an office and hangout space for the entire family.
"I just love a little visual refresh from time to time so I came up with the idea of creating a colorful playroom library based on the concept of color theory," Rachel says. She installed three Lovell Porcelain Plug-In Wall Sconces above her color wheel artwork customizing each with a White finish.  For an extra touch of color, she selected a different cord for each wall sconce— gold & white, blue & white, and red & white.
The room is a busy spot in Rachel's home as her desk occupies one corner and her kids enjoy having loads of books within easy reach. Rachel loves all of the color her renovated room has to offer.
"Good lighting is like jewelry. It adds so much style and polish to the final look," she says. "You really can't beat the finishing touch of a beautiful light fixture."
Photo of Angle Shade Gooseneck Lights courtesy of Joshua Caldwell
Pollocks photo courtesy of Three Beans Design/Build
Bottom two photos courtesy of Pencil Shavings Studio