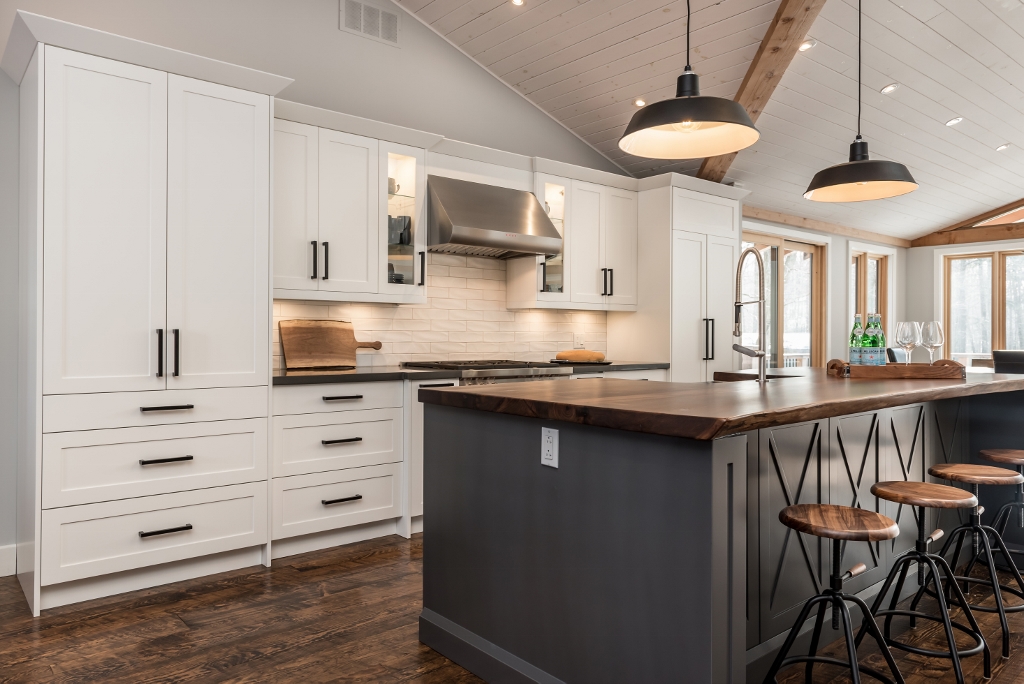 Designers Share Tips on How To Create a Functional & Fabulous Kitchen
Whether you live alone in an uptown condo or share a spacious farmhouse in the country with your family, the kitchen is likely the heart of your home. With so many activities taking place in this space, from food prep and entertaining to homework and midnight snacking, this hub must not only be functional and adaptable to many needs, but should reflect your style.
Today we've asked three interior designers to weigh in on how to create a kitchen that is not only stylish and welcoming, but also functional for a variety of purposes.
Meet Destin, senior interior designer from D'Asign Source in Marathon, Florida, Mary Jo of MJG Interiors in Manchester, Vermont, and Sean, senior designer from Airy Kitchens in Philadelphia!
Q: What is the biggest mistake people make when building or renovating a kitchen?
A: Sean — If you're doing a major remodel, consider other layout options. Changing your layout can add space, storage, or provide better flow to your kitchen.
Mary Jo — Plan your work zone so everything is within reach.
Destin — I always advise a client to select appliances they are familiar with. For example, if you've never used an induction cooktop, don't select one for your new kitchen design.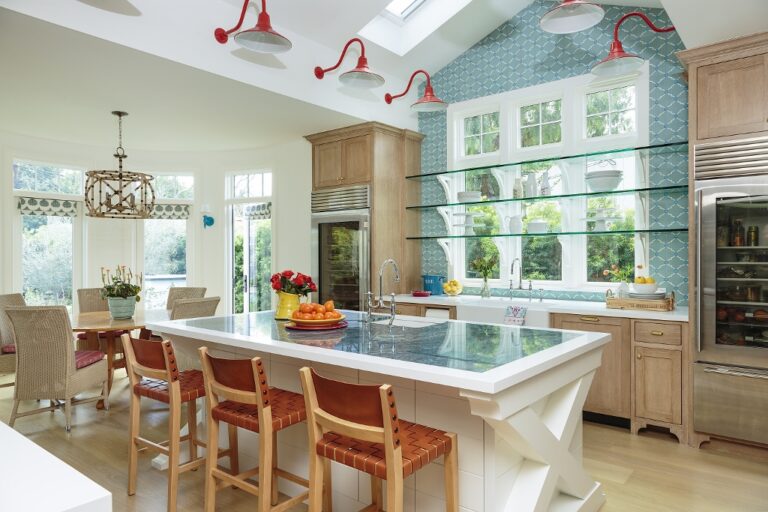 Q: How does color play into the style of the kitchen?
A: Sean — We love color in the kitchen and always push our clients to embrace it. We like to layer multiple shades of the same color and add a pop of a bright, complementary color. If you want to keep your space neutral, try to add lots of texture and different materials to keep it interesting.
Mary Jo — I think we all have color memory. As you walk through your house, you are subconsciously aware of the colors in each room. I try to create a common color thread throughout the house so the spaces work together.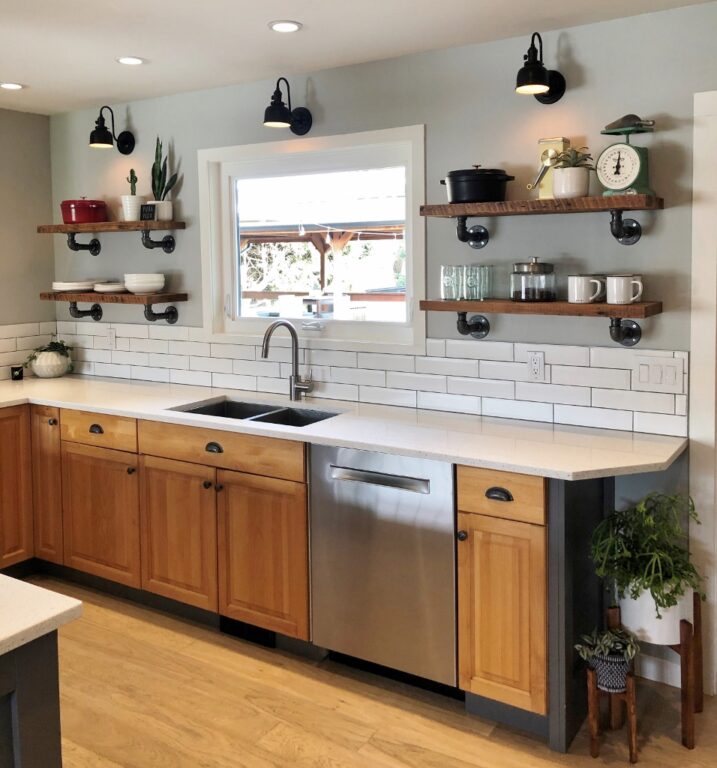 Q: Open shelving vs cabinets?
A: Destin — Open shelving is great over a wet bar or as an accent. However, most people prefer not to use them as their primary source of storage because everything is exposed and must be organized and presentable.
Mary Jo — I love the idea of open shelving more than the reality. I tend to use open shelving in bar areas where there is not as much use. I am also honest with my clients about assessing their day-to-day habits to see if they can keep them neat and organized.
Q: Why types of lighting should you use in a kitchen, ie: accent, task, statement piece?
A: Destin — The most important lighting in the kitchen is ambient lighting, the base layer that makes the room usable. The next is task lighting which is a critical layer that is often overlooked. Task lighting includes under-cabinet lighting and fixtures directed at workspaces. The final layer of lighting is accent lighting which is where you can get creative with decorative fixtures such as pendants and chandeliers.
Mary Jo — I like statement pieces over a breakfast bar or island, but only if it doesn't block an amazing view outside or the football game across the room. Task lighting is super important and I like to make sure there is under-cabinet lighting. If there is room over the cabinets, I love the look of sconces on an articulating arm to add down light.
Q: How do you create a focal point in a kitchen?
A: Sean — I like to create symmetry with cabinets, appliances, and lighting. Our kitchen (shown above) creates a focal point around the sink and windows which helps to balance the other items that are not symmetrical like the floating shelves and the bump out on the wall.
Destin — A dramatic kitchen hood is a great way to create a focal point, and they are available in so many styles and finishes now. From a dramatic metal hood to a contrasting cabinetry finish, kitchen hoods are a great way to create a "wow" factor.
Q: Do you have any tricks for maximizing storage?
A: Mary Jo — Eliminate any soffits over cabinets and run your cabinets to the ceiling. Put seldom-used pieces in the upper cabinets.
Sean — I like to design with lots of drawers and tall pantry cabinets. This allows us to open wall space and use floating shelves in other areas.
Destin — Base cabinetry with roll-out trays are a great way to maximize storage. We usually put a roll-out tray under a sink cabinet so nothing gets lost in dark corners. Adding roll-out trays to tall cabinets also helps every corner of the tall cabinet be maximized.
Q: How important are hardware choices?
A: Mary Jo — Very important! Hardware can take ho hum cabinetry to the next level. Depending on the style of the door/drawer fronts and finishes, it can be simple and still be dramatic.
Destin — While hardware is important, it's not as important as cabinetry finish and countertops. If selecting a very specific, trendy hardware, I would recommend to make sure the 'spread' of the hardware is standard. If you ever want to replace it, it will be easier to find hardware to match the holes you already drilled into your cabinetry doors.
Q: What do you recommend to clients as 'timeless' choices that won't go out of style quickly?
A: Sean — Natural materials age more gracefully and don't go out of style. We love soapstone and marble counters for a timeless look. Stainless appliances don't seem to be going anywhere and they feel clean and classic.
Mary Jo — There seem to be new stainless steel finishes coming out every season — black stainless, antique stainless. To me, that is a time stamp on a kitchen like the avocado appliances of the 70s. True stainless steel appliances are timeless to me.
Destin — White painted cabinetry will always be in style as will neutral countertops. Avoid the trendy colored appliances and stick with stainless steel for a timeless look.
Q: What is the one thing every kitchen must have from a design standpoint?
A: Destin — Every kitchen should have a backsplash. Not only is it functional to prevent the drywall from getting water damage and/or stains, but it's a great way to add a pop of interest.
Mary Jo — Good quality lighting and lots of it!