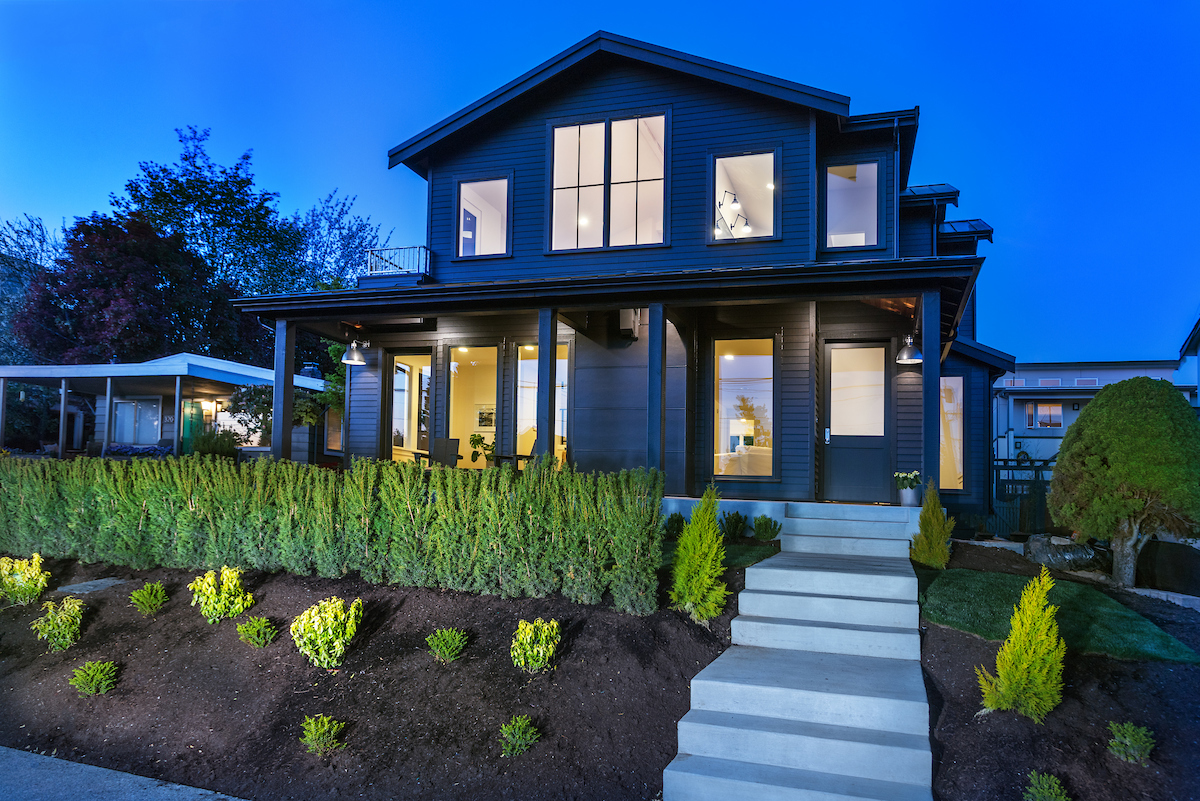 Galvanized Gooseneck Lights Add Timeless Touch to Modern Cottage
One of the many things that sets Barn Light Electric apart from other lighting companies is the abundance of ways our lighting can be customized.
It's the main reason Natasha comes back again and again to find lighting for the projects she and husband Bryon create with their firm Modern Cottage. Located in Kirkland, Washington, the duo design, build, market, and remodel cottages that blend historical features with updated designs and finishes.
A recent project in this lakefront suburb of Seattle was technically a remodel, but the home was taken down to the foundation and a partial setback wall.
"The original 1912 house had charming lines but was sadly very cramped and dysfunctional," Natasha says. "Bryon draws all of our home designs and made sure to preserve the footprint and keep a similar pitch and covered porch to honor the original home."
The inspiration for this extensive renovation was classic Americana. The couple included a wide porch, beveled siding, and timeless pitches to create the desired look. Natasha knew where to turn for quality lighting that would be easy to customize to complement the new structure.
"We love to support American manufacturers and appreciate the care and quality that go into these products," she explains. "Barn Light has long been a favorite for the endless customization possibilities and the ability to get precisely the look and scale desired."
Natasha chose the Wilcox Vented Gooseneck Light to accent the front porch and exterior doors. She customized these handcrafted gooseneck lights with 16″ shades, Galvanized finish, circle vents, and G16 straight gooseneck arms.
"We have a longtime affection for all things galvanized and, of course, that was our choice of finish this time," she notes. "The circle vents just spoke to me — they felt fun and playful. Those little details or surprises are really what make a home special."
Natasha adds that the straight gooseneck arms felt appropriate for the house as their designs promote history while infusing modern elements. They knew the timeless look of galvanized metal would pop nicely against the black exterior.
"The classic shape and style made the Wilcox an obvious fit for our project," Natasha says. "We appreciate the simple profile of the shade and the ability to match it with a straight arm for a different, slightly more modern look. The scale and shape add softness to the exterior and provide wonderful contrast."
Photos courtesy of Modern Cottage