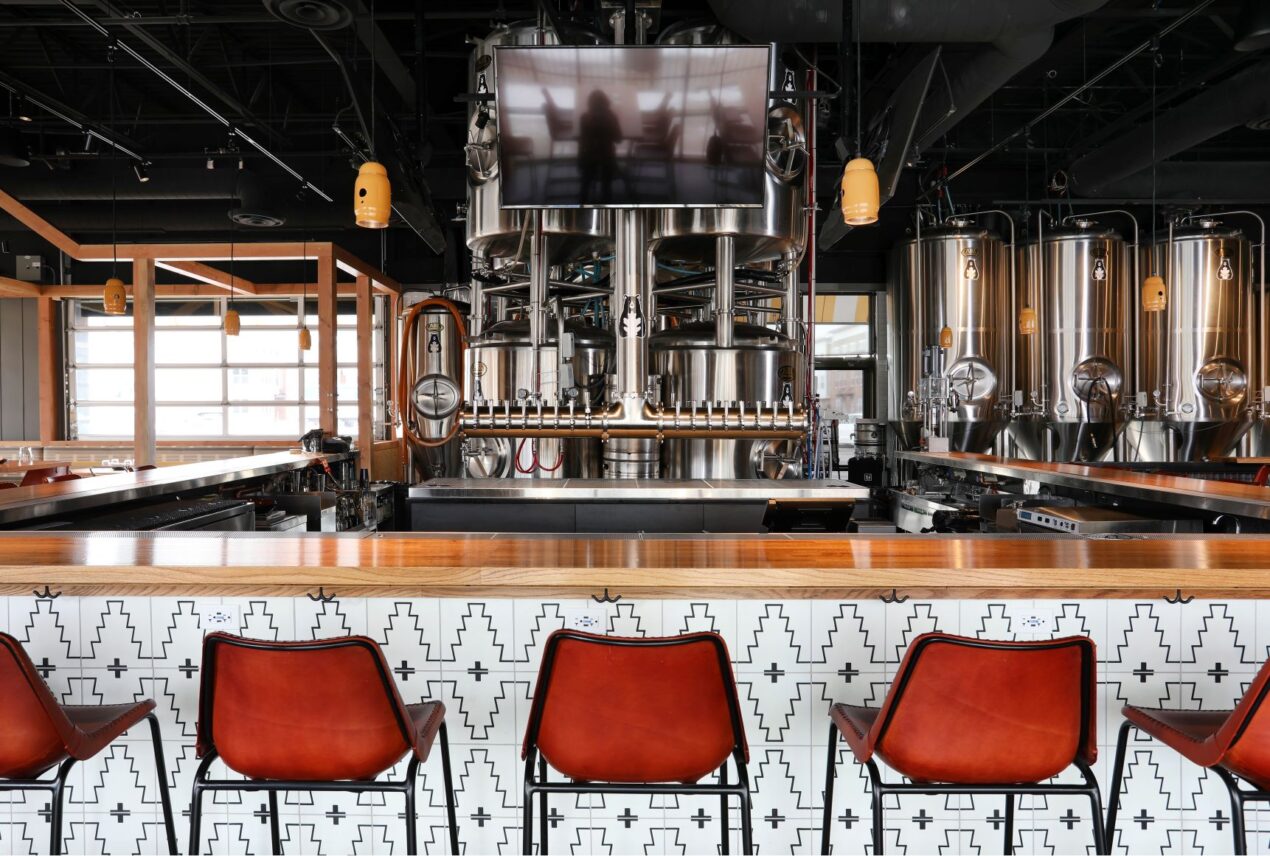 Upcycled Industrial Pendants Highlight Brewpub Bar
Just a few weeks ago, we shared the bold design of a Chicago-area coffee shop created by the design team at fcStudio in this blog post. Today we're visiting another space that this talented architectural, design, and branding firm tackled just west of the Windy City.
The project was a massive gut renovation of an existing, stand-alone building to establish a new home for Ike & Oak Brewing Company in Woodridge, Illinois. In developing a design theme, the team looked to the surrounding region for inspiration.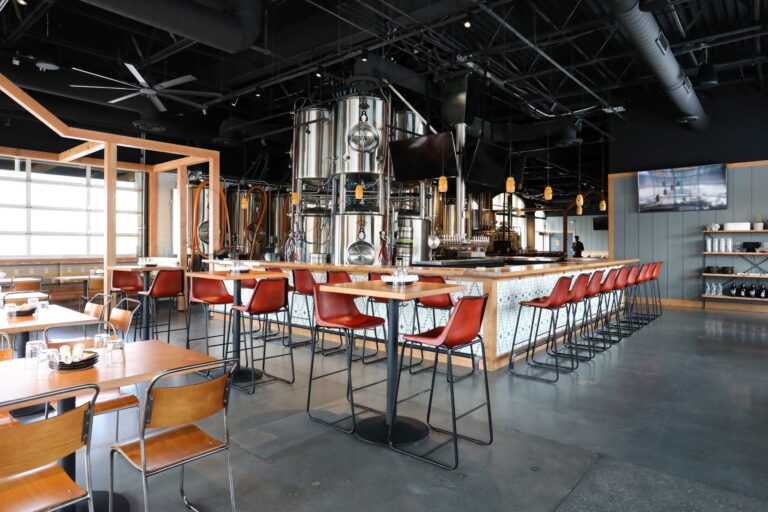 "We were pulling something very Midwestern into the design," says Bob Quellos, senior architect at fcStudio. "There's also a nod to a summer home on Michigan's west coast alongside the farming of central Illinois."
As the space took shape, the team chose fixtures and colors with care to keep the space from feeling too cold or industrial. Finding lighting that was American made and easy to customize with a variety of color options was essential.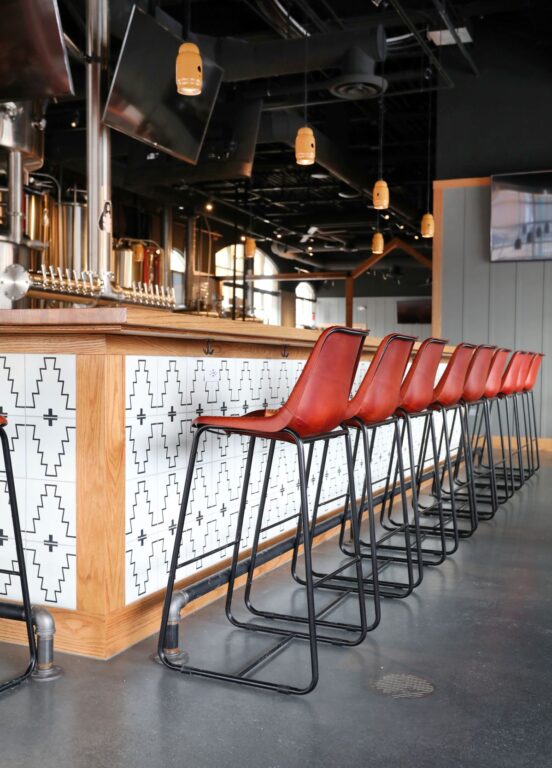 "These are all things we look for as a design studio," Bob explains. "Having locally made options with the ability to customize makes Barn Light Electric an easy choice for both us and our clients."
The team chose the Mig Pendant Light to highlight the bar area. They customized these industrial-style ceiling lights with a high-gloss, porcelain enamel Yellow finish and black cords.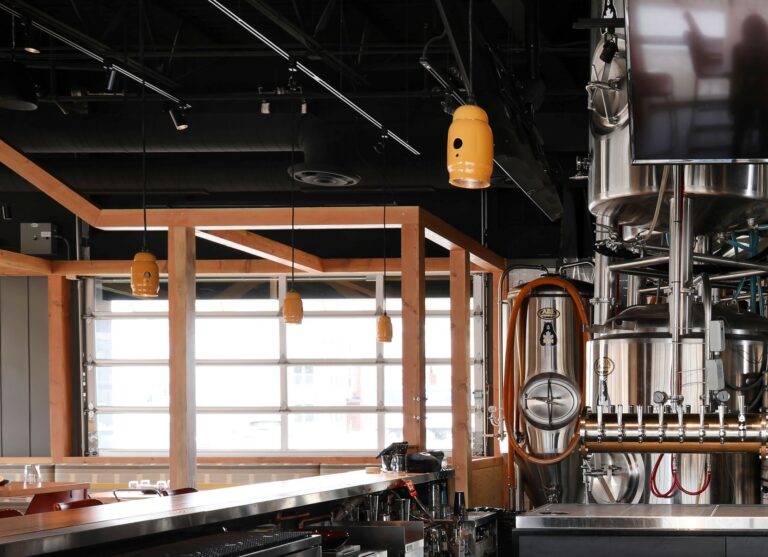 "They're unique, well designed, and the color option fits right in with the palette for the space," Bob notes. "Somewhere along the way, a camping/nature theme evolved in the Ike & Oak branding. The Mig lights feel like little bird houses and help soften the space which could quickly feel too industrial."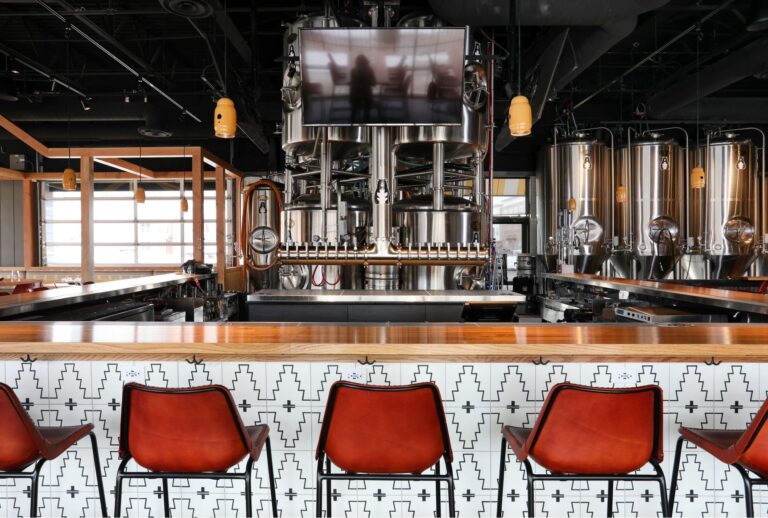 The Mig Pendant is repurposed from steel acetylene tank tops to create a one-of-a-kind ceiling light. Easy to customize with more than 40 finish colors and multiple cording options, the Mig feels right at home in both commercial and residential spaces.
"There are a lot of these fixtures at the bar, so there was no need to add another design element. The black cord falls into the background allowing the yellow porcelain to become the focus of attention," Bob says. "They add a great layer to the space, define the bar, and provide just the right amount of light."
Photos courtesy of Katrina Wittcamp and fcStudio