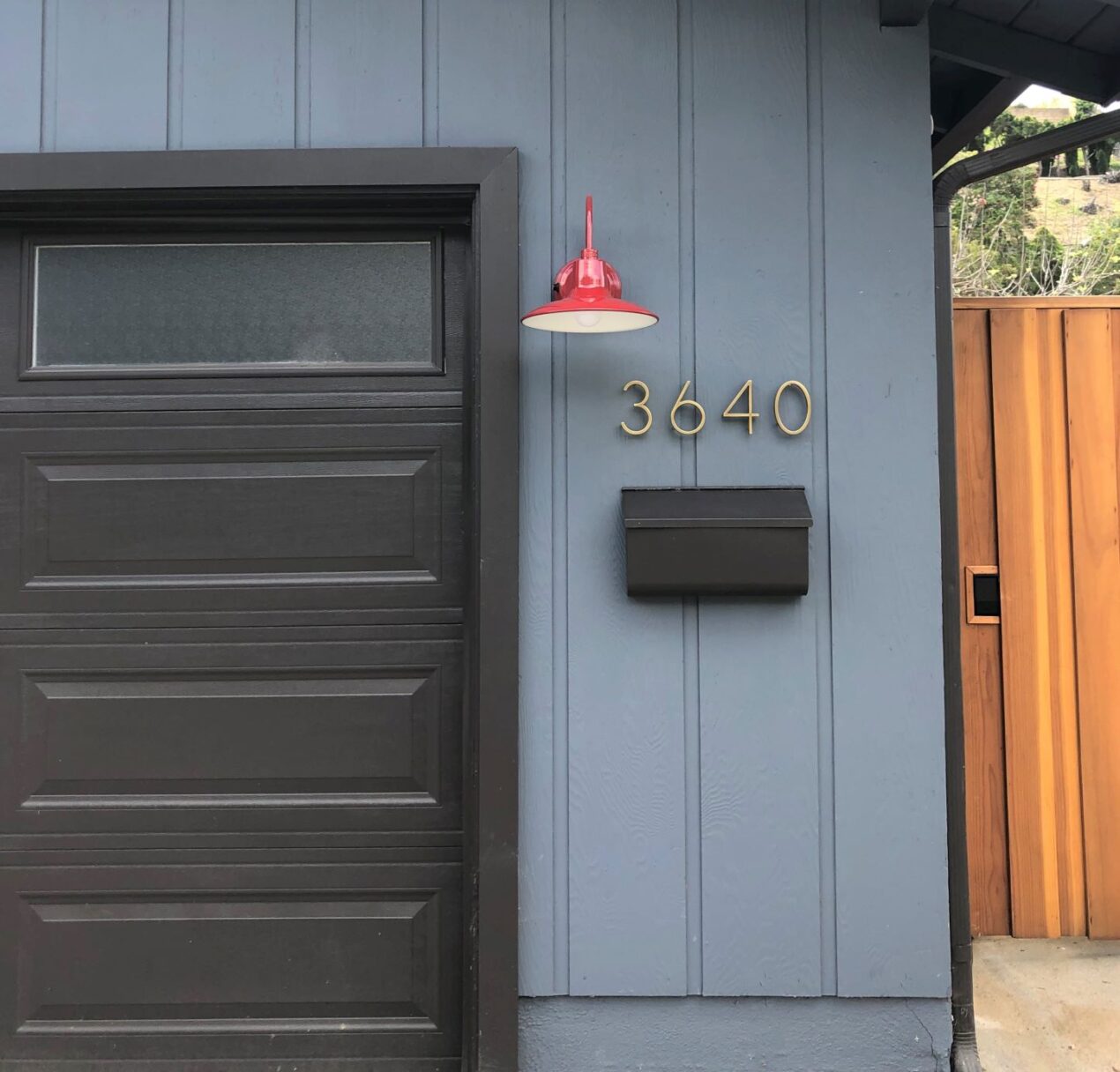 Sleek Wall Sconces Offer Scandinavian Touch to Exterior Remodel
When designer Meredith Kleinman started an extensive exterior remodel for a client in the Mt. Washington neighborhood in Los Angeles, her client mentioned the desire for a Scandinavian feel.
"I associate Scandinavian design as having lots of light wood with solid color accents, so I immediately thought of Barn Light Electric for its true colors and clean, simple look," Meredith says. "I also really liked the idea of a true red against a backdrop of the muted gray/blue house color we chose to do."
The backdrop is Benjamin Moore's Ocean Floor which provides the perfect palette for Barn Light's Dominion Wall Sconce in Barn Red. Meredith notes that color and integrity of design were most important for this project.
"Barn Light has the color and design styles I like when I'm going for the colored enameled look," she adds, "and the customizing options like the photocell are a huge plus."
The client customized the new wall sconces with 12″ shades, the Barn Red finish, and the dusk-to-dawn photocell which turns the lights on automatically at dusk and off again at dawn.
"This is optimal if you want the comfort of knowing your light will come on whenever it's dark enough," Meredith explains. "Whenever given the choice, I always use this option."
Meredith notes that barn-style lighting is timeless and complemented this style of home in particular.
"I actually gave my clients four different options from Barn Light and they chose the Dominion," she says. "All of the choices were based on the projection size and the shade size. You want it to be big enough to see from the street but not too big for the walls they are being mounted on."
The Dominion is handspun from solid sheets of metal then hand finished in one of more than 30 finish colors. Other optional accessories include a wire cage, cast guard and glass, an acrylic diffuser, or a plug-in option for those wishing a more portable fixture.
"We all love the red and I especially love the combo of house color, red light, and antique brass house numbers," Meredith says. "I've been using Barn Light Electric for many years. I've always loved barn lights, and the styles and color options you have make it perfect for me."
Photos courtesy of Meredith Kleinman Design