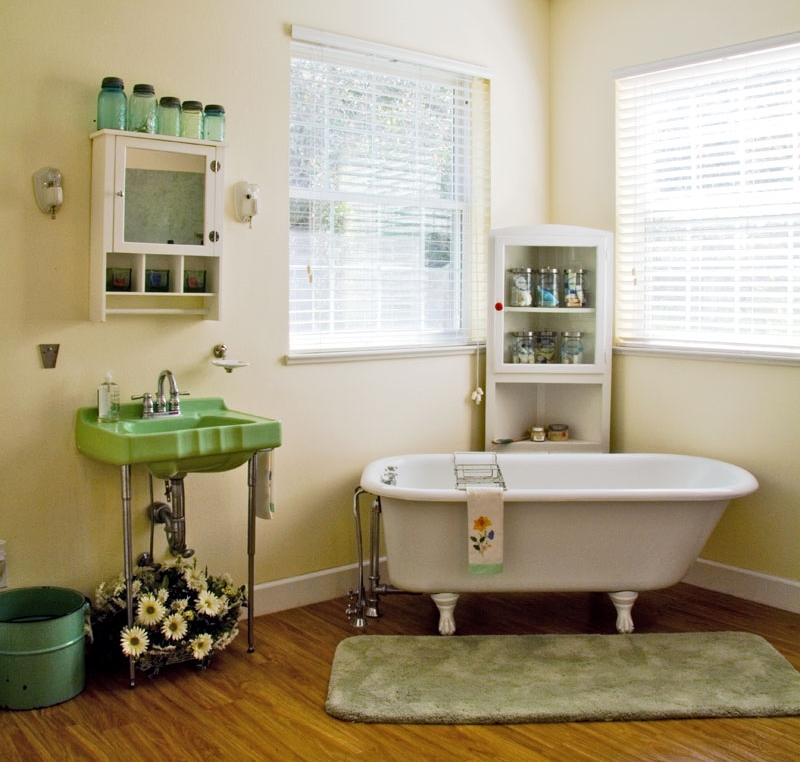 Design 101: Solving the Bathroom Lighting Dilemma with Sarah Phipps
One of our favorite West Coast destinations is Bend, Oregon — land of amazing scenery, low humidity thanks to the high elevation, and year-round recreational opportunities including elbow bends at the 14 breweries we found there!
On last summer's trip out west, we also discovered Cottage Bend Vacation Rentals designed by Sarah Phipps of Sarah Phipps Design. We fell in love with Sarah's comfortable and colorful style so we asked her to get comfy in the blogger's chair today to talk about one of the trickier lighting tasks in the home — bathroom lighting.

Sarah: In my experience, the bathroom can be one of the most difficult rooms to light. I spend a lot of time trying to find attractive bathroom vanity lights that are also affordable for my clients. Sometimes it feels like vanity lights are stuck between 1984 and 1994 and the rest of the world has moved on. I scroll through them and think – too shiny, too curly, too flute shaped, too brass, too brushed stainless, too blah, too ornate, too rickety, too big, too weird, too Liza Minelli's dressing room. Then I sigh and change my search to something that doesn't make me so sad — like encaustic tile.
It's fun to get creative with bathroom lighting, but it is important to keep some practical matters in mind.
Ideally, you should use a pair of wall sconces mounted at eye level on either side of the mirror to get the best shadow-free results above a bathroom vanity. If you are designing a new home, this is the ideal way to go. Plan for enough space around each mirror to accommodate wall lights ideally placed 36-40 inches apart with the bottom of the shade hitting a little below eye level.
In a remodel, however, if the area around the mirror is limited, I'll sometimes use a simple, single wall sconce over the mirror combined with recessed lighting placed judiciously in the ceiling but never directly over the mirror.
I like Barn Light Electric's Downtown Minimalist Sconce or the Canal Soho Sconce. I also find myself drawn to bathroom sconces that borrow their design cues from the 1930's and1940's, like in the Antique Lighting Collection.
And though I like the look of clear shades and Edison bulbs, in practice, I usually find their light too harsh for a bathroom. I prefer opaque or ribbed glass shades and opaque bulbs in bathrooms because the light they cast is soft and indirect. It's also important to remember that if your fixture hangs too far out over the sink, it casts unflattering, unnatural shadows onto your face.
I'm also a big fan of having lovely natural light in a bathroom if possible. I like to use skylights especially in smaller bathrooms where the layout doesn't allow for windows. Transom windows are wonderful in a bathroom as they provide natural light from above without compromising privacy.
In other practical matters, think hard about where you put your switches. Make sure they are easy to access and don't accidentally end up behind a door or around a hard-to-reach corner. Consider adding small, shaded nightlights, hard wired low in the wall, on the way to the bathroom. They cast an unobtrusive light that makes it easy to find the bathroom without turning on bright overhead lights.
And always consider the special safety requirements of bathroom lighting. Consult with your electrician and make sure that the lighting design and the fixtures you choose meet code requirements, especially those that are being placed in wet areas over bathtubs and sinks.
Sarah Phipps is an interior designer who specializes in the remodel of older, smaller homes and thrifting as an art form. She has written for Houzz, and her work can be seen in Cottage Style, Vintage Style, Best of Flea Market Style, Bliss Blog and 1859.