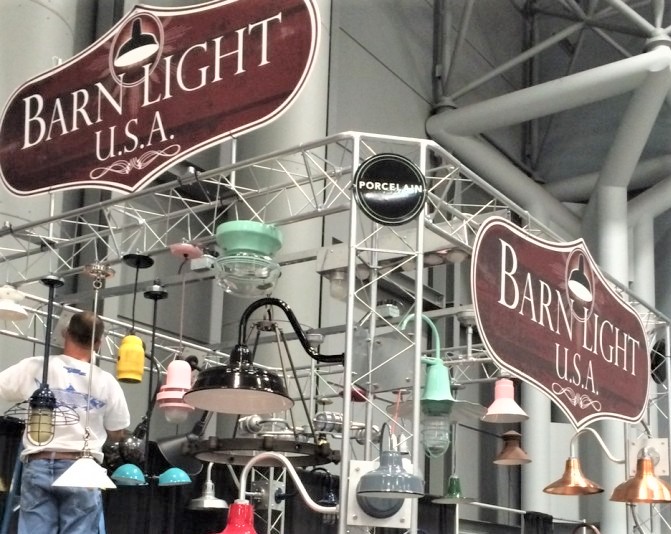 Porcelain LED Lighting the Star of the Show at LIGHTFAIR International
Spring is a busy time here at Barn Light Electric as people emerge from the winter doldrums and get motivated to work on home renovation projects. In our business, spring also means it's time for the annual LIGHTFAIR International Conference which brings together the industry's leading manufacturers to talk lights, announce new products, and showcase the latest technologies.
The hot topic this year is LED lighting according to our crack team of barn light experts who descended upon the Javits Center in New York City for this year's show.
"We had a steady flow of traffic on Day 1," says Melanie, East Coast Commercial Sales Manager for Barn Light USA, our commercial division. "Tons of folks are interested in our porcelain enamel products and are excited to see that they can not only customize the fixtures with plenty of options, but that the porcelain enamel lighting can be fully integrated with LED components."
The Porcelain Enamel LED collection offers vintage-inspired design in barn-style fixtures including gooseneck lighting, pendant lighting, and wall sconce lights. Equipped with energy-efficient and environmentally friendly LEDs, this exclusive collection brings classic vintage style to both residential and commercial spaces.
"People hold these porcelain enamel lights in their hands and realize the difference," says Mark, assistant general manager at Barn Light Manufacturing. "They feel the heft and understand that it's the same kind of lighting that was manufactured at the turn of the century and that it will truly last for years." Barn Light Electric is the only American manufacturer of porcelain enamel lighting which is hand crafted daily in our Florida facility.
All of the LED collections feature integrated components by Cree, the nation's leading innovator in LED lighting. Cree components offer high-efficiency lighting with Cree's TrueWhite® technology that produces the bright, warm light associated with traditional incandescent bulbs. The LED components will last 50,000 hours which makes them especially attractive for commercial lighting needs.
"We've had lots of great, positive feedback thus far," Mark notes. "We've had dozens of people stopping by our booth every hour to check out our samples and talk about our porcelain enamel and LED lights. It's been a great experience!"