Crouse-Hinds Lighting for the Home and Office
Crouse-Hinds is a name synonymous with the lighting industry for over 110 years. Founded in 1894 by Huntington Beard Crouse and Jeff Lorenzo Hinds, the two began Crouse-Hinds Electrical Company, and began manufacturing traffic signals and controllers. However, the name Crouse-Hinds is better known for their line of explosion proof lighting – manufactured for hazardous factories and warehouses all over the United States.

Their explosion proof lights were constructed from galvanized steel and aluminum with a porcelain enamel shade for maximum durability in these tough environments. Most were even sold with a cast guard and glass unit to protect the bulb from anything an industrial environment may throw at it. The well-known durability of these vintage industrial lights makes them a hot commodity to this day and for years to come. Whether it's a factory that is choosing to use the vintage lights or a designer looking for that finishing touch of authenticity, it seems as if everybody wants a piece of the Crouse-Hinds legacy.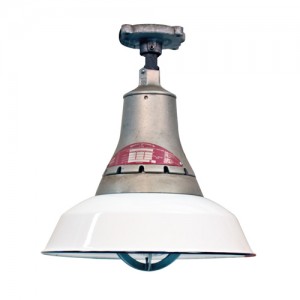 Designers want these enamel lights for their reliability, as well as their aesthetic appeal. We're willing to bet that Mr. Crouse and Mr. Hinds never expected that. You happen to have found your one stop shop for authentic, restored Crouse-Hinds light fixtures: vintagebarnlighting.com. Vintage Barn Lighting has a growing selection of explosion proof lighting ready for use in your home or office, no matter the design scheme. Take a cue from the industrial farmhouse style workspace shown. Use a white porcelain pendant to illuminate a frequently used work area, such as a kitchen island or desk.
If you don't happen to see a Crouse-Hinds light that will fit in your space or budget, check out our other explosion proof lights, manufactured by other popular vintage brands, such as Benjamin®, Appleton and others. Any of these industrial lights are sure to earn you compliments, as well as bragging rights among your friends.
Top Photo Courtesy of Pink Persimmon