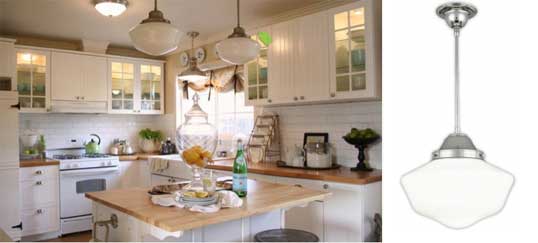 Country Homes That Incorporate Old, Schoolhouse Lighting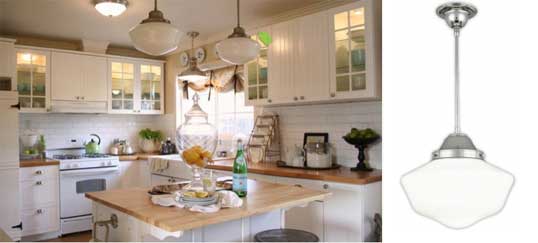 Whether you own a modern home with vintage design or an authentic traditional home, schoolhouse pendants will add historic charm and character to any room where they're installed. A wonderful example is found within the kitchen of the cottage pictured above. It has been featured on both Houzz.com and theoldpaintedcottage.com as well!
In an effort to restore the original appearance of this rustic cottage, two schoolhouse pendants were installed above the central butcher block island. Each pendant provides light directly over one of the busiest areas of the room. The opal glass shades make a great match for the bead board fronted cabinetry and beautiful subway tile backspalsh. Barn Light Electric sells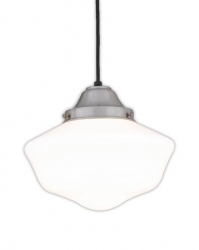 ceiling lighting that resembles the pendants pictured above: The Brevard Pendant, which starts at $183.00 each, and the Volusia Pendant, which starts at $230.00 each. Both of the shades used for these lights is made with same smooth, classic appearance of those once used in schoolhouses, libraries, and courthouses throughout the mid 1900's.
When schoolhouse style lights were first produced in the early 1900's, they were produced in hundreds of styles and sizes to accommodate all spaces. It wasn't until the 1960′s that overall lighting designs changed, and the majority of schoolhouse shades stopped being produced. Thanks to reproductions like these featured today, the early period styles are available to the public once again.
Many finishes are available for the Brevard and Volusia pendants, but to customize them as close to the originals as possible, we recommend a bronze finish with a matching stem mount. Multiple opal shade sizes are available to meet your unique spacing needs. As original versions of these pendants become more scarce with each antique auction and historic property sold, demand steadily increases for these reproduction pendants!
To see other versions of vintage pendants available at Barn Light Electric, visit our ceiling lighting section or view our related blog post titled: Kitchen Redo Features Deep Bowl & Schoolhouse Pendants.