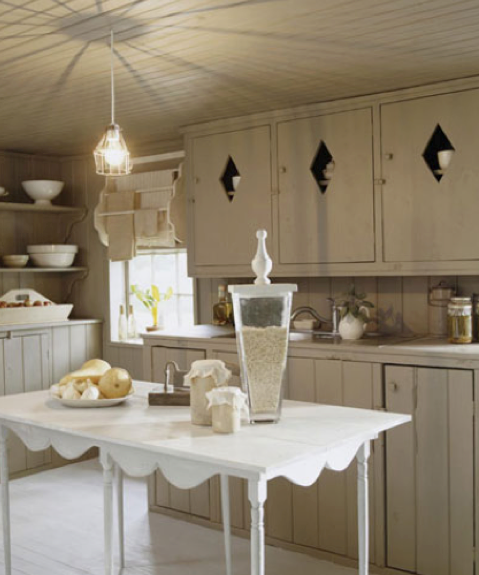 Copper Pendant Completes Rustic Farmhouse Kitchen
Vintage inspired barn lights are the perfect addition to any vintage industrial home. The Minimalist Copper Cage Pendant ($128 each) and the Minimalist Polished Brass Cage Pendant ($124 each) are both sold at Barn Light Electric. These two vintage inspired pendants are based on the innovative spirit of the second industrial revolution. In the photo above, a pendant similar to the featured brass cage and copper cage pendants, complement the rustic look of the industrial farmhouse style kitchen. The Second Industrial Revolution saw truly unique lighting designs. During this era, creative lighting fixtures with an emphasis on maximum performance and simple elegance were designed for manufacturing facilities, shops, and overhead factory lighting. Today, these vintage inspired fixtures are commonly found within urban lofts and industrial farmhouse style homes.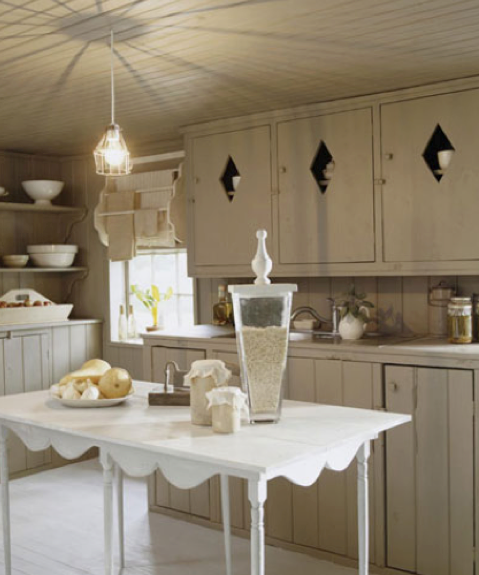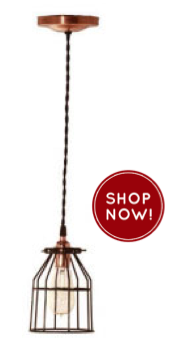 The minimalist copper cage pendant hangs from a twisted cotton black or brown cord attached to a copper ceiling canopy. When the outer wire cages were originally created in the early 1900′s, they were designed to attach around the pendants to protect the light bulb from damage and debris in warehouses and factories. Today, cages bring a one of a kind look to any room and allow for decorative light to bounce off overhead ceilings. To complete the historic look of this original pendant, install a Nostalgic Edison Bulb with a squirrel cage filament. Cotton twist cord can be customized for each pendant – select from multiple lengths and colors to compliment your room.
The team from Kitchen Impossible on DYI Network installed several of the Minimalist Copper Pendants as part of their Blog Cabin 2010. The network's interactive series that asked Internet users to vote on the design features for a real cabin getaway. Copper Cage Pendant lights and a vintage barn light complemented new mosaic tiles, the natural quartz counter top, and stainless steel appliances which were were added during the renovation of the cabin. Similar Porcelain Gooseneck Lights can be found online at barnlightelectric.com. To read more about this transformation, view our blog post titled Copper Cage Pendant & Gooseneck Light Featured on DIY Blog Cabin.