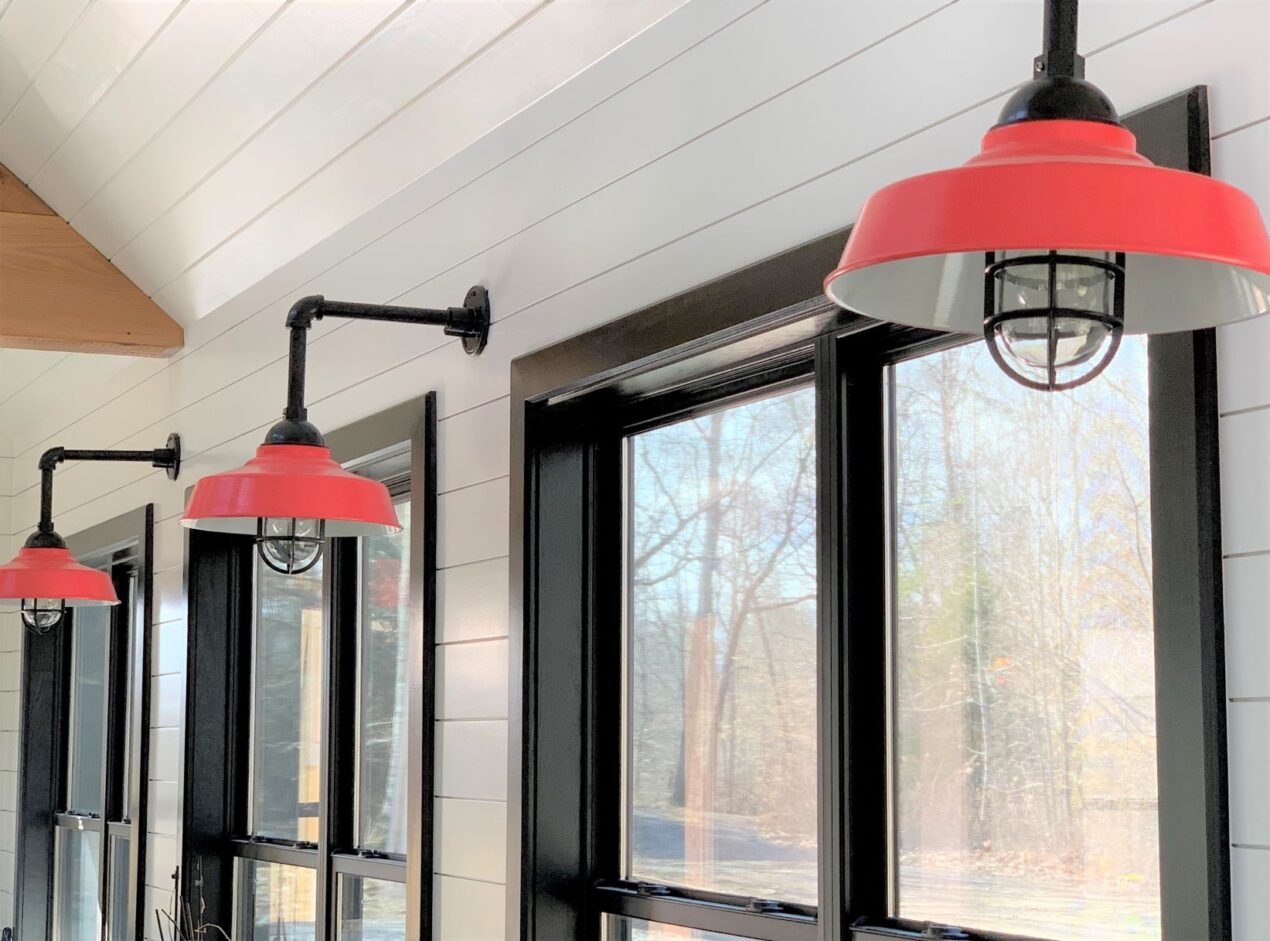 Colorful Gooseneck Lights Add Playful Touch to New Sunroom
An avid gardener, Debbi enjoys growing and cultivating a wide variety of plants at her home near Lake Cumberland in Kentucky. But cold winters meant that her patio plants, citrus trees, and orchids had to winter over inside the house. As her collection grew, Debbi needed more space.
"Originally, I was going with a traditional greenhouse, but the more we talked about it, we wanted a place that was energy efficient and would complement our extensive raised-bed garden," Debbi says. "We love the gardens at the wineries in Napa Valley and that inspired us with the design."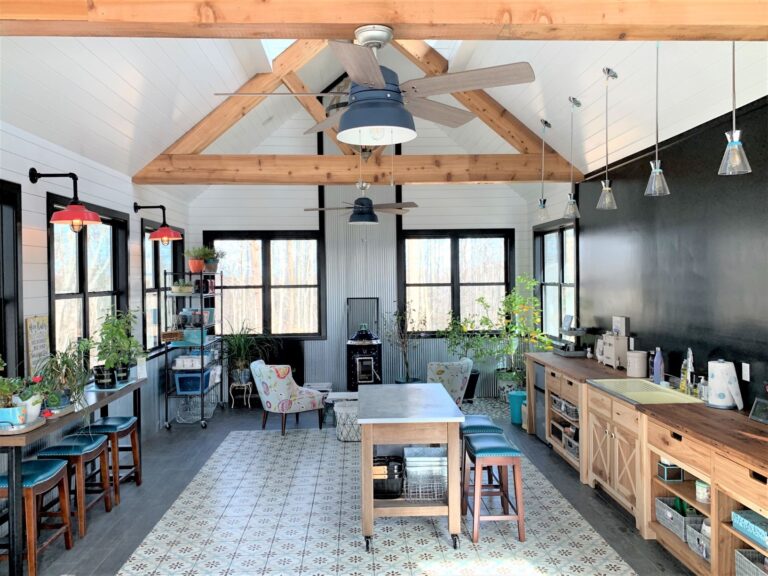 Debbi's new building is a mixture of sunroom, conservatory, and greenhouse potting area. A clerestory design allows for plenty of light and ventilation while a palette of white with black accents keeps the space clean and bright. Wood elements provide warmth and a rustic element to the space.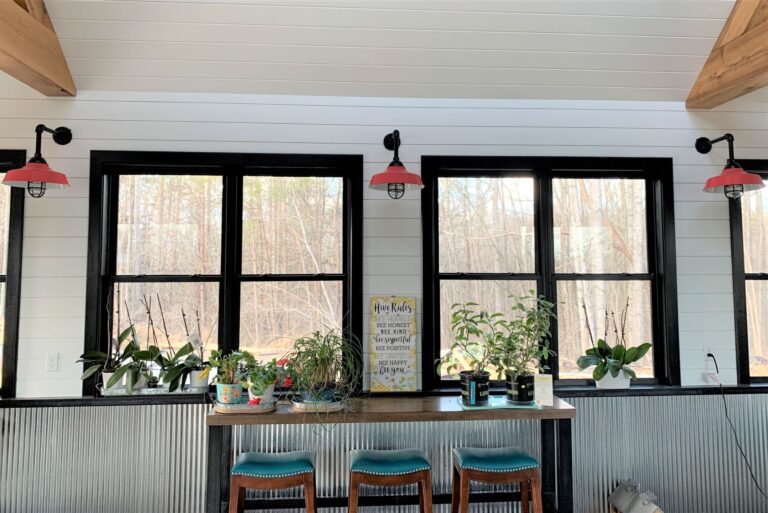 "When I look for lighting, I look for beauty and function," Debbi notes. "Barn Light Electric lets you design a light exactly for your project. It's like speccing out a vehicle! There are so many choices in color, style, and design that the possibilities are endless."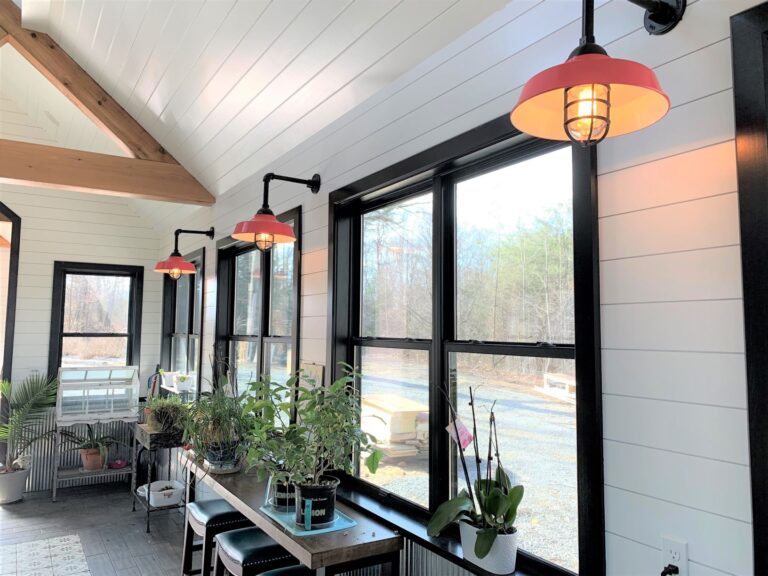 Debbi chose barn-style lighting to complement the rustic design of her new build and because "it's so much prettier than can lights." The Rochester Vintage Industrial Gooseneck Light caught her attention with its combination of vintage and industrial styles.
"I love the shape and the options to customize the look," she explains. "It allowed me to introduce a bold splash of color I have been dying to try and provides lighting right where I need it." Debbi customized her handcrafted fixtures with 14″ shades, a G34 gooseneck arm, and a lively Watermelon finish color.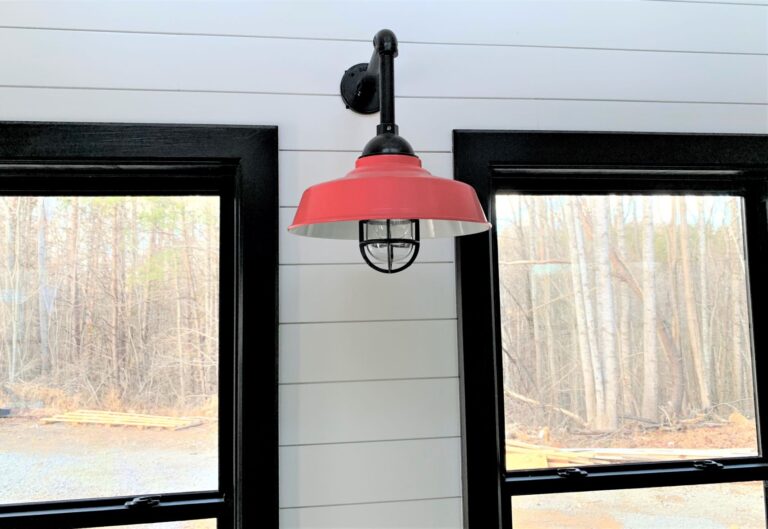 "I fell in love with the Watermelon color," Debbi says. "It was a leap of faith because the color sample is all you go by when choosing the color. My husband wasn't sure about it, but now that the lights are up, he likes the choice. The straight arm is a favorite for me because it complements the linear design of the shiplap and galvanized wainscotting."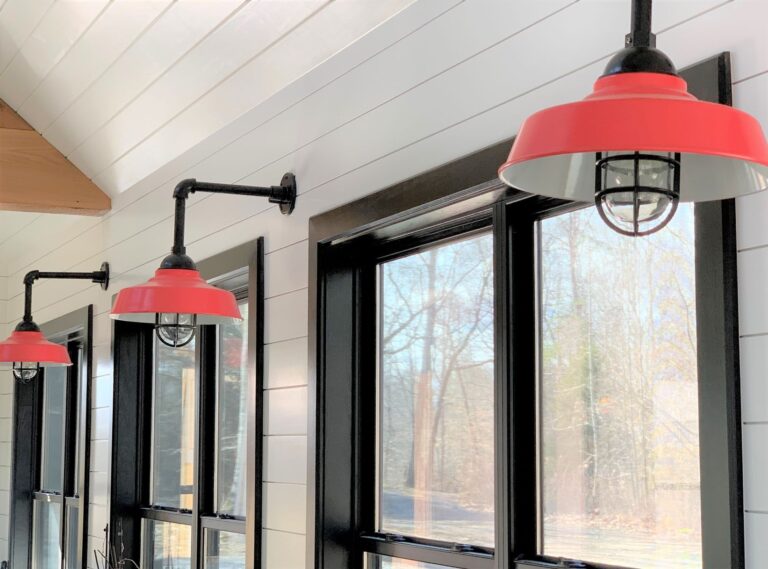 As part of the customizing process, Debbi also chose the standard cast guard in a Black finish and clear glass. She notes that the guard lends the light its industrial vibe and the clear glass shows off the Edison bulbs she chose.
"I contrasted the Watermelon color of the shade with the Black guard and gooseneck arm to tie into the black used elsewhere in the design," she explains. "It makes the Watermelon shade pop. Overall, I think the shape of the shade and the color give a flirty look to the space."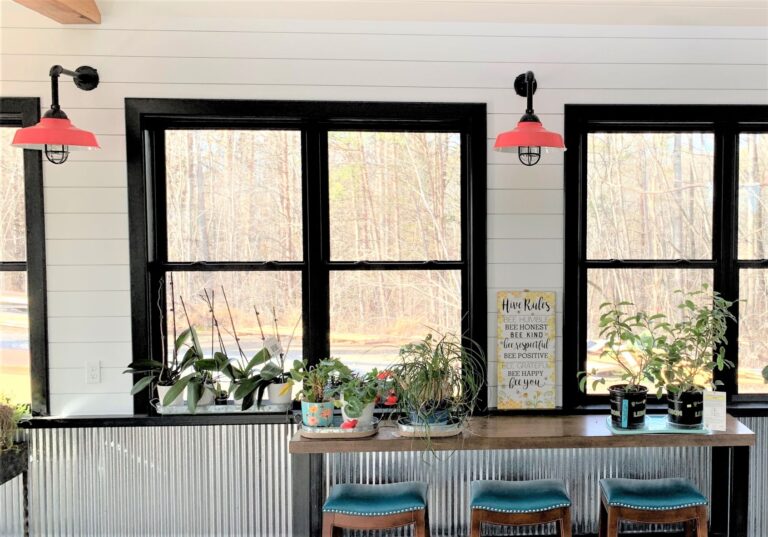 Debbi spotted Barn Light in several magazine features and was sold once she visited the website. She loves the ability to customize the color, style, and options to suit her specific project, and she is thrilled with the American-made quality.
"I love everything about these lights," she says. "I had my heart set on the Watermelon from the beginning, but the total design and quality of the lights are so appealing. I recommend Barn Light and now have lights to help others see the quality and options of their designs."
Photos courtesy of the homeowner