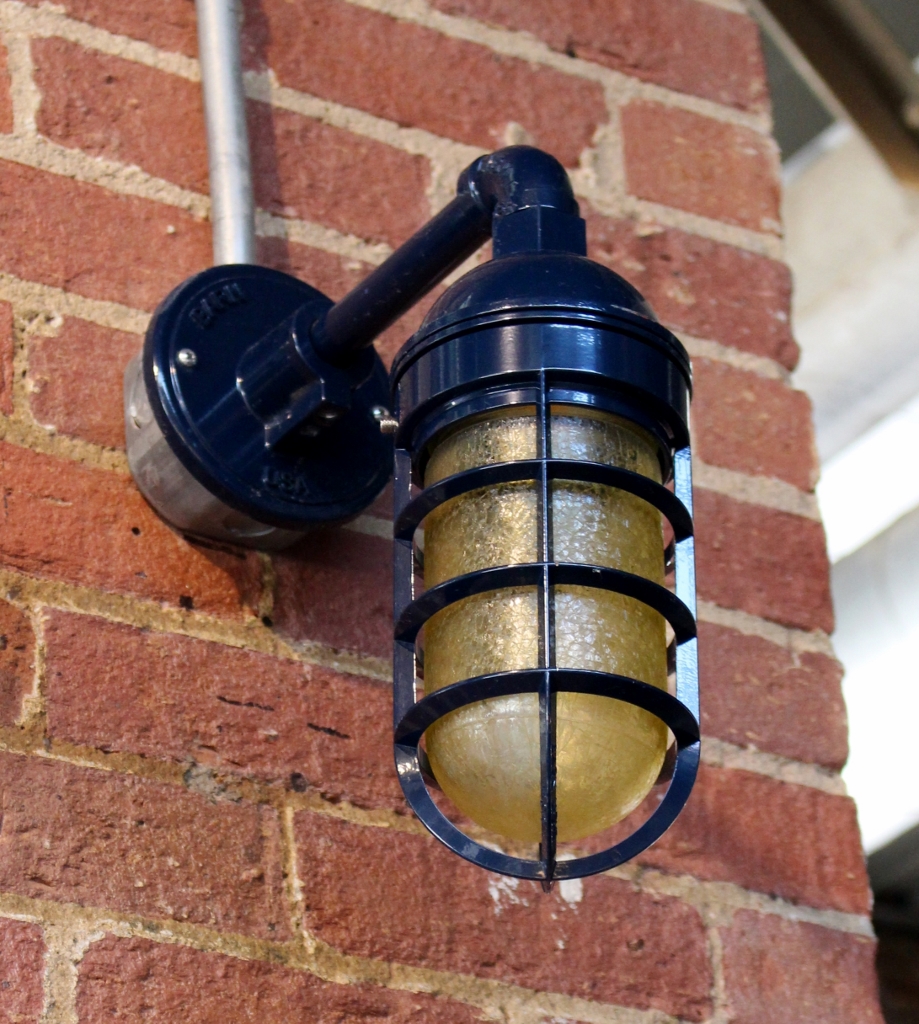 Color Trends | Embracing the Many Hues of Blue
We're in a blue mood today, but it's all good since we're exploring some wonderful variations of this hue! Blue is a calming color that evokes the sky and the sea and is often chosen for bedrooms, living rooms, and other spaces where we relax.
Our palette of blues, available in both powder coat and porcelain enamel, ranges from rich Navy to delicate Delphite. These colors help create lighting that stands out as a focal point in a space or stars in a supporting role to complement other decor.
Navy is one of our most popular powder coat finish colors thanks to its deep, rich color. The owners of Whiskey Kitchen, in Raleigh, North Carolina, opted for Navy lighting throughout their new space. This Original™ Warehouse LED Gooseneck Light brightens the doorway…
…while Industrial Guard LED Sconces pop against the brick walls inside. Complete with integrated LED modules, these American-made lights are crafted to last.
If you're looking for something with a brighter tone, check out this Dino Gooseneck Light which features our Royal Blue finish on a 14″ shade and G26 gooseneck arm.
Moving even further along the color wheel, we land on one of our newest blues which is fast becoming a customer favorite. Robin customized her new Sinclair Swing Arm Sconces with a Teal shade and arm, brass socket with knob switch, and a gold-and-white cloth cord. The Teal is perfect with Robin's gray-and-white bedding!
Jamie Keskin, of Jamie Keskin Design in Massachusetts, lent her magic touch to a kid's room by using star-covered wallpaper on the ceiling. The center of the space is anchored by a 20″ Outback Flush Mount Pendant in beautiful Teal.
The Sputnik 4-Light Chandelier above is customized with a Cobalt Blue finish, 6″ stem, standard cast guards, and frosted glass. While Cobalt Blue is one of our porcelain enamel finish colors, you can choose our Paint-to-Match option to get the same color in powder coat.
The blues in our Porcelain Enamel collection sport the high-gloss shine characteristic of a porcelain enamel finish. The shades are spun from steel then coated with multiple layers of porcelain enamel glass.
When fired in our high-temperature porcelain oven, the glass seals to the steel creating a super shiny, never-fade finish.
In this dining space, dreamy Delphite Blue stars on this Wilcox Deep Bowl Chain Hung Pendant. This handspun pendant sports a generous 20″ shade and a matching Delphite Blue chain.
These Dino Chain Hung Pendants, also in Delphite Blue, are hand spun from commercial grade steel and customized with 12″ shades. This shade of blue blends nicely with the gray walls and white cabinets and adds soothing color to the cool tones of the space.
For a more unique look, Steve opted for the eye-catching Pollock No. 13 Pendant which features spirals of Delphite and White. This porcelain pendant is hand finished with multiple layers of color and, because of the hands-on application of the finish, no two fixtures will be exactly alike.
No matter which blue you choose for your home or commercial setting, the finish will be just one step in our manufacturing process that takes 10 to 12 working days to complete. We think the end result — a rugged, handcrafted light built to last — is worth the wait. And we know that once you hold that new light in your own hands and feel the quality, you'll agree!