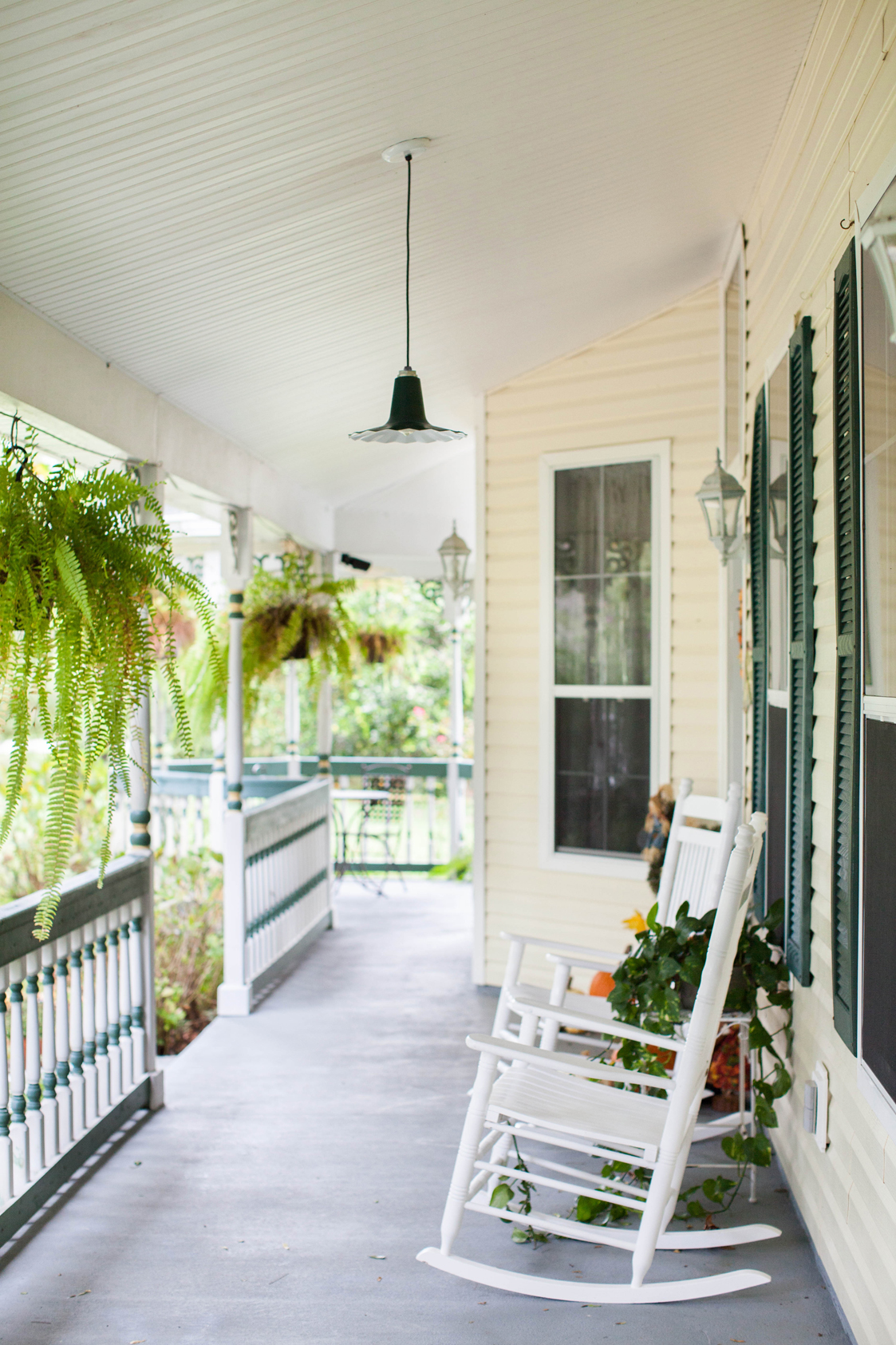 Classic Porcelain Barn Lighting Dresses Up Porch, Garden for Wedding Vows
When a friend was looking for a place to hold a wedding, Mary and Randy of Titusville, Florida, came to the rescue. They opened up their home and tropical garden setting to the happy couple for both photos and vows. In the months leading up to the wedding, Randy busied himself running electricity to the garden area so that lights could brighten the evening event. Mary and Randy were very familiar with Barn Light Electric, their hometown lighting store, so they started purchasing lights to spruce up their garden and porch.
"We bought one of the Seaside Gooseneck Lights for the shed," says Mary. The shed, with a design and color scheme to match the home, is Randy's work space. The couple selected a Vintage Green finish for their new gooseneck light with a matching gooseneck arm and backing plate.
In October, when Barn Light Electric held an event for the grand opening of the new manufacturing building, Mary and Randy decided to attend. A sidewalk sale was planned and they thought they might find a few lights to help finish out the porch and garden.
"When we saw the prices on the lights at the sidewalk sale, we decided to get everything we needed," Mary explains. "The prices were so good, we couldn't pass it up." Mary got some help from Danielle, one of our photographers, who suggested the couple choose different colors for each shade instead of trying to make everything match.
"She was very helpful in helping us pick out the lights," Mary notes. "Danielle has that sense of style." The couple chose three different gooseneck lights which were mounted on posts throughout the garden to provide gentle downlighting at night. The Original™ Warehouse Gooseneck Light on the left above features a Delphite Blue finish with a Black gooseneck arm while the Original™ on the right is a brilliant Cobalt Blue with a galvanized arm.
They also chose a Sterling Gooseneck Light for another post — this one in Cobalt Blue as well.
Mary and Randy's deep and inviting wraparound porch also got some updated lighting. On one end, a cozy porch swing is illuminated by an Sinclair Industrial Pendant Light in White.
Mary was also excited to spot another Radial Wave shade in Dark Green to match the one they had already purchased for the shed. This Seaside Pendant Light complements the porch's dark green door and shutters perfectly.
"I like the charm that the lights add," Mary says. "It gives it that old Florida feel."
Photos courtesy of the homeowner