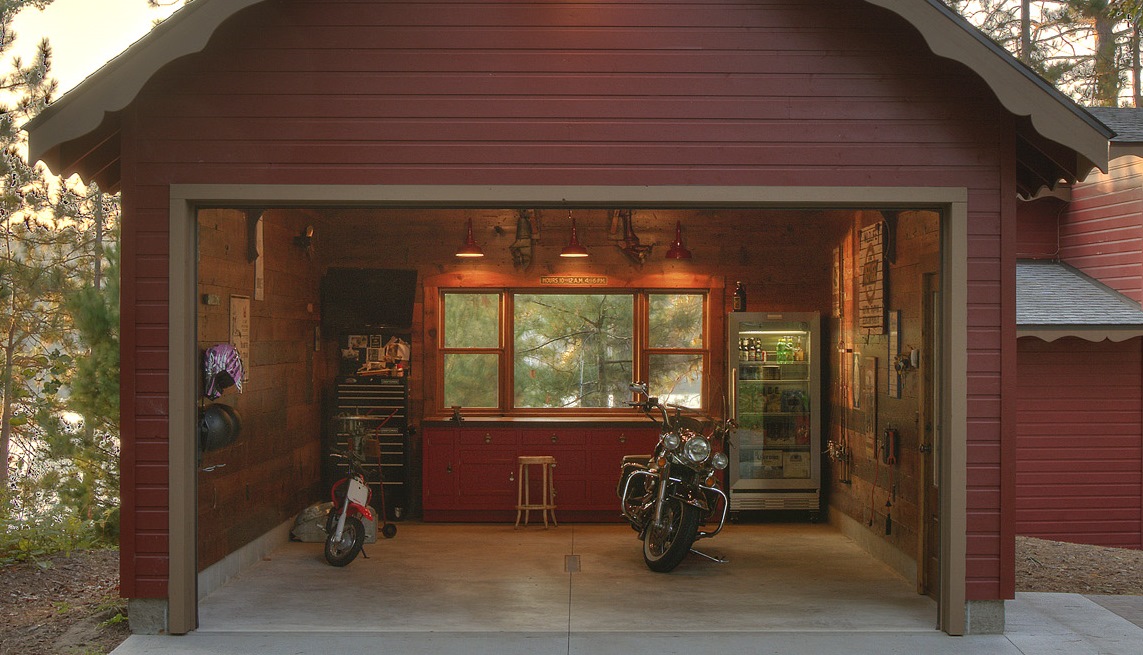 Classic Gooseneck Barn Lights Give New Space 'Old Garage' Feel
We meet a lot of professionals day in and day out, and it's always a pleasure to meet architects, builders, and designers who have a true passion for what they do — for their business, their product, and their customers. Matt and Jeff Balmer are fourth-generation builders who have spent much of their life in residential construction. As partners of Lands End Development in Crosslake, Minnesota, the brothers have grown their company much in the same way as we have here at Barn Light Electric — on the principles of quality, creativity, value and service.
Jeff recently undertook a very special renovation and building project on Lake Obrien where his grandparents built a cabin in 1957. Jeff owns the cabin now and he added a new garage to the homestead this summer.
"The garage is for storing stuff and working on projects," Jeff says. "It is also used for watching a hockey game and having a beer with the guys!" Jeff's goal was the match the exterior of the garage to the cabin and give it an "old garage" feel on the inside. For over the work bench, Jeff selected three Esso Gooseneck Lights with 10″ shades and a Barn Red finish which brought the exterior color of the structure inside. The fixtures also sport a G15 gooseneck arm which projects more than 16″ from the wall.
"I chose the Esso because they are so darn cool!" Jeff says. "Plus I needed good light on the workbench." The Esso is a mini RLM warehouse shade that is American made from commercial grade materials. It can be customized in dozens of ways to fit most any residential or commercial décor.
In the center of the garage Jeff chose the Urbanite Flared Wire Cage Pendant which offers the industrial bare bulb look with a protective cage just in case the hockey game gets exciting. This rugged fixture is crafted from heavy duty steel and is finished in a dark bronze for an antique look.
"The hanging fixtures had the vintage feel we wanted but were not overwhelming," Jeff notes. "They enhance the overall look and 'old garage' feel we were going for."
Photos courtesy of Lands End Development