Classic Colonial Style Lanterns Create Warm Welcome Home
Nothing says "welcome home" like the warm glow of a light next to the doorway or garage. The pleasant illumination provided in this driveway is courtesy of a striking, classic colonial style lantern. This fixture is very similar to one of Barn Light Electric's newest offerings, the Barnstable Carriage Lantern, part of our collection of Outdoor Lanterns. And just like the one Paul Revere made famous, our model comes in one-light and two-light versions. No revolution needed! This American made, pagoda shaped lantern comes with a solid bottom and a door on the front with tabs for easy glass removal for cleaning and bulb replacement. Several traditional brass finishes are available for this light including raw, antique, and dark brass. The glass is also customizable with clear, seedy, and marine glass options.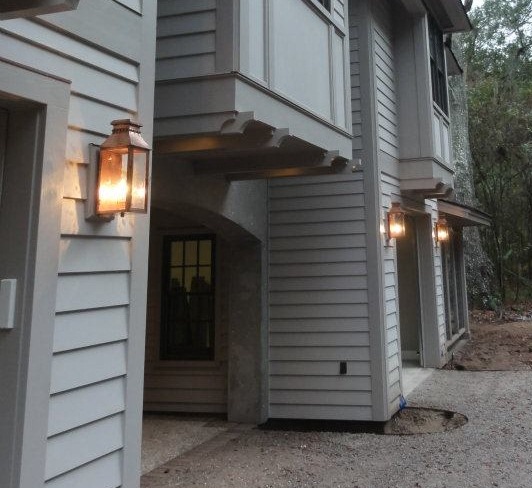 If you'd like something with a bit more of a flourish, check out the Newton Barn Lantern which features a curved arm that rises up and over the lantern from the wall plate. This lantern, which comes in a classic Old Bronze finish, has glass on four sides to allow plenty of light to escape and comes in small, medium, and large sizes to suit your space.
An even more ornate offering is the Dover Barn Lantern, a wall mounted traditional lamp with a more decorative arm. Studs cover the top rim of the light and grid-like bars over the glass may mimic your exterior door and window designs. The Dover Lantern comes in a small, three-bulb version or a large, four-bulb model. Both come in a dark, Natural Bronze finish that blends well with most traditional style homes.
No matter which lantern best fits your home style, these American made classics will bring an air of colonial charm and sophistication to your doorstep, garage entry, or back porch.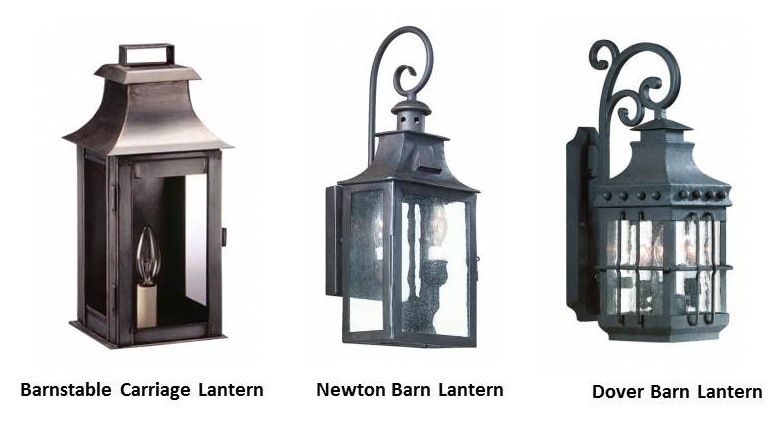 Top photo courtesy Johnson & Associate Architects, Inc.