Cactus Creek Daily – Rustic – Western & Vintage Home

Fancy, the owner of Cactus Creek Daily is a wonderful customer of ours. She has a terrific blog that helps folks accent their homes with the rustic, western and vintage look. Be sure and visit her blog and check out Barn Light Electric!


Here at CactusCreekDaily.com we offer a Daily BLOG about Current Trends, Merchandise, Stores, Events & People in the RUSTIC * WESTERN * VINTAGE Lifestyle Market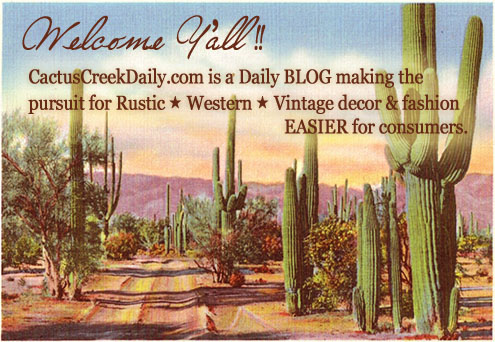 In Addition to our BLOG CactusCreekDaily.com also offers MERCHANDISE LINKS guiding you to online sources of Rustic * Western * Vintage Home Decor & Fashion
………………………………………..
Our STORES GUIDE is a list of Stores you will LOVE to visit when you are traveling around the USA
………………………………………..
On our PEOPLE Page we are constantly searching for new ARCHITECTS * DESIGNERS & ARTISTS. Stay tuned for us to continue adding to this section!!
http://www.cactuscreekdaily.com