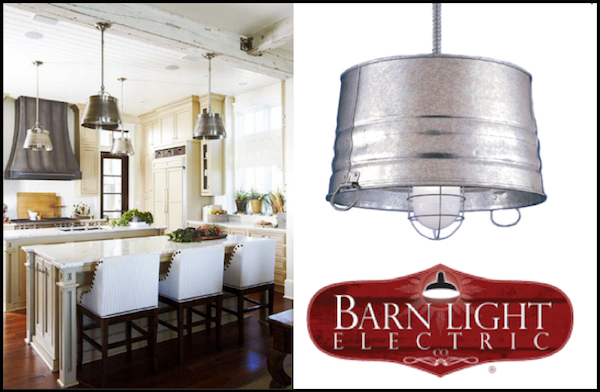 Bucket Pendant Lighting in a Farmhouse Kitchen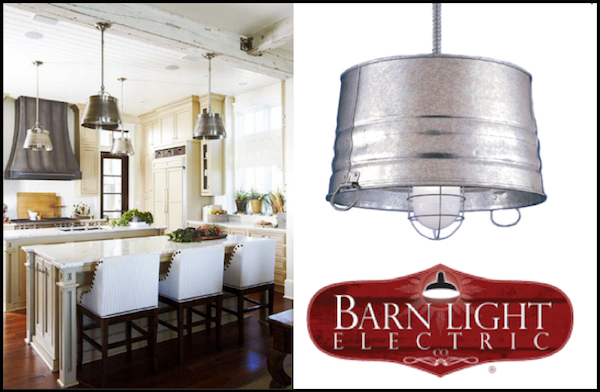 When designing your home's kitchen, would you ever think to utilize restaurant lighting? You may have, but later wondered where you could find stylish fixtures that weren't too kitschy, tacky or restaurant themed. Would you have ever thought to use a bucket as a pendant light? By taking inspiration from everything around us, we've turned old washtubs and farm troughs into unconventional light fixtures. And as it turns out, they're starting to pop up everywhere!
Our Sports Bar Bucket Pendants are almost identical to the hanging lights in this kitchen which was discovered on Apartment Therapy. While unexpected in a timeless farmhouse style kitchen, bucket pendant lighting seems to seamlessly fit in. It could be the polished or brushed metal finish that makes them so stylish, or maybe the contrast between the clean classic lines in the kitchen. The Sports Bar Bucket Pendants are available in various diameters – ranging from 10 inches up to the 2 Light Bucket Pendant which measures in at an overall 22 inches. These unique industrial light fixtures are functional but are also likely to become a conversation piece at your next dinner or holiday party!
Ceiling lighting like the Bucket Pendants are a necessity in such a large kitchen, especially with the double islands. The large span of countertop requires ample light for proper preparation, also for meals at the cozy breakfast bar. Choose a galvanized or brushed aluminum finish for an authentic bucket look, or consider something daring like cruiser green for a mid-century vibe. If you love the idea of an out of the ordinary light fixture made from everyday items, you might also like the Vintage Ball Perfect Blue Mason Jar Pendant, the Turbine Pendant or the Mig Pendant – all of which were inspired by unique, rustic and industrial items.
Top Left Photo Courtesy of Apartment Therapy