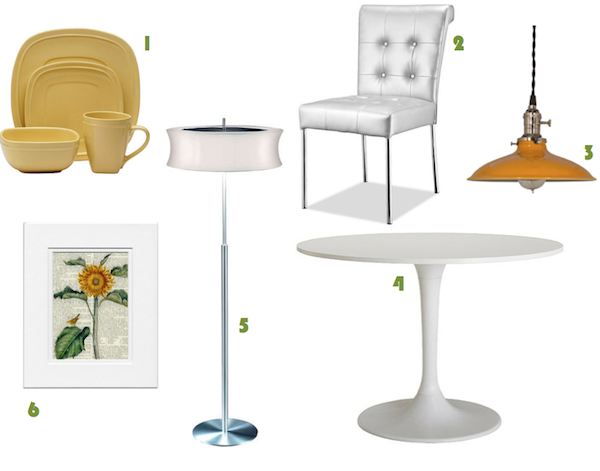 Bring Spring Indoors with Fresh New Lighting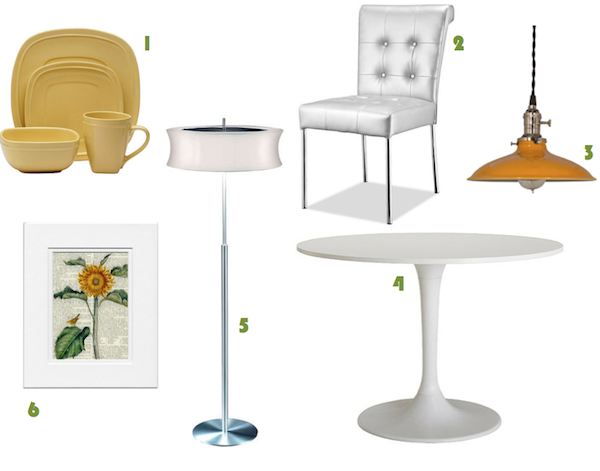 1.) Walmart Canopy Daily Dish Straw Yellow Stoneware Collection; $34.96
2.) E-Furniture NY Modern Fox Trot Dining Chair; $130.35
3.) Barn Light Electric Ivanhoe® Sinclair Industrial Porcelain Pendant; $169.00

4.) Ikea Docksta Dining Table, $179.00
5.) Barn Light Electric Disco Round Floor Lamp; $465.00
6.) Etsy Vintage Sunflower Artwork Print from fauxkiss; $12.00
The upcoming spring and summer months have got our minds focused on fresh designs and colors. The light and airy feel of yellow has even given this fun hue the title of 2011 Color of the Year. After learning this, a light bulb switched on in our heads (no pun intended!) – why not show how to use yellow in a room, without going overboard!
All of the above pieces are moderately priced to fit in your redecorating budget, and will look great in a breakfast nook or eat-in kitchen. By keeping the fabrics, finishes, and décor simple, this room would be easy to unwind in. The chair is the perfect glamorous touch when paired with a simple round white lacquer table and a sunflower print.
But what good is all the charming furniture and décor without the lighting to see it in…not much, especially in the evening. Luckily for you, we have chosen a few lights that would fit seamlessly with these pieces! The Ivanhoe® Sinclair Industrial Porcelain Pendant is the perfect size to hang over the Ikea dining table, while mimicking the round shape at the same time! The sunflower print even incorporates the same goldenrod tones as the yellow porcelain enamel finish. The Ivanhoe® Sinclair is also available in multiple other finishes, as well as different cord options. Number five on our list is our Disco Round Floor Lamp. This floor lamp would look great tucked into the corner, and is also available with different color spandex shade options, even yellow!
With this style guide, you should now have a good idea on how to incorporate this cheery tone into your décor without overdoing it, and at the right price! The key is to keep everything else simple and muted while tossing in a pop of color here and there! Have fun!