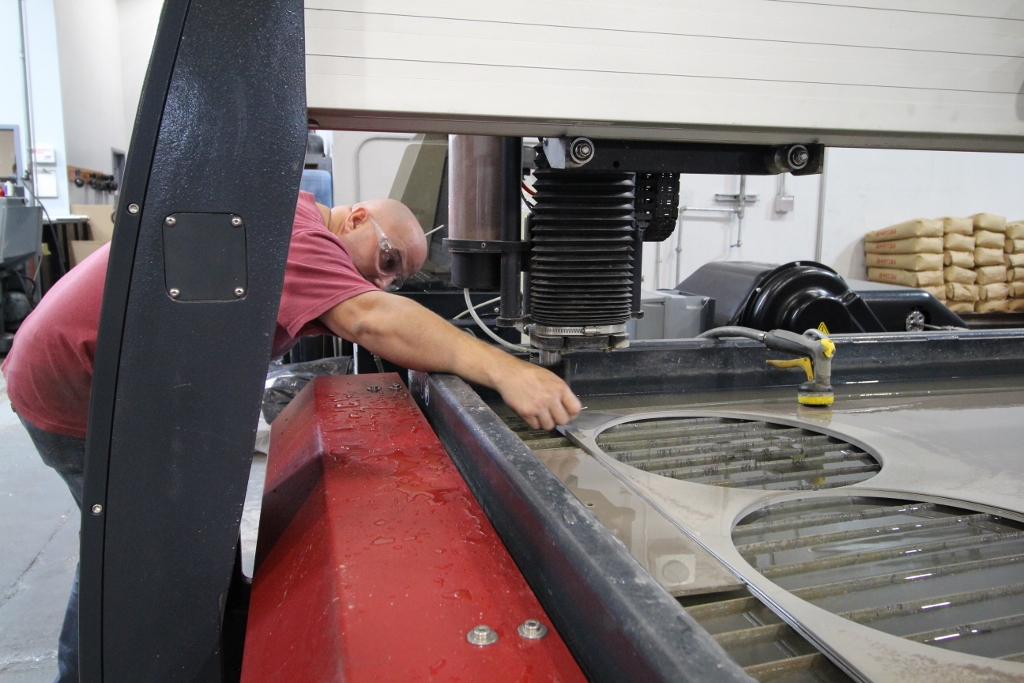 Behind the Scenes | Machine Shop Offers Challenges for NY Native
Closing in on his two-year anniversary working with Barn Light Electric, Glenn reflects on the path he has followed that led him to working for one of the country's leading manufacturers of vintage-inspired barn lighting.
"I worked at a circuit board shop for more than 16 years," he says. "I ran and maintained coating machines such as gold, solder, copper and silver, and I owned an auto repair shop before moving to Florida." The New York native has mastered several areas of the Barn Light manufacturing machine shop including pipe bending and assembly.
These days, however, he is master of the water jet. This machine handles multiple sheets of metal and cuts them using crushed garnet and water. The set up includes a computer-aided drawing program which Glenn uses to calculate the size and number of blanks that will be cut from each sheet of metal. These blanks are used by the metal spinners who spin the flat discs into light shades.
"I get a work order letting me know what size of blank is needed and what size of hole is needed in the center," Glenn explains. "I make an image of that blank on the computer and plot out how many will fit on each sheet of metal."
After setting all the necessary parameters, Glenn loads the metal sheets making sure they are square and clamped tightly. As the machine fires up, he monitors the process closely as the water jet cuts multiple blanks much quicker than someone cutting one at a time. It's a meticulous process requiring multiple calculations, yet it's a task he obviously enjoys.
"I don't really look at any of this as hard," he notes. "It's just a learning curve. I like to learn as many new jobs as I can, and there are a lot of different jobs in the machine shop."
On his days off, Glenn displays a fine touch at the grill and enjoys spending time with Shelly, his wife of 23 years, and their two boys, Josh and Jon.