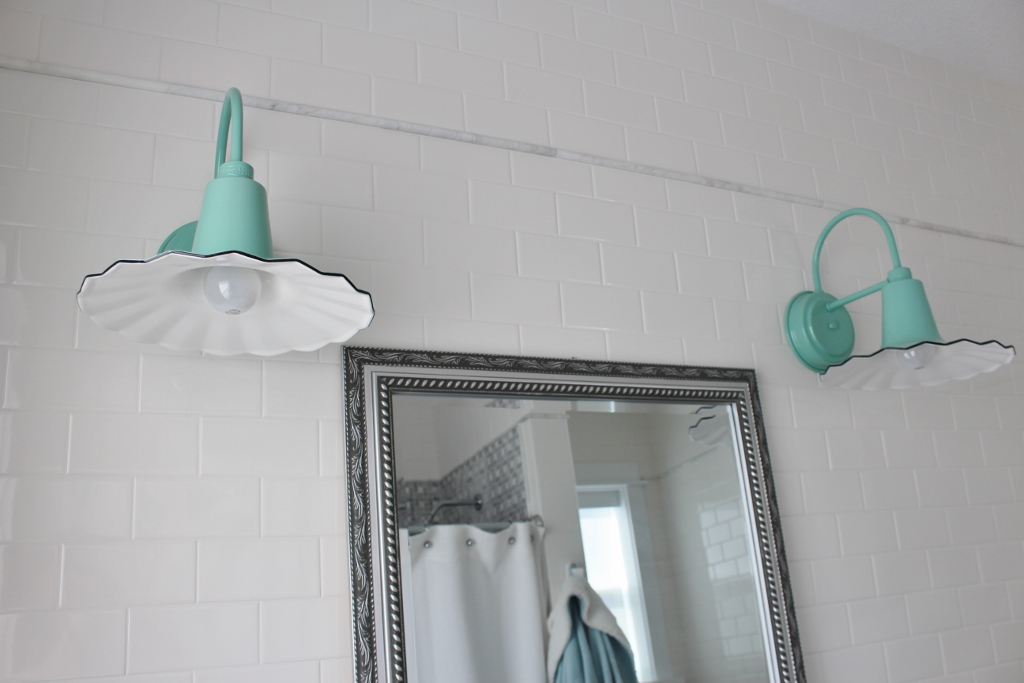 American-Made Lighting a Priority for St. Pete Builder
As a certified building contractor and owner of Little Yellow House, Inc., Don Gelsinger spends a lot of time thinking about other people's spaces. Last year, however, he and his wife, Andrea, took a hard look at their own space and realized they needed to separate their home-based business from their personal space.
"We built a new detached garage/office suite last year," Andrea says, noting that "it was the best idea we ever had!" Since their neighborhood is on the shores of Tampa Bay in St. Petersburg, Florida, the couple live a "salty life" where they boat, fish, and take advantage of the chamber-of-commerce weather year round. In browsing Coastal Living Magazine, Andrea spotted an ad for our American-made Porcelain Enamel Collection and fell in love with the look for the new office.
"I love the retro look," Andrea says. "Our little kitchenette in the office just screamed for this type of look. And we always buy products made in America. It's important to us to buy local and buy American."
For the kitchen, Andrea chose the Seaside Pendant Light customized with a 16″ shade and a creamy Jadite finish. These ceiling lights are suspended from standard white cords and the canopy is finished to match the shade giving a pop of color against the white ceiling.
"I am typically drawn to natural colors like green, and the Jadite is gorgeous," Andrea explains. "Plus, it reminded me of a kitchen I grew up with in Naples, Florida, back in the 1970s."
To keep customers cool, Don chose the Machine Age Galvanized Ceiling Fan for the space. He customized this fixture with 52″ white blades to play off the white cabinetry nearby.
"The space needed something simple and streamlined," Andrea says. "Our furniture is very modular in order to fit the small space so this fan was perfect. Plus Don loved the industrial look to it!"
In the bath, the couple chose the matching Seaside Wall Sconce also in a Jadite finish. These wall lights feature slightly smaller 12″ shades to easily flank the bathroom mirror.
"It looks perfect in the bathroom with the carrera marble and subway tile," Andrea notes. Like the kitchen pendants, these bathroom wall sconces are hand crafted from commercial grade steel then finished with three layers of porcelain enamel glass. The shades are baked in a porcelain enamel oven to achieve a high-gloss, no-fade finish that needs minimal maintenance.
"The quality of our lights is top notch," Andrea says. "With the white cabinetry and appliances, the color of the lights just pops. The Jadite doesn't overpower the space but enhances it. And every customer who comes in to meet with my husband just loves them. I recommend your company to all of our customers!"
Photos courtesy of Little Yellow House, Inc.