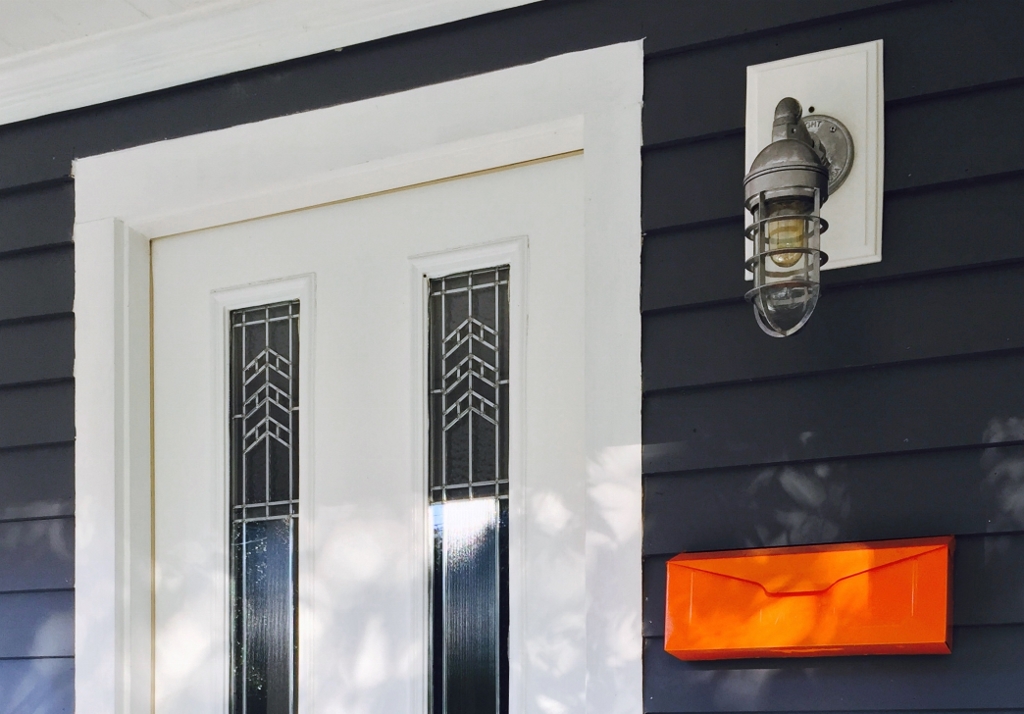 Rustic Wall Sconce, Chandeliers Serve as Artistic Investment
Emily and her husband Matthew have been searching for the perfect house since they moved to Raleigh, North Carolina in 2009. He wanted a yard and quiet street while Emily wanted to walk and bike to downtown and be in the center of everything. After seven moves — yes, seven — they finally found the perfect house to make a home.
"This little bungalow checked every item on both of our lists," Emily says. "I love its character and though it's completely renovated, the builders did a great job of preserving some of the aspects from its original construction in 1935." The home is cozy but features tall ceilings and original wood siding, and you can see the Raleigh skyline from the front porch.
That front porch, however, needed help.
"There was only a carriage light by the front door," Emily explains. "We wanted lights for security, but also aesthetics, and we knew it was a great opportunity to choose statement lighting that would add to the curb appeal of our place."
A big fan of rustic style lighting, Emily was drawn to the Industrial Guard Sconce to replace the carriage light.
"The old sconce was boring and didn't bring anything to the party," Emily notes. "This sconce is such a beautiful simple piece. I think it's the perfect welcoming light to have by the front door." Emily customized this American-made wall light with a Galvanized finish and clear glass.
To complement the wall sconce and add additional character to the porch, Emily and Matthew chose two Merger 2-Light Chandeliers for over the sitting areas. They chose these hand-crafted pendant lights because they wanted more than a single ceiling light but didn't want anything too large for the space. This rustic chandelier is also customized with a Galvanized finish and clear glass.
"I chose Galvanized because it was different than anything else on the front of our house, so I knew it would stand out," Emily says. "But at the same time, the finish would work well with any other accents we might add later on." She and Matthew both love the clean lines and the warm, inviting glow the new lights give the porch at night.
"Great light fixtures can be both great long-term investments and serve as art," Emily adds. "We've been so happy with our purchase from Barn Light Electric and love that we have light fixtures that you don't see every day. They're special, beautiful, and we absolutely love them!" You can read more about Emily and Matthew's renovation efforts on her blog Oak City Bungalow.
Photos courtesy of the homeowner