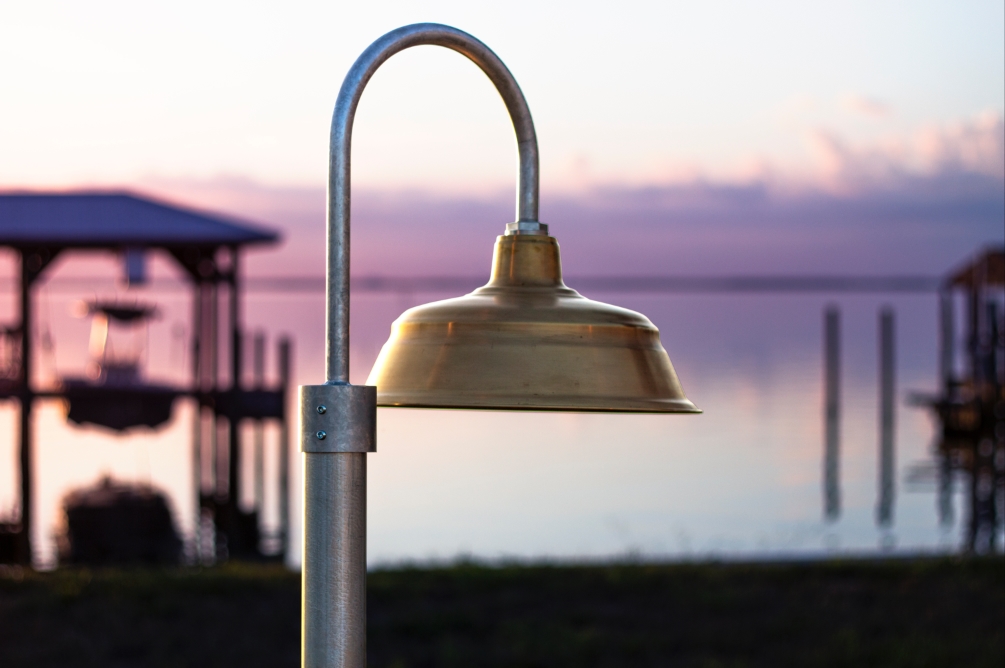 New Exterior Lighting Blends Vintage Style with Modern Efficiency
Outdoor lighting is often the ugly stepchild to the more glamorous and blogged-about pendant lighting, chandeliers, and other interior fixtures. But in both residential and commercial settings, the exterior lighting is one of the first things visitors see when they come to your home or frequent your place of business.
So shouldn't your outdoor lighting be an important part of your overall décor or brand? Absolutely! And we're here to help with yet another stylish way to take a simple, utilitarian fixture and make it a focal point in your outdoor spaces.
Our new Post Top Collection has roots in the gas station lights of the early 20th century. Just like this RLM warehouse shade that kept watch over these old gas pumps, our new, American-made post mount lights feature rugged shades hand spun from commercial grade metals. Eight of our most popular shade styles are available with plenty of customizing options to create a unique outdoor light for any space.
Public parks, commercial parking lots, and retail stores all benefit from plenty of outdoor lighting.  Not only does it draw attention to commercial businesses, the lighting provides safety after dark and offers an inviting atmosphere for your customers.
In residential settings, post mount lights are perfect to illuminate driveways, provide lighting for outdoor entertaining spaces, and for those difficult-to-maneuver spaces like these stairs.
The Original Triple Post Mount Light features a classic shaped RLM warehouse shade available in two sizes. It's easy to customize this American-made outdoor light via our drop-down menus. Both porcelain enamel finish colors as well as powder coat finishes are offered plus other add-ons like cast guard and glass or a wire cage. Direct burial poles are also offered in several finish colors.
For a more modern look, consider the Sterling Triple Post Mount Light which lends a sleeker, more streamlined profile to your lighting. With three shades on a single post mount, this handsome light provides ample light spread to offer equal parts style and function.
And if you're ready to light up the night but want to go green, all eight styles come in LED. Save money on your energy and maintenance bills while helping the environment with the latest in LED components from Cree. Customize with a range of lumens options as well as color temperatures.