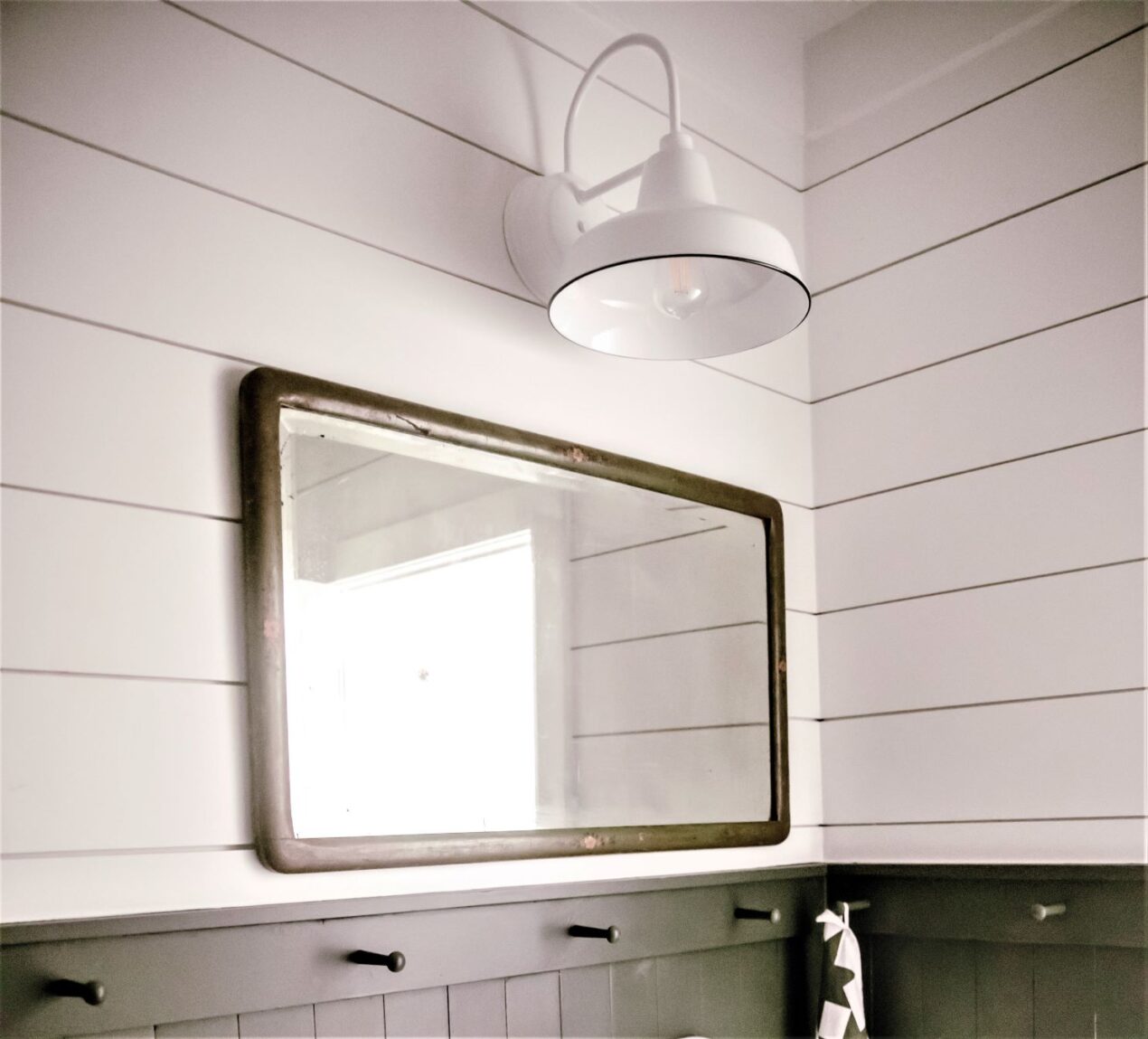 Basement Remodel Part Two: Bathroom Lighting as Vintage Focal Point
One of the most dramatic makeovers we've seen recently was the transformation of a dark, unfinished basement into a bright, light-filled space worthy of the upper floor! If you missed our post on Ashley's full-gut remodel, click on over and take a look!
Today, we're finishing our tour of Ashley's basement which includes both a full bathroom and a powder room for guests. As they tackled this renovation, Ashley wanted to create a clean farmhouse look scattered with rustic design and vintage elements.
"I wanted the space to be functional for many purposes and inviting for guests, but I didn't want to worry about letting the kids loose down there with friends to play," she notes.
For the powder room, Ashley chose a classic barn wall sconce to highlight the vanity. She customized the Avalon Wall Sconce with a 12″ shade and a White porcelain enamel finish.
"The antique, hand-painted mirror I found really set the tone for this charming nook," she explains. "The porcelain finish is so classic and timeless and truly holds up for generations. Much like the lights you find on the side of an old barn or the old porcelain advertising signs of days past."
Even though the space is small, Ashley needed additional lighting and opted for another classic warehouse shade in The Original™ Warehouse Flush Mount Light. She customized this handspun fixture with a 14″ shade, Industrial Grey finish, and a Galvanized wire cage for added vintage appeal.
"The wall-mount, cast iron sink has a light grey basin so the light fixture plays off that nicely," Ashley notes. "I don't love matchy-matchy, but the tones really give dimension to the space. And I adore the galvanized cage! It just really brings this piece to life and gives the eye a reason to look up above the chair rail."
For the full bathroom, Ashley wanted something special; a more polished look with a vintage hotel vibe to pamper her guests. She dove into Barn Light's Schoolhouse Collection and found the perfect fixture to tie everything together.
"I absolutely love the idea of a hanging pendant for the bathroom so this was a design element I really wanted to incorporate," she explains. "And wow, this piece is a showcase for how many options you can actually choose in one fixture — the glass type, the banding style, color, cord, and beyond — you get such a completely custom look to fit your space that truly every light is completely different by the time you make your selections."
Ashley selected the Primary Schoolhouse Pendant Light for this bath and customized it with large opaque glass, a Galvanized fitter, and a single Black painted band of color. She also chose a black-and-brown chevron twist cloth cord for added texture and color.
"I did a matte black hexagon tile on the floor along with black hardware on the plumbing fixtures so this combination really fit in so nicely with the look," she says. "I'm still looking for the perfect mirror, something really vintage in a brass metal tone. Stay tuned!"
Ashley discovered Barn Light Electric many years ago on Pinterest as she searched for and pinned inspiration photos.
"I'm constantly searching there and pinning ideas that I always go back and reference," she says. "My lights are so fabulous and truly make the space so special downstairs. I know they will be pieces that will be around for a long, long time in our home."
Photos courtesy of Heirloomed Storytelling