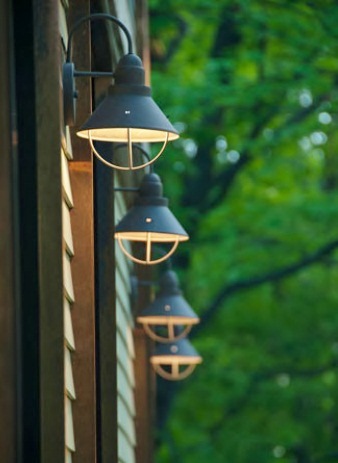 Barn Wall Sconces Ideal Choice for Exterior Home Lighting
When considering the exterior lighting plan for your home, it becomes evident very quickly that your outdoor lights must perform several functions. Safety is a major concern, and we're not just talking about lighting up the entire yard to discourage would-be plunderers from sneaking into your rear windows — although that is important! Having adequate lighting is necessary for all those after-dark meanderings such as taking out the trash, walking the dog one last time, and retrieving that last soccer ball that somehow escaped the garage. But in addition to being functional, you want your lighting to add value and character to your home, not simply be an afterthought. After all, it's one of the first things people see when they drive up, especially at night, and offers the first warm, welcoming glow.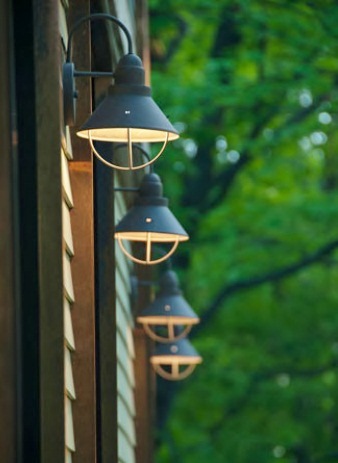 Take this lovely line up of barn wall sconces — these fixtures light up the garage of a Vermont home and are very similar to The Astro Wall Sconce. This attractive sconce takes its sleek design from our shallow bowl pendants and goosenecks to become a very functional and stylish wall sconce. The Astro is a great mid-sized fixture with a wide shade design to direct plenty of light downward without a lot of glare. This American made light is a great choice for garages, workshops, front porches, or decks and is crafted from commercial grade steel. It can be finished in one of 12 beautiful powdercoat colors which are exceptionally durable and can withstand all kinds of weather — even Vermont winters!
In this photo, these lights have a wire guard which can add a vintage touch to your fixture and protect your bulb as well. You may also choose the option of a cast guard and glass. The glass can be clear, frosted, or ribbed, and your cast guard or wire cage can be finished to match your shade or choose a complementary color for a extra dash of style!
Top photo courtesy of Susan Teare Photography and Studio III Architects