Porcelain Warehouse Shades Light Up Our Life at Sub Shop
You just never know where a classic light like an RLM-inspired warehouse shade will pop up. Like at a Firehouse Subs somewhere off of I-26 in South Carolina where the family stopped for a bite of dinner while on the road. These beautiful red porcelain shades fit the décor like a fireman to a firepole. The entire shop is emblazoned with red accents and there are loads of fire hall memorabilia scattered about such as the antique toy fire trucks sitting on the counter. And what fire hall would be complete without the devoted dalmatian standing at the ready!

These shades look much like our Ivanhoe® Dino Porcelain Cord Hung Pendant, part of our ever growing collection of cord hung porcelain lights. Now available in both 12″ and 14″ sizes, this mid-sized shade is rated for damp environments so it's great for patios, porches, or sunrooms. But it also hangs just as beautifully indoors over kitchen islands, laundry room work tables, or the poker table.
Choose a standard cord for this fixture or go with something fun and funky in our selection of colored cotton twist cords. A wire cage or cast guard and glass will add vintage style to your shade but no matter how you choose to finish this light, it will come to you ready to hang for a lifetime of use.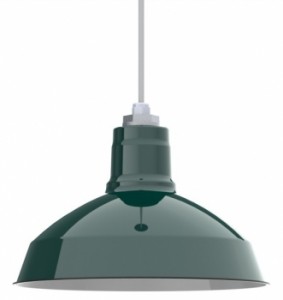 The tough porcelain enamel finish makes these shades especially popular with commercial businesses like this restaurant because there is very little maintenance needed. Just hang, wipe them clean with a damp cloth, and they will last for years with no fading. Crafted from commercial grade steel, these lights are an American-made classic! Be sure to check out our coordinating fixtures in the Goodrich® Gooseneck collection, the Benjamin® Stem Mount collection, and the newest member of the Barn Light Electric porcelain enamel family — the Wheeler™ Wall Sconce collection.