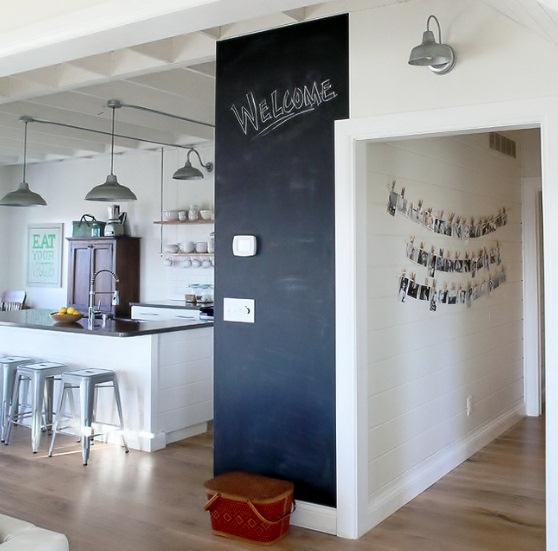 Barn Wall Sconce Brings Relaxed Style to Busy Kitchen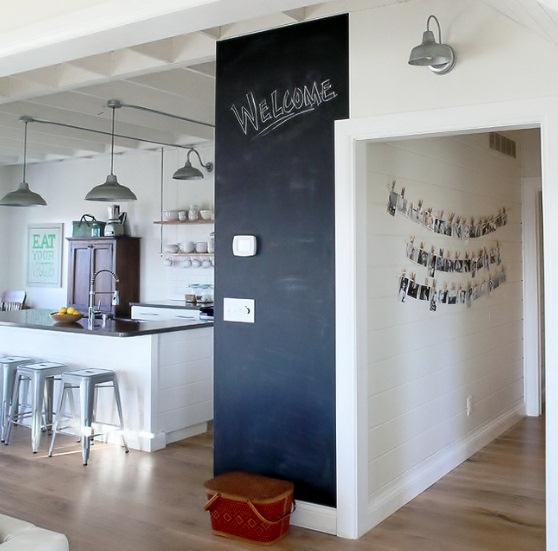 When you have a bunch of kids in the house, the kitchen tends to be the magnet area where homework gets tackled, snacks are served, and the family just seems to congregate at the end of a long day. A space filled with light and warmth makes the kitchen attractive and the smell of brownies floating down the hallway doesn't hurt either! We visited this kitchen once before in our Industrial Farmhouse blog, but we didn't give you the full picture of the kitchen entryway which features a dandy little barn wall sconce that highlights not only the doorway but the chalkboard wall that serves as place for impromptu notes and reminders. The galvanized sconce fits right in with the barn pendants and gooseneck lighting in the kitchen proper.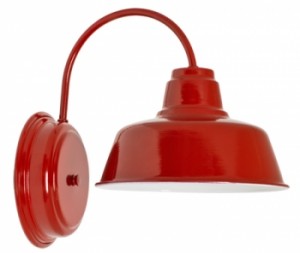 This wall sconce looks very much like our Barn Light Arlington Sconce, a small yet versatile fixture that offers a variety of possibilities both inside and out. If you want a traditional RLM warehouse shade with a shorter projection but plenty of rustic style, the Arlington will fit the bill. Its slightly stacked neck is attached to the decorative wall mount by a slender arc, and the mounting plate features a layered look that resembles a tiny RLM shade. Because of this small mounting plate, this fixture can be used in hallways, over a doorway, or any tight space. And thanks to its wet rating, the Arlington will serve just as well on the front porch or patio.
Available in both 8″ and 10″ shade sizes, the Arlington can be finished in one of a dozen durable powdercoat finish colors. The galvanized finish works very well in this farmhouse-style kitchen but perhaps something bolder and brighter, like Barn Red, Buttery Yellow, or Royal Blue better fits your style. No matter how you choose to finish your light, this American made sconce will add some vintage nostalgia to any space!
Top photo courtesy of Julie Ranee Photography