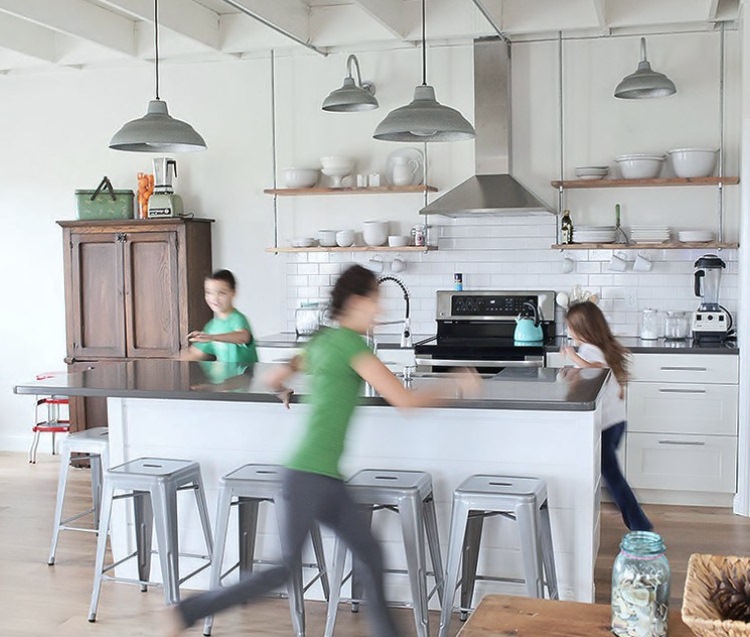 Barn Pendants, Matching Goosenecks for Farmhouse Kitchen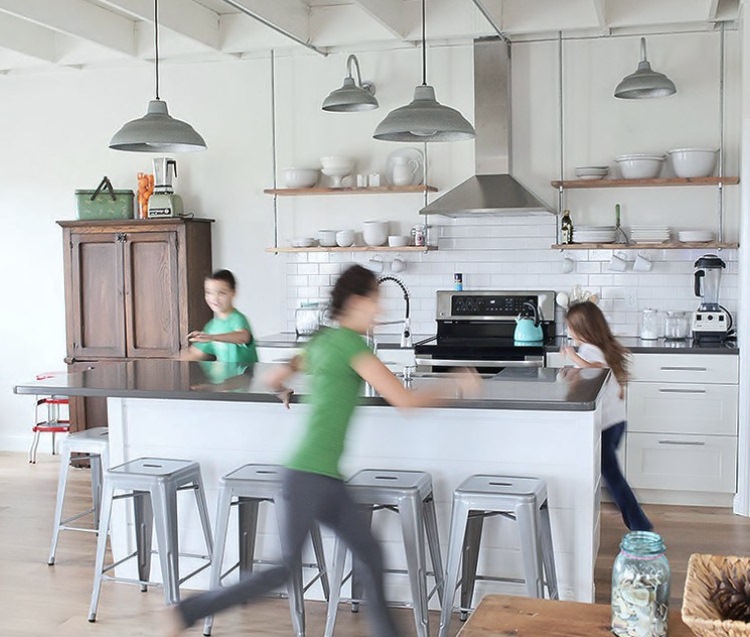 One of the best things about a kitchen island is that when you have kids, it becomes an instant race track! They never seem to tire of running 'round and 'round as these three, not-so-tiny siblings are doing. We're loving the look of this modest-size kitchen space with its attractive center island plus the many industrial farmhouse touches throughout. The open shelving that keeps essentials within reach, the sleek stainless hood, and the sturdy industrial stools tucked under the island all add up to a functional and inviting space.
The barn pendants over the island look very much like our Drake Stem Mount Pendant, part of our collection of Barn Pendant Lighting. The Drake mimics some of our larger RLM-inspired shades but puts the traditional warehouse style into a smaller form. This American made, mid-sized pendant — available in both 12″ and 14″ shade sizes — is perfect for kitchen islands, dining rooms, or outdoor locations like porches or breezeways. Choose from a variety of finish colors including traditional colors such as Textured Black or Dark Green to bolder, more retro colors like Royal Blue or Industrial Grey. Add a vintage touch with a wire cage or cast guard and glass which can also be customized to match your industrial style.
The matching galvanized gooseneck lights on the back wall lighting up the cooking area complete the cohesive look of this kitchen. The coordinating Drake Gooseneck Light also comes with the same sizes, finish colors, and other options as the Drake Pendant so you can get a similar, familial look to your residental lighting plan.
And if you're looking for inspiration, be sure to check out our Customer Photo Gallery — it's loaded with plenty of pictures that feature our lights in real settings! Find ideas for your kitchen and dining area, garage, bathroom, or commercial space!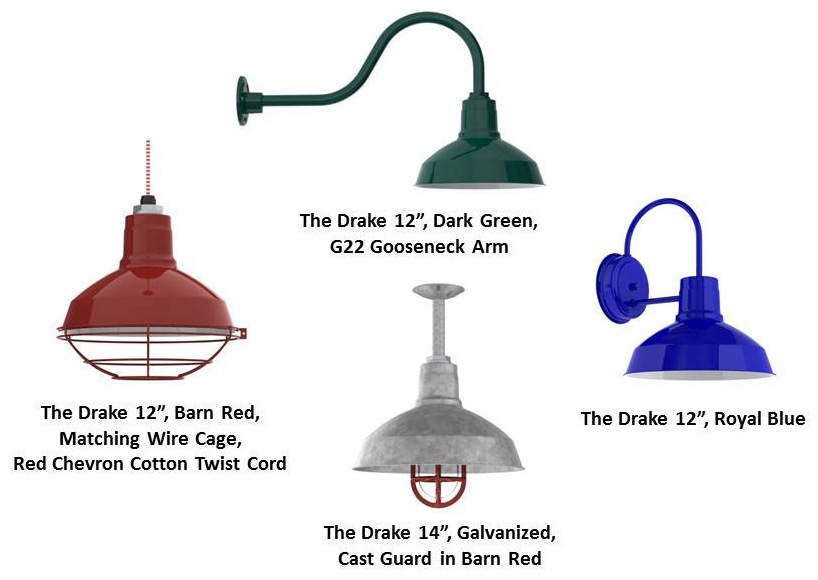 Top photo courtesy Julie Ranee Photography