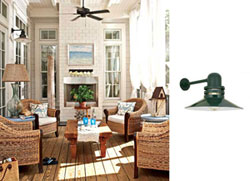 Barn Style Wall Sconces Add Extra Light for Outdoor Reading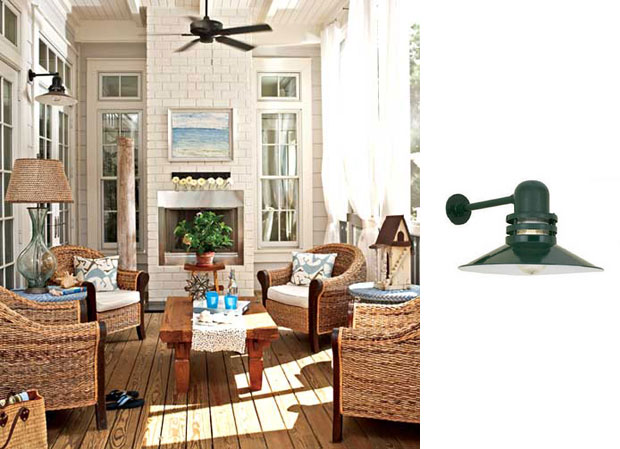 Barn style wall sconces are perfectly designed to be used as reading lights in a den, porch or living room. Thanks to their minimally invasive design, wall sconces are easy to incorporate into nearly any room – indoors or out. A perfect example can be found in this classic Charleston style home in Watercolor, Florida – a luxurious community along Florida's Gulf Coast.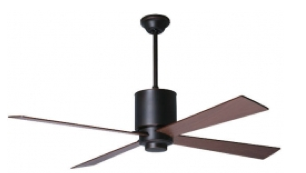 The charming beachfront home is owned by Ohioans, Jacqueline and Robb Brown. The couple heads down to the home several times a year – or whenever they need a steady dose of sunshine! Traditional Home Magazine even featured it in one of their online galleries titled: "Kaleidoscope by the Sea."
Placed above their outdoor wicker seating area, a barn style sconce extends outward with a basic gooseneck arm. The design features a stacked and vented neck with a simple 12 to 14 inch shade below. Such characteristics mirror our own Wall Mount Revival Sconce in a Bronze finish. Combined with the table lamp below, the wall sconce provides a generous and comfortable amount of overhead lighting for anyone seated in the two chairs. With a cozy spot to settle into, this inviting porch is ready for both relaxing and entertaining.
To help with the hot summers, no outdoor Florida room is complete without a ceiling fan or two. Similar to the one above, is our own Lapa Ceiling Fan. This vintage ceiling fan has a Rubbed Bronze motor with Mahogany blades that accentuate the wood accents found on the wicker chairs below – beautiful!
"With its casual eating area and cozy seating focused on a brick-clad outdoor fireplace, this gracious outdoor room introduces good things to come. Four sets of French doors link the outdoors to a contemporary interior with an open floor plan grounded by traditional architectural elements." – Traditional Home Magazine.

Photo Courtesy of Traditional Home Magazine