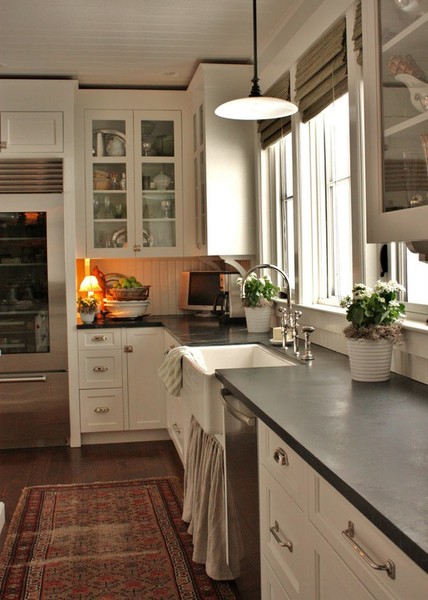 Barn Pendant Adds Chic Look to Industrial Farmhouse Kitchen
In watching the industrial design trend take off like a freight train, we see so many examples of lighting that once hung in warehouses and factories now being used in every room of the house. From RLM-inspired warehouse shades in the kitchen and porcelain reflector shades in the dining room to barn wall sconces in the bathroom. There's been an uptick as well in commercial settings where warehouse lighting can be found in businesses ranging from swanky boutiques to country stores.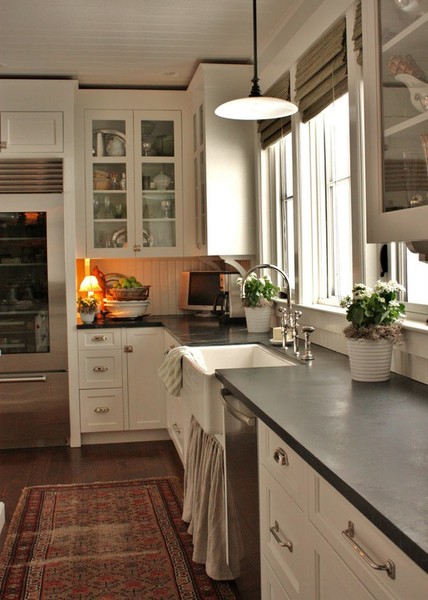 This kitchen is rockin' the industrial farmhouse feel with its beadboard walls, glass-fronted cabinetry, and warm wood flooring. And while having three beautiful windows to offer a view while standing at the apron front sink is wonderful, the light above must help immensely when doing dishes after dark. To get this look, consider our Circle B Flat Cone Reflector Pendant, part of our collection of Barn Pendant Lighting. This distinctive pendant comes in three shade sizes, from 10″ to 15″ wide, and throws a generous span of light. Crafted from commercial grade steel, this American made reflector pendant can be customized with one of a dozen gorgeous powdercoat finish colors. Choose from traditional shades like Textured Black or Galvanized to more modern hues of Buttery Yellow or Royal Blue. The pendant comes with a standard black or white cord or you can raise the vintage level with a colored cotton twist cord or by adding a knob or paddle switch.
If you like the flat shade of the reflector pendant, don't miss the Starfire Radial Wave Reflector Pendant which features a deeper neck than the Circle B and a wavy shade that is sure to become the focal point of any space. Available in three shade sizes and the same finish colors as the Circle B, the Starfire Radial Wave Reflector Pendant is a great choice for both residential and commercial lighting plans.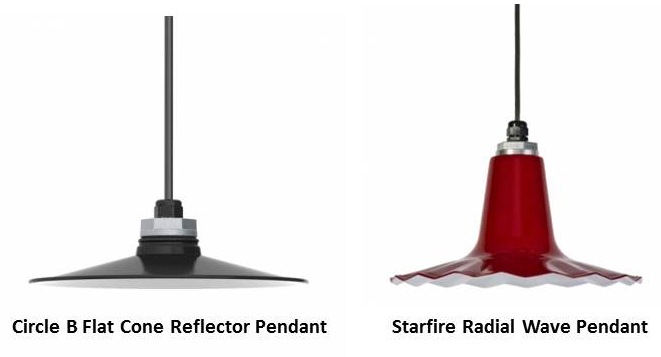 Top photo courtesy of Crush cul de sac