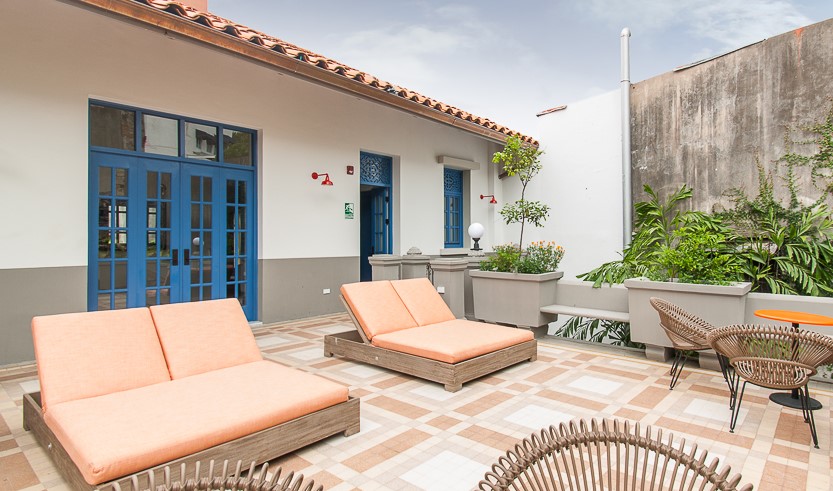 Barn Lights Add Splash of Color to Historic Hotel in Panama
When Hildegard Vasquez took on the complete renovation of a 1930s-era home in Panama's historic district, her goal was to rescue the historical essence of the building. With a keen eye for detail and painstaking care, the architectural director for Hache Uve transformed the empty shell into a warm and inviting bed-and-breakfast called Las Clementinas.
"Because the original owner's name was Clementina, we wanted to honor her with the name of the hotel and with the color clementine orange," Vasquez says. "Orange and blue became the guiding colors throughout the design." Finding fixtures that she could customize with color and design options were critical in Vasquez's search for outdoor lighting.
"I wanted the look of an American-style industrial lamp which honored the location of the building on the fringes of the Old City," she notes. "Panama has always had a very close relationship to the United States due to the legacy of the Canal Zone."
Vasquez chose the Dino Gooseneck Light for the exterior walls. She customized these handcrafted barn lights with 12″ shades, G1 gooseneck arms, and Orange finish that contrasts well with the blue doors.
"Barn-style lamps fit perfectly with the design and really enhance the architecture," she explains. "The gooseneck style blends well with the aesthetic but allows the distance and light I was looking for. I love how I could wash light onto the façade."
Flanking these exterior doors are two complementary Emblem Sign Lights in a slightly smaller 8″ shade but with the same vivid Orange finish and G11 arm. Vasquez initially planned a logo for the space but decided that the light washing the wall from the sign lights is perfect.
"I love the youthfulness and playfulness of the facade and the color scheme that blends perfectly with Panama's tropical blue skies," she says. "I love the fact that I can customize lamps with shades, goosenecks, and colors. Maybe this is why I keep coming back to Barn Light for many of my projects."
Photos courtesy of Hache Uve