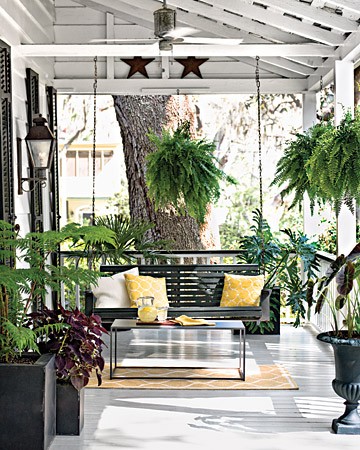 An Outdoor Galvanized Ceiling Fan That's Inviting and Warm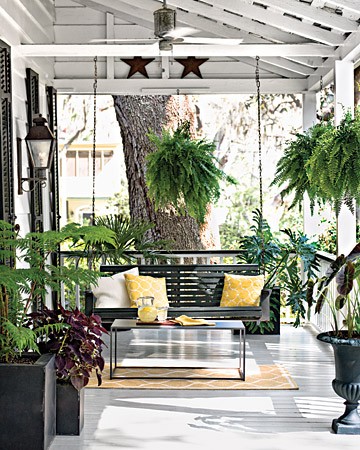 In a round about way, anything that Martha Stewart puts her name to has the ability to become gold. It could be her background that makes her so famous, but our guess is that it's her exceptional taste when it comes to all things home related. Her "Midas" touch extends from making dainty pastries in the kitchen, to weekend entertaining and interior design. If you've got the talent, why not use it to inspire everyone around you?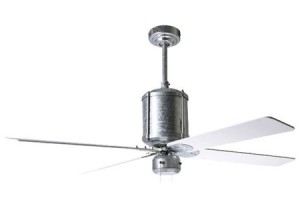 Filled with obvious Southern influences and impeccable taste, the veranda on this riverside cottage welcomes all to come relax with a glass of fresh-squeezed lemonade. "It's a good thing" – right? Helping to combat the humidity is a beautiful outdoor ceiling fan. If you're using your space for outdoor entertaining, you know it'll be useful once the summer time heat returns. The Machine Age Galvanized Ceiling Fan is reminiscent of vintage styles used all over patios in America. The galvanized motor housing helps it to weather well through the occasional summer storm, while crisp white blades contrast against the metal, but helps it fit in with the light and airy feel of the porch. Sure to earn you compliments from neighbors and visitors, you can get this look for your own home without any help from Martha herself.
You can choose to pair our Machine Age fan up with a classic outdoor lantern too. If you live in a warmer climate, selecting the Camelot Barn Lantern will make your porch the place to be all year round. The gothic influences of the Camelot make it desirable for the exterior of a riverfront cottage, a plantation mansion or Tudor style home. Don't forget your comfy essentials too. A slotted wooden swing, throw pillows and plenty of greenery make this front porch feel lush and warm.
Top Photo Courtesy of Martha Stewart Living