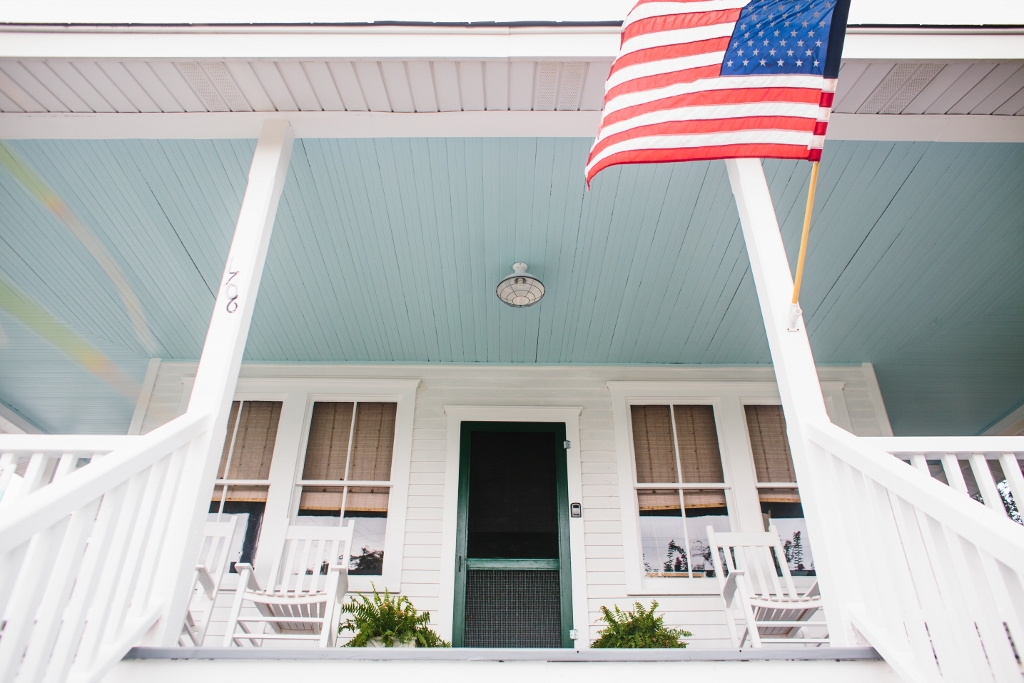 Guest Blogger | How To Create Year-Round Americana Style
What's not to love about the Fourth of July? This quintessential summer holiday, combining summer sun, backyard BBQs, brilliant fireworks, and a whole lot of patriotism, is just around the corner. To get ready, I'm taking a look at classic Americana style. Take a cue from this most festive of summer celebrations and introduce a little stars-and-stripes-inspired décor to your home for a look that never goes out of style. Here's how:
Think classic. Traditional lines, tailored linens, and crisp whites will never go out of style and are a great foundation for adding a touch of Americana to your space.
Start small with a clean, white palette, and add just small touches of red and blue with art, textiles, or a colored light fixture like the Brisbane Stem Mount Pendant in navy or barn red.
For a traditional Americana, opt for plaids, stripes, houndstooth, and toiles. Or, for a modern twist, use red, white, and blue in playful patterns like chevrons or animal prints.
Rustic and Americana are a no-fail combo. Pair your reds, whites, and blues with rough-hewn woods and vintage touches, like an old-timey clock.
One common variation is nautical which is perfect for anyone living near water. If that's you, try using ocean blues and reddish corals with whites, lots of natural materials (like rope and driftwood), and sea-inspired lighting (like the Amidships Bulkhead Wall Mount). You can also include some nods to maritime culture, like anchors, shells, boats, and lighthouses.
Native American and the American West are yet another variation of Americana. Aside from the obvious motifs of horses, cowboys, and Native American symbols, look for patterns that have a southwest vibe and layer them over each other for depth. For a cowboy campfire feel, load up on copper Moscow Mule cups and enamelware.
Another way to embrace Americana style, especially if you live in an older home, is through early American/primitive décor. Although life was harder back then, the tools and objects were simpler, which is what this style is all about. Wooden bowls, woven baskets, patchwork, primary colors, twig furniture, and yellow-ware are all staples of primitive décor.
Farmhouse style, another variation of Americana, is perhaps the most popular. To achieve this look, incorporate checks, overstuffed furniture, lots of whites and woods, motifs revolving around farm life, and, of course, barn-style lighting.
When experimenting with Americana style – and especially specific symbols like flags and lighthouses – use restraint. Too many different motifs (or a whole lot of one) quickly goes from classic to gimmicky.
At the heart of Americana is a celebration of all things U.S. and there's no better way to honor the red, white, and blue than by purchasing American-made goods whenever possible. Not only are made-in-America products typically of higher quality and craftsmanship, but by keeping your dollars on U.S. soil, you're supporting your fellow hard-working neighbors. If that's not American, I don't know what is!
Guest blogger Melissa Andersen is a writer, editor, blogger, and social media manager/consultant for clients such as And North, Kaufmann Mercantile, and The Cousins from HGTV.