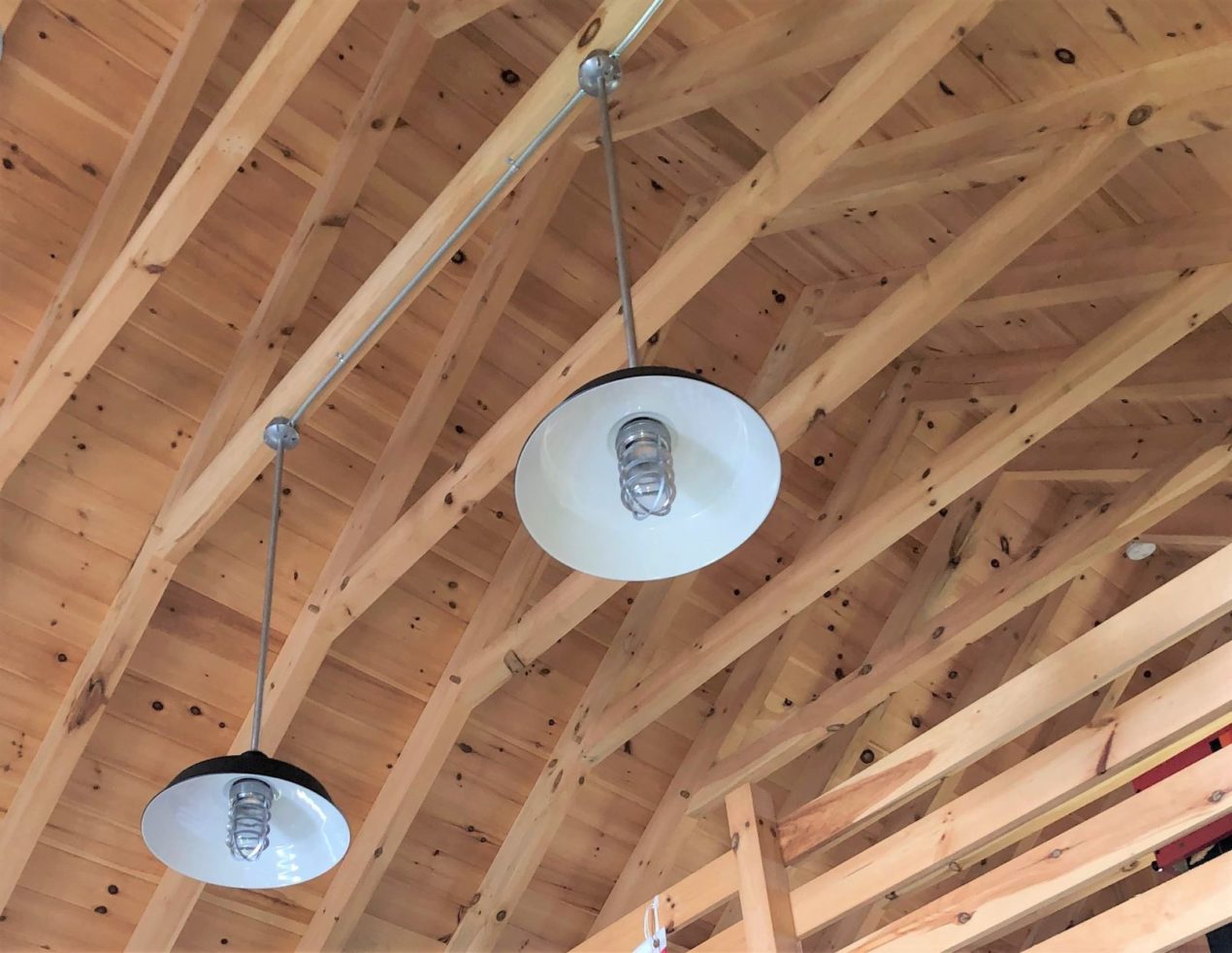 American-Made Lighting Adds Industrial Style to Post-and-Beam Barn
In the hunt for lighting, many factors come into play. For some consumers, a wide variety of finish colors is important. For others, finding American-made fixtures tops the list. And then there are spaces that call for specific customizing options such as a particular gooseneck arm style or a hang-straight canopy.
For Robert, all of these factors were important as he built a post-and-beam barn on his property in Katama, a residential area on the south shore of Martha's Vineyard in Massachusetts.
"We have a very contemporary home that sits near the barn. Our idea was to create some contrast and the feeling that the barn was its own distinct entity," Robert says. "I like things of quality but at a fair and sensible price. I found Barn Light Electric hit all of those criteria."
The new barn serves as a gym and storage area for surfboards and bikes. Robert also recently celebrated his 50th birthday in the barn with a clambake for family and friends. When choosing lighting for his new space, Robert wanted something that would complement his seaside location.
He chose the Original™ Nautical LED Stem Mount Pendant to highlight the interior. He customized these generous 20″ shades with a Textured Black finish and Galvanized stem and cast guard. He also chose a 2700K warm white temperature and ribbed glass for his new ceiling pendants.
"They fit perfectly in our barn and hang from the rafters at just the right height," Robert explains. "I have been using more industrial styles in the home lately, and I really like the flat black look with galvanized metal. The combination was just what we were hoping for."
Robert added to the industrial look of the new barn with two Streamline Industrial Guard Sconces flanking the doorway. These American-made wall sconces are customized with the same Textured Black finish as the pendants along with Galvanized guards and ribbed glass.
"Again, these are perfect for our industrial look," he notes. "I am pleased with the ribbed glass and the warm feeling we created in the barn. It's cozy and comforting."
Both styles of barn lights that Robert chose are handcrafted on site in our Florida manufacturing facility with dozens of customizing options. Crafted from commercial-grade materials, these lights will be shining on Robert's milestone birthdays for years to come.
"The barn is well built, constructed without a single nail, and should last forever," Robert says. "I trust the barn lights are there for the long haul too."
Photos courtesy of the homeowner