A Rustic Lighting Alternative to Large Antler Chandeliers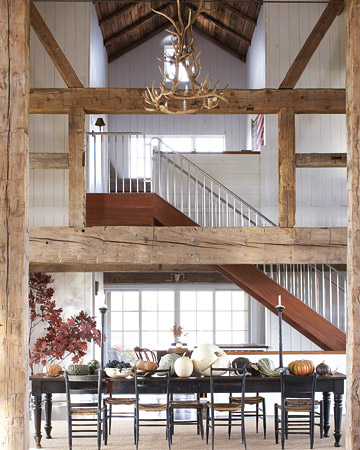 It's official, Fall has arrived! The cooler temperatures have moved in around the country, even down here in our own sunny Florida. We all know that for the next few months, we won't be focusing quite so much on our outdoor spaces, but more on our living and dining rooms, aiming to create a warm and inviting atmosphere for family and guests. This charming rustic dining room was featured in Martha Stewart Living, so we trust that it has everything you may need for your holiday parties.

Looking a little like a Colorado ski lodge, the high ceilings with aged wooden beams contribute to the timeless character that seems to be so desirable during the fall and winter months. You can almost imagine the rest of the room: a blazing fireplace in the corner surrounded by plush, leather armchairs and sofas, with the smells of comfort food floating in from the kitchen too. The tablescape full of pumpkins and gourds was just what the room needed to be complete, and won't cost a fortune when it's time to start thinking about Christmas. See, you don't have to be a world famous designer to easily achieve rustic style!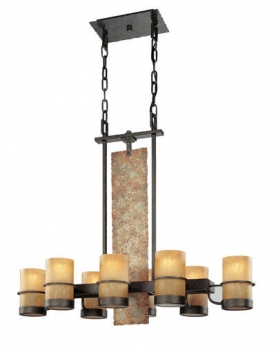 The antler chandelier above may be one of the hardest pieces to attain, however, our own Bamboo Chandelier has nearly the same outdoor influenced look. Raw wood and amber toned leather lampshades coordinate with any rustic room, bathing the room in a warm, soft glow. The Bamboo Chandelier can be found in our Vintage Chandelier category, along with a selection of other larger ceiling lights that vary from Victorian elegant to period style Arts and Crafts. Many of our chandeliers can take your dining area up to the next level – bringing a flood of compliments from holiday visitors.
Photo Courtesy of Martha Stewart Living