A Racecar Hangout That Can Stop Traffic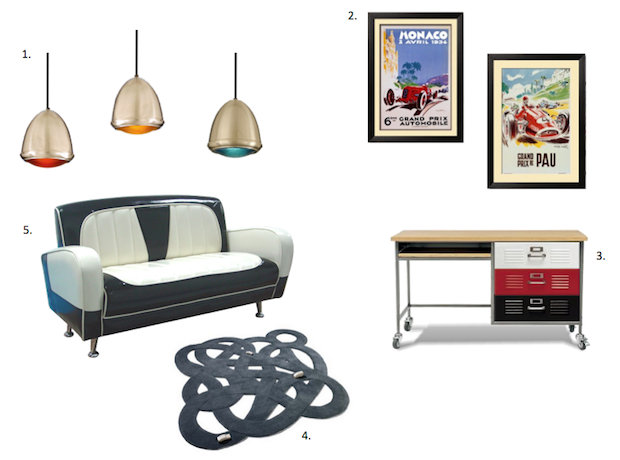 1.) High Beam Head Lamp, Barn Light Electric, Prices Start At $169.00 each
2.) Race Car Posters, AllPosters.com, Prices Vary
3.) Locker Desk, Pottery Barn, $799.00
4.) Miles Big Game Rug, $1,396.00
5.) Chevy Children's Sofa, Anna Bean, $245.00
What little boy isn't a fan of cars and speed? Give him (and the other men of the house) a little space all their own to hang out and watch the races in! Today's design board can be adapted for any age group, young and the young at heart. We've outfitted this area with pieces that a little boy can grow into. A sturdy locker desk from Pottery Barn will serve as a spot for early art projects and toys and can later be used as a homework station or a flat screen TV stand.
Two of the most unique pieces we've put together include the retro sofa and High Beam Head Lamp Pendants! Reminiscent of a 1950's lounge, these two pieces become an instant focal point – guaranteed to make the neighbor kids jealous! The vinyl sofa is great for spills and sticky hands as it easily wipes clean and can be ordered in a variety of color combinations.
Appearing like many restaurant lights, the lighting choices are actually some of our own barn pendants! For this room we selected three different colored lenses – Red, Yellow and Green. The outer finish could be ordered in various choices – we chose Satin Steel, but a Painted Gold or Black finish could make the grouping look just like an actual traffic light! If you have a large, open area consider placing multiple groupings of these pendants around the space – a group above a bar area, some lining the hallway/ stair case or a few over a pin ball machine. Some basement areas are known to have lower ceilings, but these pendants will still work great! When ordering, just select our Flush Mount option. This will allow you to install the lights snug to the ceiling and keep them out of the way on race day!